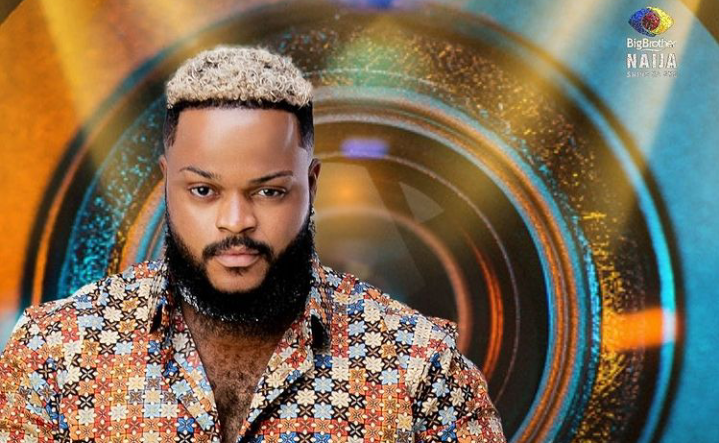 By Nehru Odeh
Hazel Oyeze Onou, aka WhiteMoney in the Big Brother Naija house, defies description. Chubby with dark, lush beards that glitters and a square-shaped, stern face that says "don't dare" – and spotting a golden hair tinged with black – he is easily noticeable in a crowd; what with his thick Igbo accent and knack for speaking Pidgin. But he is more than that, as he always says nobody can put him in a straitjacket.
Not only has WhiteMoney seen the ugly side of life, he has lived many lives in one. He has been a street boy, who lived under the bridge in Surulere, Lagos with the chairman of "agberos."" He has been an Okada rider (known in refined English as a commercial motorcyclist). He was a barber for over 16 years. He has also served as a bodyguard to many influential personalities.
He has operated a restaurant in Yaba, Lagos, where he prepared local delicacies to the admiration of residents. He has been an importer and exporter who deals in designer shoes. He has also been a Tiger generator repairer. He has fixed telecom masts. He has been a photographer, to mention a few.. Still, according to him, he was involved in all those "hustles" in order to survive.
And indeed not only has WhiteMoney survived, he is currently in the Big Brother Naija wowing everyone – his fellow housemates and fans alike – with his sense of humour, frankness, quotable quotes, brusque originality, naturalness, sense of service and sometimes with a behaviour that seems unrefined and borders on nonchalance. But the irony of it all is that as he says he hates dirty people. In his first day in the house when Ebuka Obi-Uchendu asked him whether his name meant he has money, he said, "In advance" with confidence, smiling with counterfeited glee.
Call him what you will, a street boy, bushman, brusque or an unrefined natural guy without affectations, the truth is, those traits are what has endeared him to many within and outside the house and has won the hearts of many. And not a few are already rooting for and staking their money on him. Omashola, a former housemate, for instance has already tipped him to reach the finals because of the vibes he has brought into the house.
Still, one thing that has endeared him to many is his frankness, his down- to-earthiness and his predilection for speaking his mind without guile or pretence. Not only has he been trending on social media, many of his statements have become quotable quotes.
Here are some of his words on marble:
"When I first saw you, I was like who is this Mami Water?" he told Maria, a fellow housemate.
"I've done many things, I ride Okada tire. I do my barbing during the day and ride Okada at night."
"I've also done photography, fixed tiger gen and fixed telecom mast all for the hustle."
"if you want to know my worth follow me go village."
"I think I'm this kind of person that don't know how to approach a woman."
"I've never entered a plane before. I don't even know what a plane looks like."
"If you're 25 and still in your parents' house, there is no problem but be a contributor in that house."
"My senior brother is stingy… Shout out to you, bro. You're stingy."
"I'm hustling in Lagos, I won't be balling in Lagos.
"An Igbo man can be living in a flat here and pay rent to landlord but he has a mansion worth billions in his hometown."
"I lived under the bridge with the chairman of 'agberos' in 2014, yet I didn't smoke."
"I don't want to be raising prayer thoughts points when I'm 40."
"(Emeka Okonkwo aka E-Money's house) is Heaven that fell down and stayed in one part of Earth".
Though many are already rooting for WhiteMoney, he has a Herculean task ahead. No doubt, he is an asset in the house, given his culinary skills and the vibes he has brought into the house – factors that stand him in good stead to survive there. But there are banana peels. And he has to be on the lookout for those banana peels if he is going to survive. The signs are already showing.
Load more