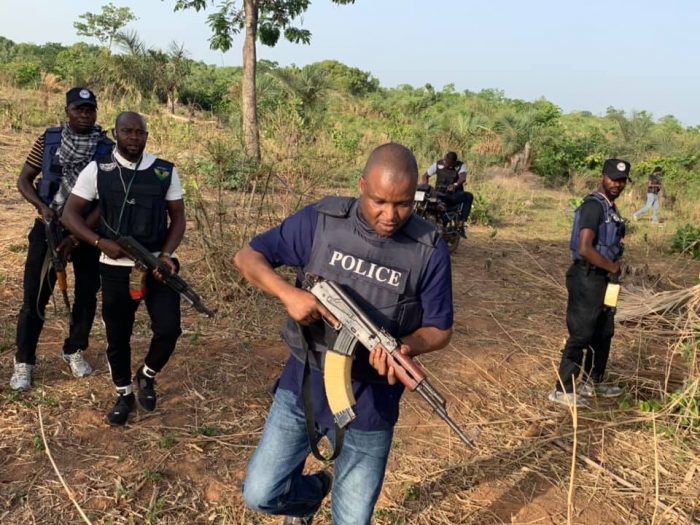 By Kazeem Ugbodaga
Before now Deputy Commissioner of Police (DCP) Abba Kyari was the toast of all. He is regarded by many in Nigeria as a super cop, he is always there when there is need to unravel of bust a kidnap gang. His prowess in crime fighting is unrivaled, he is the nation's pride of what a police officer should be, but when the ovation was louder, he seems to have been catapulted from the pinnacle of success down the abyss of failure and corruption.
Kyari has been enmeshed in one of the biggest international scandals involving Ramon Olorunwa Abbas, popularly known as Hushpuppi.
Kyari's fame shot up when in 2019, he led a crack police team to bust a most wanted Taraba kidnap kingpin, Hamisu Wadume.
Wadume was the 'high profile' kidnapping suspect arrested by the police on August 6, 2019. He was being driven to Jalingo by the police team when soldiers opened fire on them along Ibi-Wukari Road, killing three police officers and a civilian.
Kyari, who led the Inspector General of Police's Intelligence Response Team also led his crack team to arrest notorious billionaire kidnapper, Evans. After the arrest, Kyari said the kidnapper offered his teams $2million if he could keep quiet and let him go and that he offered to provide the cash in 48 hours.
On Tuesday 2 July 2019 precisely, Abba Kyari's team successfully rescued the District Head of Daura, Alhaji Musa Umar-Uba who was abducted on 1 May in his home town Daura, Katsina State by some unknown gun men.
He led a team which arrested the killers of former Chief of Defense Staff (CDS) Air Marshal Alex Badeh 'rtd' along Keffi-Gitata Kaduna Road, as well as the arrest of the most wanted Boko-Haram Commander, Umar Abdulmalik and eight of his terrorists gang members.
Kyari also led his team to arrest 22 Boko-Haram terrorist gang members responsible for the kidnap of the Chibok School girls in 2014 and also responsible for series of suicide bombings/several attacks and ambush against security Agents in Borno, Yobe and Adamawa States.
His team captured the most deadly kidnapper in the history of Nigeria, Henry Chibueze aka "Vampire" in Owerri, Imo State and his gang members and also arrested the deadly Offa bank robbers that invaded Offa town, Kwara State and robbed five commercial banks, among others.
With these achievements, Kyari became a hero. He was even drafted to Imo State recently when IPOB's menace heightened. His fame shot up but he has been enmeshed in a scandal that might eventually consume him.
Hushpuppi in U.S. court papers, claimed he once bribed Kyari to do a hatchet job for him, by arresting a colleague, Kelly Chibuzo Vincent.
Kyari's name surfaced in court papers, indicting Hushpuppi and four other Nigerians and a Kenyan in the swindling of a Qatari businessman, looking for a $15million loan to build a school.
Vincent is 40 years-old and the Kenyan was 28 year-old Abdulrahman Imraan Juma, a.k.a. "Abdul.
Hushpuppi and gang lied to the man they could arrange the loan at Well Fargo in the U.S. But the man lost $1.1 million in the ensuing transactions.
When a dispute broke out over the sharing of the loot between Hushpuppi and Vincent, Hushpuppi called Abba Kyari to get Vincent arrested.
"Court documents outline a dispute among members of the conspiracy, which allegedly prompted Vincent to contact the victim and claim that Abbas and Juma were engaged in fraud.
"After this contact, Abbas allegedly arranged to have Vincent jailed in Nigeria by Abba Alhaji Kyari, 46, of Nigeria.
"According to the affidavit, Kyari is a highly decorated deputy commissioner of the Nigeria Police Force who is alleged to have arranged for Vincent to be arrested and jailed at Abbas' behest, and then sent Abbas photographs of Vincent after his arrest.
"Kyari also allegedly sent Abbas bank account details for an account into which Abbas could deposit payment for Vincent's arrest and imprisonment," the statement by the California Attorney's office said.
Kyari has defended himself, saying he never collected money from Hushpuppi. According to him, Hushpuppi called his office about  two years ago that somebody in Nigeria seriously threatened to kill his family here in Nigeria and that he sent the person's phone number and pleaded that the police took action before the person attacked his family.
"We traced and arrested the Suspect and after investigations we discovered there wasn't an actual threat to anyone's life And they are long time friends who have money issues between them hence we released the Suspect on bail to go and he was not taken to any jail.
"Nobody demanded for a kobo from Abbas Hushpuppi. Our focus was to Save people's lives that were purported to have been threatened.
"Later, he saw some of my Native Clothes and Caps on my social media page and he said he likes them and he was connected to the person selling the clothes and he sent about N300k directly to the person's account. The Native Clothes and Caps (5 sets) were brought to our office and He sent somebody to Collect them in our office," he explained.
According to him, "Nobody demanded any money from Abbas Hushpuppi and nobody collected any money from him. We responded to a distress call he made on threat to his family and released the Suspect when we discovered there was no life threat from the Suspect. This is the true story. Vincent is alive, he can be contacted.
"For those who are celebrating that this is an indictment on us and mentioning some fictitious Big Money, They will be disappointed once again as our hands are clean and our record of Service for 2 decades is open for everybody to See. They will continue seeing us serving our father land and we will continue responding to all distress calls from all Nigerians provided they are life threatening."
But people are asking is how come Kyari knows Hushpuppi so well as to help him purchase native clothes worth N300,000? Is there more to this?
But with the Inspector General of Police, Alkali Baba ordering an "internal review" of the indictment of  Kyari, by the FBI of the United States, trouble is certainly looming for him. From a hero, is he descending to a villain so fast? Time will tell.
Load more