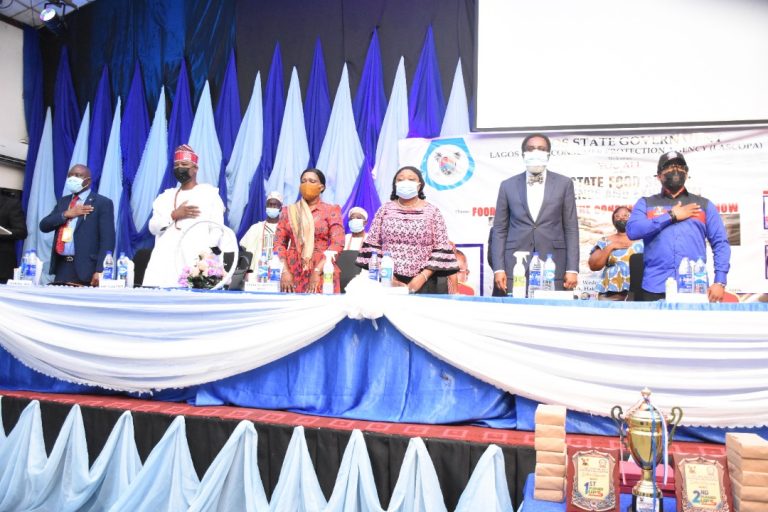 By Nimot Sulaimon
Lagos State Governor, Mr Babajide Sanwo-Olu, has called on consumers, manufacturers, producers and all other relevant stakeholders of goods and services to adhere strictly to food safety.
This is to reduce to the barest minimum or totally eradicate incidences of foodborne diseases in the State.
Sanwo-Olu made this call on Wednesday, during the maiden edition of the Food Safety Conference and Exhibition, organised by Lagos State Consumer Protection Agency (LASCOPA), at NECA House Alausa, Ikeja, Lagos, with the theme; "Food Safety: What consumers need to know".
According to Governor Sanwo-Olu who was represented at the event by the State Attorney-General and Commissioner for Justice, Mr Moyosore Onigbanjo, SAN, the food safety conference and exhibition will not only help to create a safe and sound market in Lagos State but will also prevail on manufacturers to adhere strictly to best practices and processes in the production of quality products and service delivery.
The Governor said the conference also provides an avenue for consumers to be enlightened on their rights against injustices or poor services meted by manufacturers and service providers and how they can seek redress as
stipulated under the law.
Sanwo-Olu stated that ensuring food safety should not be the exclusive preserve of the government alone, noting that it is a collective duty.
His words: "A greater responsibility lies with consumers who must take cognizance of the level of safety associated with the foods they purchase and how they handle the food.
"Food safety calls our consciousness to the need to ensure that food items are kept safe at every stage of the food chain and processes. The cost of unsafe food is high. We must all be mindful of food safety considering its inherent benefits and implications."
The Governor also expressed the hope that the gathering will help identify key elements essential for the formation of food safety policy and the development of a blueprint for the actualisation of food policy in the State.
Quoting statistics from the United Nations, Governor Sanwo-Olu disclosed that: "There is an estimated 600 million cases of foodborne illness annually, and an estimated 320, 000 people die every year after eating contaminated
food.
"Children under the age of 5 years carry 40 per cent of the foodborne disease burden, with 125, 000 deaths every year globally.
"The undeniable facts from these statistics are that unsafe food is a threat to human health and economies because healthy individuals make healthy economies and access to sufficient amount of safe food is key to sustaining life and promoting good health."
He assured participants at the event that the State Government will continue to play its part through the efforts and initiatives of LASCOPA, just as he advised the citizens to take personal responsibility for their health and wellbeing by being vigilant and providing prompt and relevant information to LASCOPA when and where necessary.
He affirmed that "The role of LASCOPA in ensuring food safety and protecting the rights of consumers against unwholesome practices is very crucial and complementary to the efforts of the Ministry of Agriculture.
Given the commitment being demonstrated by LASCOPA and the assurance that this effort will be sustained, the incidences of foodborne diseases in Lagos State would be drastically reduced if not totally eradicated," he said.
The Commissioner for Commerce, Industry and Cooperatives, Hon. Dr. (Mrs) Lola AKANDE, while giving a Goodwill Message at the event, explained that the Conference was a way of celebrating World Food Safety Day by the State Government while also creating awareness on the identification of key elements essential for the formation of food safety and development of a blue print for the actualization of food safety policy for Lagos State.
According to her, World Food Safety Day aims to draw attention and inspire action to help prevent, detect and manage foodborne risks, while contributing to food security, human health, economic prosperity, agriculture, market
access, tourism and sustainable development, among others.
Dr Akande noted that "Everybody has a role to play at ensuring the food we consume is safe in order not to damage our health. The way food is produced, stored, handled and consumed sometimes affects its safety.
She opined that food safety can be achieved through the establishment of effective regulatory food control systems, providing access to clean water, applying good agricultural practices, strengthening the use of food safety
management systems by food business operators and building capacity of consumers to make healthy food choices among others.
The Commissioner advised consumers to ensure that they have the right information about the food they intend to consume by reading labels on food packages with specific references to the expiry date, storage, shelf life and other information required to make informed choices.
Dr Akande assured that the Lagos State Government will remain committed to the protection, welfare and well-being of consumers, noting that the government would not hesitate to bring to brook anyone who seeks to threaten or undermine the Consumer Rights Law in Lagos State.
Afolabi Solebo Esq, the General Manager of Lagos State Consumer Protection Agency (LASCOPA), said the conference aims to rid the state of consumption of unhealthy, unwholesome, unsafe and substandard products.
He said the Conference would also serve as a platform for the State Government to come up with policy statements and legislation on food safety, stressing that access to a sufficient amount of safe food is key to sustaining life
and promoting good health.
His words: "According to the World Health Organisation, production and consumption of safe food have immediate and long-term benefits for people, the planet and the economy.
"We cannot but remind ourselves of the consequences of consumption of unsafe food, if not given well-deserved attention, unsafe food can result in hundreds of thousands of deaths yearly.
"Foodborne diseases caused by chemicals, viruses, bacteria and parasites have sent many to their early graves and still killing more yearly, hence more must be done to ensure that preventable food safety issues do not result in any more loss of life or the outbreak of serious health complications."
He said LASCOPA will remain committed to its responsibility of promoting and protecting the rights of consumers and also ensure that consumers have adequate information enough to make enlightened decisions on consumption.
"In line with the State Government's T.H.E.M.E.S Agenda, LASCOPA will leave no stone unturned to ensure a safe and sound market for Lagosians through its aggressive campaign and advocacy programmes."
The General Manager urged all manufacturers, retailers and everyone involved in food production, processing and supply to allow standard food safety procedures to achieve a zero-risk food supply in Lagos State.
He thanked Governor Babajide Sanwo-Olu for always supporting their efforts in the campaign against the production, processing and distribution of unsafe food within the State and also in educating consumers on their rights.
Load more