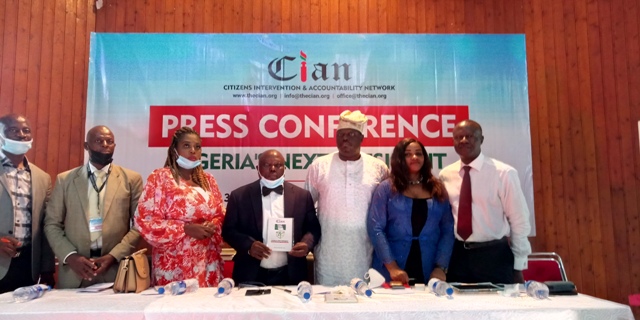 By Isa Isawade
The Citizens Intervention & Accountability Network, CIAN has traced bad governance bedevilling Nigeria to its jaundiced process of choosing political office holders over the years, and said only a well conceptualised process with active participation of united Nigerians would guarantee the right leadership.
The citizens' rights based non-governmental organisation made this known during a press conference held at the Julius Berger Hall of University of Lagos, Akoka on Friday.
According to the organisation, the root cause of the country's leadership failure is its citizens' lacklustre disposition towards elections and the electioneering processes.
It maintained that to properly address the current misery Nigerians all over the country are going through and ensure enthronement of an ideal leader for the country, citizens must wake up to their civic duty and participate actively in the next elections.
To achieve this end, therefore, the organisation has decided to take the gauntlet by making available a book intended to sensitise and galvanise the largely disillusioned Nigerian populace towards changing the country's narrative by choosing an ideal president in the forthcoming 2023 general elections.
The book, entitled 'Nigeria's Next President,' which was first presented at the conference is billed for launching in Abuja on December 3.
CIAN wants Nigerians, especially the youths which constitute majority of the country's population to have a change of mind-set devoid of primordial sentiments such as ethnicity and religion in the process of electing individuals into positions of authority.
According to the project's Director of Information and Strategy, Dr Candyfidel Onwuraokoye, "it is an absurdity to think that we could promote fairness in politics with the concept of power zoning, power shift, power rotation or national unity through an illegality.
"We cannot promote national unity through this convenient and lazy means which is completely alien, and quite at variance with the Nigerian constitution. Chief M.K.O Abiola and Alhaji Babagana Kingibe won across the country without this zoning arrangement. Continuing with this lazy and illegal arrangement will only throw up the worse of us.
"It does not matter if the Nigeria's next President is from the north or south. What matters is good governance. The population needs jobs, education, good roads, pipe-borne water, 24-hour electric supply, clean environment, health services, etc," it said.
Speaking in the same vein, the Nigeria's Next President Committee Chairman, Mr Olawunmi Olaniyan condemned the refusal of the Nigeria's National Assembly members to pass a bill that seeks to ensure transparency and efficiency through electronic counting and instant transmission of election results into law. He urged Nigerians to rise up and fight for a guaranteed future for the country.
"With the recent rumblings in the Nigerian Senate and the Federal House of Representatives over section 52 (2) of the Electoral Amendment Bill 2021, Nigerians cannot afford to throw their hands in the air and watch helplessly as this development portends the gathering of anti-democratic forces with a tendency towards a one-party state. What happened in both hallowed chambers is a disgrace and a complete betrayer of public trust", Olaniyan said in his speech at the occasion," he said.
He informed that the organisation's resource tool tagged Nigeria's Next President, which he said would be made available to over twenty million Nigerians in its first phase after the 3rd December public presentation in Abuja, was geared towards sensitising Nigerians on their civic roles.
"Nigeria's Next President, as a civic empowerment project, is produced to ignite a paradigm shift in the failed social contract between the ruling elite and the Nigerian peoples in addition to also foster eternal vigilance, inspire civic responsibility, and stir civic activism that will challenge conventions and demand accountability from elected officials. Change is possible. A new Nigeria is possible where freedom, peace and justice will prevail for all", Olaniyan said.
Load more