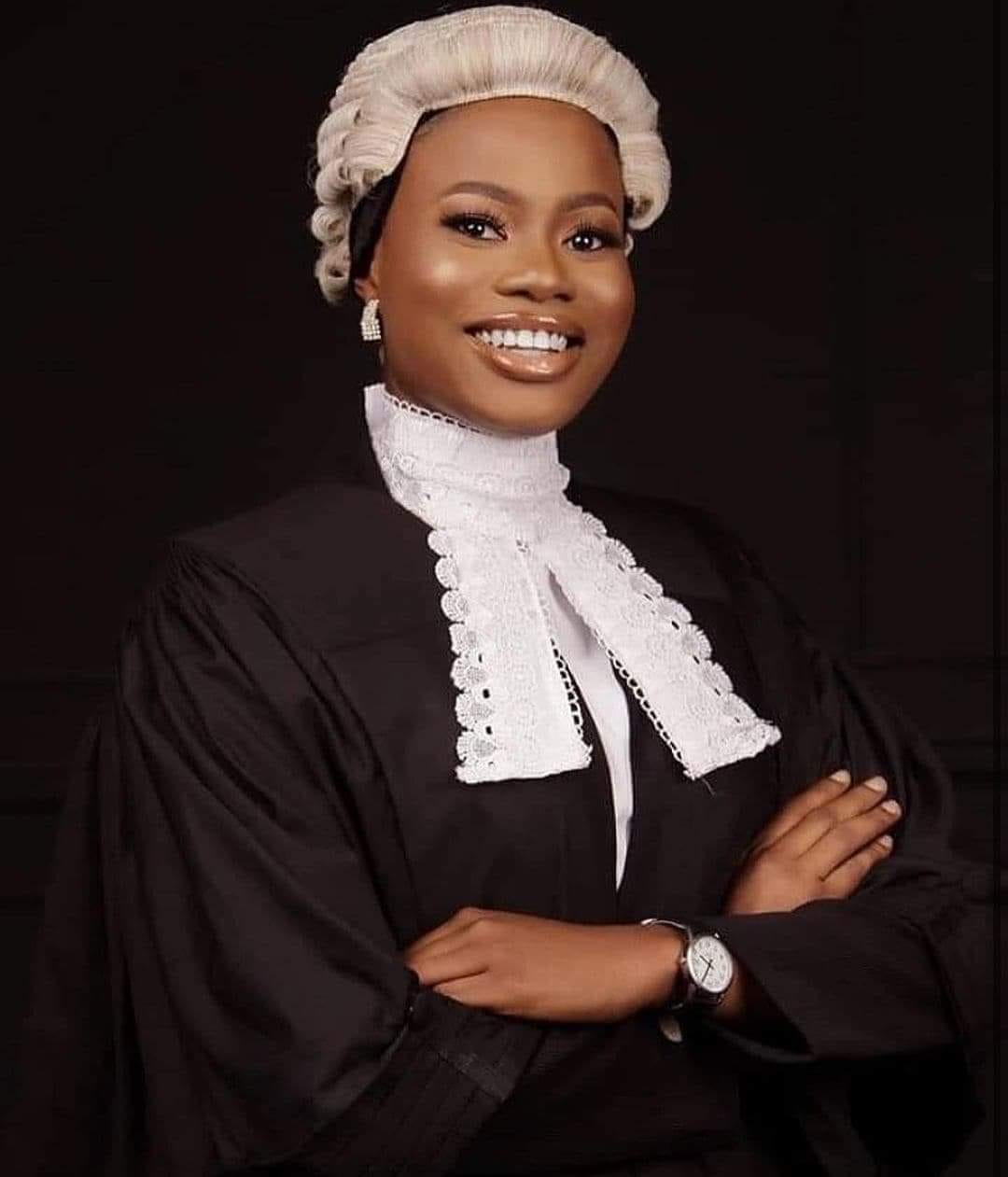 By Abankula
She is used to leading her class. Bukola Fatima Alada, 24, has once again proven her credentials by emerging as the best student out of the over 4,000 students called to the bar this week by the Nigerian Law School.
Bukola graduated with First Class and won the overall best graduating law student award.
She also scooped 15 other prizes to make her sponsors, the Body Of Senior Advocates of Nigeria (BOSAN) truly proud of her.
In December 2019, BOSAN at a ceremony in Lagos awarded her a scholarship worth five hundred thousand naira to pursue her Law School programme.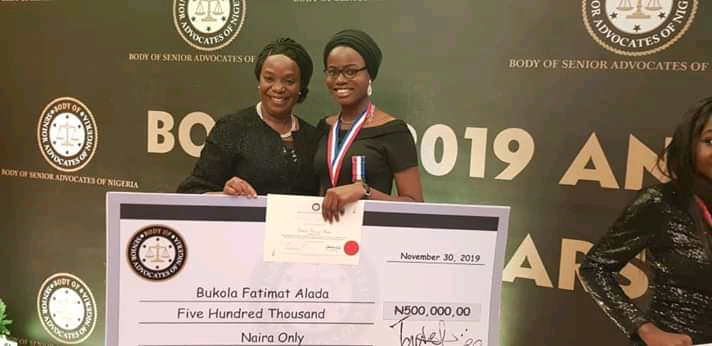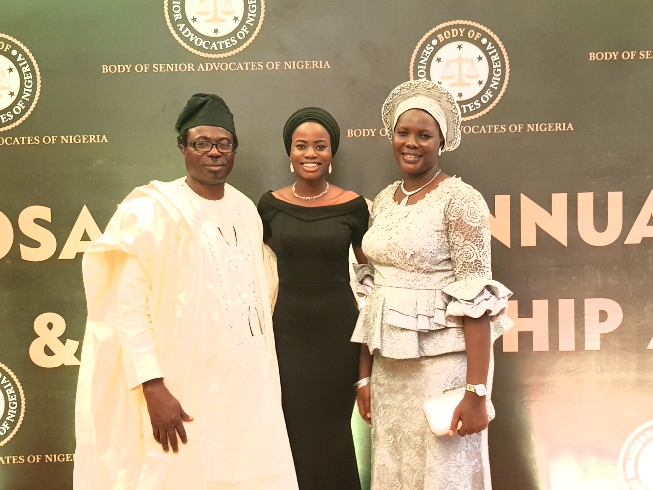 Bukola in an Instagram post blew her trumpet herself on Friday, writing: "17 months, 5 courses later, Director General's prize for first class and 15 other awards.Overall Best Graduating Student!"
She also showcased her other attainment, being an Associate of the Chartered Institute of Arbitrators."
Among the prizes she won were the Justice J.O. Shofolahan, 1st Prize(Former D.G Nigerian Law School) and Justice Ayo Irikefe, GCON 1st Prize.
She won former attorney general Mohammed Bello Adoke's prize in professional ethics.
She won the best overall female student of the year prize, donated by National Association of Women Judges.
The prize for the best female student in criminal litigation also went to her. The prize was endowed by Mrs. Oluwatoyin Doherty, a former director at the Law School.
She won the four prizes for best graduate of the year donated by the Nigerian Bar Assoaciation(NBA), Justices Atanda Fatai Williams, Adetokunbo Ademola and Taslim Elias.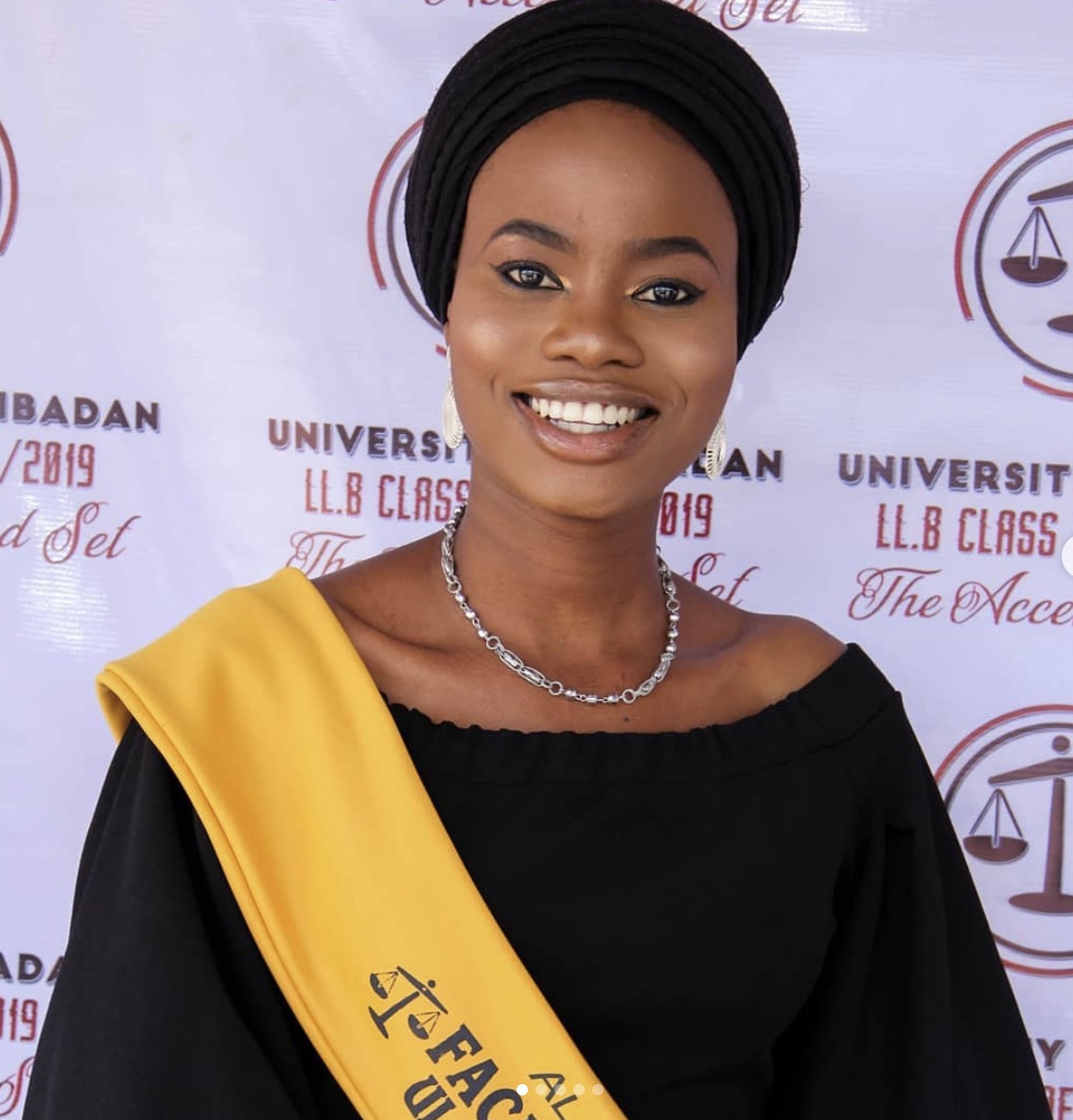 Bukola has now registered a back-to-back first class in law.
Last year January, she bagged a first-class in Law from the University of Ibadan.
She was also the overall best graduating Law student of the premier university and the valedictorian.
She graduated with a CGPA of 7.0 GP and won 11 awards as well.
Bukola's academic brilliance should not come as a surprise in view of her pedigree.
Her senior sister, who also studied law, Damilola Alada also made First Class from University of Ibadan and Nigerian Law School
Bukola and Damilola's dad is Professor Abdul Razak Akinola Alada, former Dean of Student and Chairman Security Council, University of Ibadan.
Akinola Alada is not a lawyer, he is a professor of physiology.
However, his father, Ishola Alimi was a lawyer.
Akinola Alada's daughters are thus taking after their grandfather, who is now late.
In an interview with a blogger fantbabs.wordpress.com, 24 year-old Bukola Fatima spoke on how she missed out to be admitted for law at UI at first.
She thus settled for sociology. But after one year, with a GPA of 6.9, she sought transfer to the law faculty. She was allowed to go.
Asked about her plans, she said she would would pursue a Masters degree in one of the Ivy League universities in the U.S.
On the factors that propel her to academic zenith, Bukola said:
"First, the grace of God because I could have done everything I did, yet my results could have come out differently.
"Two, my parents' efforts over the years. They tried to provide everything I reasonably needed and they taught me values such as discipline, ambition, etc. that helped me.
"For things within my control, I'd attribute my results to proper time management, ability to focus on what matters and hard work. I learned early that hard work is going the extra mile".
Despite her studiousness, Bukola devotes quality time for other things.
At UI, she was a member of the Junior Chambers International(JCI) and participated in all its outreach programmes.
She also joined organisations such as the literary and debating society, the moot and mock society, among others.
She said she did so " have an all round university experience".
But all through her extra-curricular engagements, she never, as she said lost sight of her life goal: to do well in her law degree and law school programme.
Congrats to her.
Load more