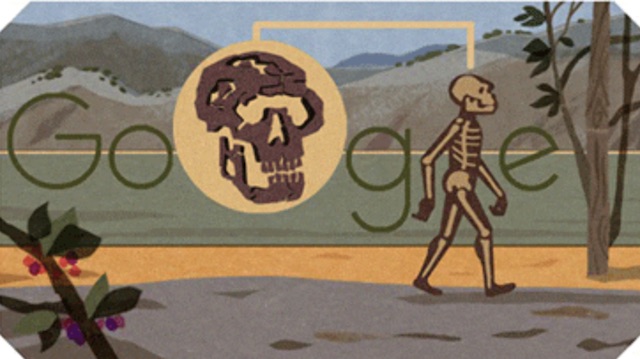 By Abankula
Google Doodle today is celebrating the discovery of a complete human skeleton of a youth, called Turkana Boy, believed to have lived between 1.5 to 1.6 million years ago.
Turkana Boy, the human fossil also called Nariokotome Boy, was a nearly complete skeleton of a Homo ergaster or African Homo erectus ever found.
It was discovered in on 1 August 1984 by Kamoya Kimeu on the bank of the Nariokotome River near Lake Turkana in Kenya.

Archeologists said the youth must have died between 7-11 years of age.
In a Wikipedia post, the specimen was largely considered male due to the shape of the pelvis, the sex is ultimately indeterminate due to its prepubescent age.
Alan Walker and Richard Leakey in 1993 estimated the boy to have been about 11–12 years old based on known rates of bone maturity. Walker and Leakey said that dental dating often gives a younger age than a person's actual age.
Christopher Dean of University College London, in a Nova special estimated that the Turkana Boy was 8 years old at death.
Watch the video about Turkana Boy: https://youtu.be/vCzSSapAyFg
Load more