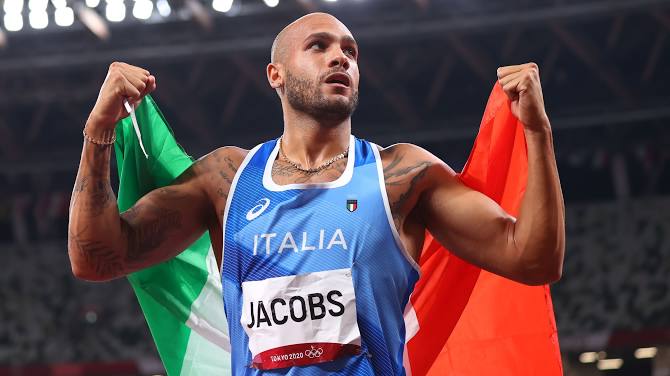 By Abankula
A new track and field king was born in Tokyo on Sunday with the emergence of Italian-American Marcell Lamont Jacobs as the new Olympic 100metres champion.
Jacobs who?
Very few expected him to triumph in the event as the bets were rather on favourites such as American Fred Kerley and Andre de Grasse of Canada.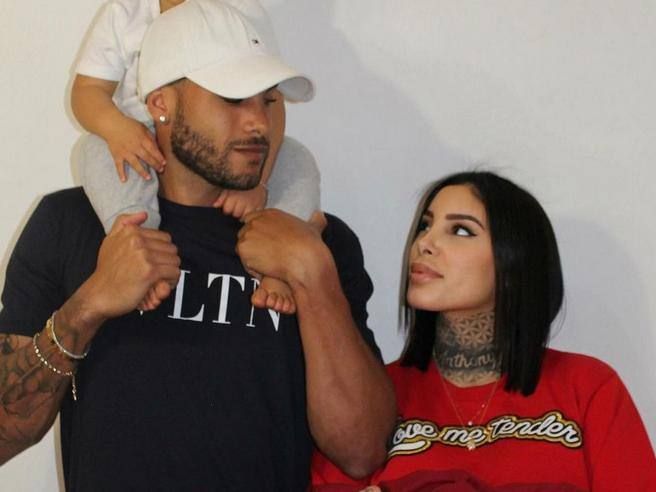 But Jacobs dusted them all posting a time of 9.8 seconds to claim the mantle left by Jamaican Usain Bolt.
Jacobs' success on Sunday should not have come as a surprise for followers of European track and field.
He is a long jumper and also a sprinter. On Twitter, he called his account 'Crazylongjumper'.
He has won accolades in the two sports. In 2016, he won the Italian championship in long jump with 8.07m. Last year, he jumped 8.48 to claim another championship as U-23.
Jacobs is the 2021 winner in 60m of the European Athletics Indoor Championship. He also won the silver medal in the 100m at the 2019 European championship in Bydgoszcz.
This year, he won the silver medal in the 4×100 relay at World relays in Chorzow.
Thus clinching the 100m gold on Sunday only showed he has taken his exploits a notch higher. And he really planned for it and worked for it.
Lamont was born in El Paso, Texas on 26 September 1994.
His dad is African American, who used to be in the U.S. Army.
He now lives in Dallas and both son and dad only opened a line of communication recently.
Jacobs' mom is Italian named Viviana Masini. She and Jacobs' father had Jacob when they were teenagers.
She took Jacobs to Italy when he was 18 months old.
Jacobs grew up in Italy and it is thus understandable why he ran for Italy and not America.
He took interest in running from the age of nine. And as early as then, he had dreamt of being an Olympic champion, inspired by the exploits of veteran Carl Lewis.
"I had pinned the newspaper page with the famous Carl Lewis ad on the stiletto blocks to the wall of the bedroom. But my idol as a kid was Andrew Howe: mulatto and half American both, I saw myself too much in him", he said in an interview with italy24news.com.
The Olympic Champion as far back as three months ago also restated his goal to win the Gold medal, with Usain Bolt no longer running and with no Coleman or any favourite for number one.
"I'm going to Tokyo to win a medal: there is no Bolt, there is no Coleman, there is no favorite number one, it will be a battle", he said.
In the interview, Jacobs also opened some window into his life as child:
"My father, as a child, I don't remember him. From the moment we returned from El Paso with mum, our very personal duel match began. At school I was in trouble. Draw your family, the teacher told me: I only had my mother to draw and I suffered from it. Who is your dad, friends asked me as a kid: he doesn't exist, I replied, I barely know that I bear his name. For years I have built a wall. And when my father tried to contact me, I didn't care. "
"Recently, however, something has changed. There has been a major thaw which perhaps also explains his improvements in athletics and his record.
"I met a good mental coach, Nicoletta Romanazzi, who joined my team together with the coach Paolo Camossi. With her I agreed to work in depth on my fears and my ghosts. It was not easy: there is an intimate part that we do not want to show even to ourselves. But I learn quickly. The psychological work began in September of last year and in six months I obtained a European indoor gold, two Italian records, world silver in the 4×100 with the fastest launch, the 9 "95 in Savona».
"And, most valuable result, a new relationship with Lamont senior.
"It's not all resolved yet, but at least we're communicating with Dad now. That is, I copy and paste: the Google translator gives me a hand when I don't understand. I know, I know, I should go back to my table to brush up on English grammar: I know the terms, it's just that for fear of making a mistake I get paralyzed and keep quiet ».
How does it feel now that the ice is broken?
""Unlocked. The power of the energy that moves when you knock down a wall is amazing. I hated him for missing, I reversed the perspective: he gave me life, crazy muscles, speed. I judged him without knowing anything about him. Before, if a race didn't go well I blamed the others, bad luck, the weather. Now I understand that results depend only on work and commitment..
"First the track was uphill, now downhill.
"Something similar. In Savona I ran relaxed: I started like this, I liked the launch but after 15 meters I saw that I had no one beside me, without reference points everything is more difficult. While I was missing the last steps I looked at the stopwatch: 8 seconds … already! In short, it wasn't one of my best races, you can definitely polish something".
Jacobs is married to Nicole. They have two kids, a boy born in 2019 and a girl born this year.
However, Jacobs has a third child from a previous relationship when he was just 19.
Load more