By Abankula
Nigeria has recalled its ambassador to Indonesia over the ill-treatment meted out to its diplomat by immigration officials.
Minister of Foreign Affairs, Geoffrey Onyeama announced this Tuesday at a news conference in Abuja.
He spoke after the ministry got further and comprehensive briefing from the Nigerian ambassador on Monday evening.
Although Nigeria had received an apology from the Indonesian ambassador in Nigeria, it is stepping up its reaction to the assault against the diplomat, identified as Ibrahim.
Onyeama said the ambassador is being recalled for further consultations at the highest level.
He said this will include a review of Nigeria's relations with Indonesia.
He said Nigeria has demanded severe sanctions against the Indonesian immigration officials responsible for the brazen assault.
"There is no justification for the treatment to a diplomat and even to a Nigerian citizen.
"We are taking strong steps to defend the interests of Nigerians anywhere in the world", he said.
Earlier, the spokesperson of the ministry, Esther Sunsuwa issued a statement reflecting Nigeria's updated position on the assault against its diplomat.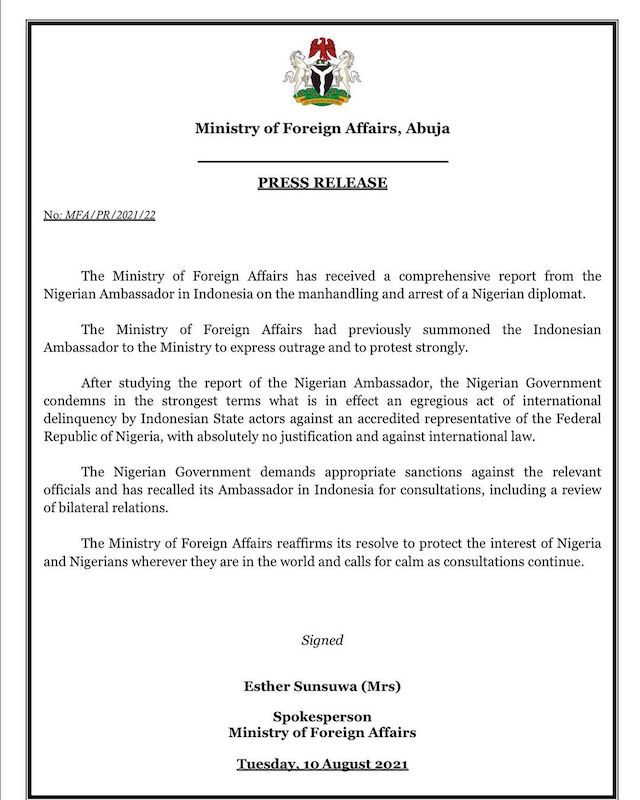 Nigeria's quarrel with Indonesia began at the weekend when a viral video showed a Nigerian diplomat being manhandled by Indonesian immigration officials, inside a car.
The ministry summoned the Indonesian ambassador in Nigeria, Usra Hendra Harahap, who tendered an apology, according to the foreign affairs ministry.
In Indonesia, the immigration official also apologised to the Nigerian ambassador and the official manhandled.
https://fb.watch/7igu9yXhlw/

Load more