Video journalist Nemat Naqdi and video editor Taqi Daryabi from the Afghan online news outlet EtilaatRoz have recounted how they were almost beaten to death while covering a protest.
Both male journalists were covering women's protest against Pakistani involvement in Afghanistan and in support of women's rights on Wednesday when they were picked.
The protest was outside a police station.
Both journalists were arrested, taken inside and tortured.
"They were hitting me with extreme force that I really thought that this was the end of my life," Naqdi told CNN.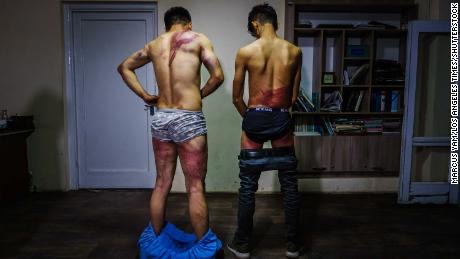 "They have hit me on my arm with extreme force that I could not move it during the last two days … it has got better. My left eye has been hurt seriously that it is still red, and I am worried, my left ear can't receive any hearing. It has a buzzing noise. I was given four or five very hard slaps on my face."
"They stepped on my head on the other side and they were pressing their foot on my head, my face was on the mosaic floor, and I was trying to pull myself due to the pain and to tell them to hit me on all sides and not just hit me on my back.
"They were using such violence that one was holding me by my head and face and another one was holding me by my waist. My hands and feet were tied and one of them was pushing my legs like a sling. I had a feeling that my neck may break, or my back may break," he said.
Video editor Dyarbi on the other hand said they hit him with almost everything they could lay their hand on.
The Taliban are yet to respond or say anything regarding these allegations at the time of writing.
However, after their takeover of government, the Taliban promised to allow journalists continue their business under Islamic rules.