By Isa Isawade
I had an official assignment to visit TheNEWS Magazine's agents in states of the South-western Nigeria beginning from September 13. Early this year, General Godwin Alabi-Isama (Retd), the Chief of Staff of the famous Third Marine Commando Division of the Nigerian Army during the Civil War, had 'warned' me never to visit Ilorin, the Kwara State capital, without dropping by his country home to say 'hi'. We had not met physically. We had only been communicating via telephone since his return to the country from the United States of America.
When I notified him, through SMS few days to the intended trip, of my plan to visit him on Wednesday, 15 September which was my assignment day in Ilorin, his reply came shortly thus: "Hi Isa, Wednesday is a good day. God willing you will have a safe trip INSHA ALLAH. Do have a good evening. Ai". This made it clear to me that the General's enviable Military height is dwarfed by his striking humility and simplicity.
On getting to Ilorin, our long time agent in the State, Alhaji Abdulazeez Adewuyi (a.k.aOgoOluwa), who had acquainted himself with the General rang him to say we were already on our way. As against my expectation, we got to the General's gate and found no security detail; no gateman or security dog. The gate is even the transparent type. You could view almost all the compound right from the road. We simply alighted to open the gate ourselves, we parked in a space of our choice in the spacious premises and walked upstairs to meet the General reading in a relaxed mood in his beautiful living room. He cut a figure of a man totally at peace with his environment.
What I first observed immediately we entered the building was the General's unparalleled adoration for his mother, Alhaja Jeminatu Ajiun Isama of blessed memory. At the lobbies of the ground and the first floors was Mama's portrait in big banners of the posthumous award by the University of Ilorin on December 12, 2019 to honour her remarkable contributions toward keeping Nigeria united during the Civil War. Then, in his living room was also a very imposing portrait of the heroine in giant frame which the General said he brought all the way from the United States.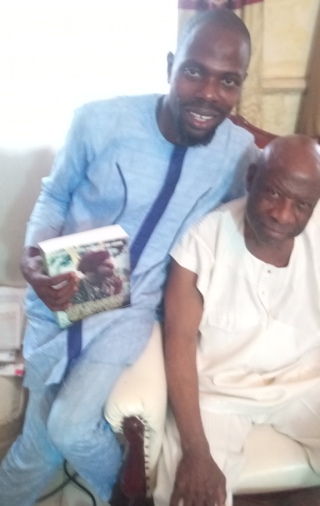 My host needed no introduction as he didn't look different from the pictures of him I had seen in many publications. He looked very fit. He beckoned on me for a handshake. The energy he exuded at age eighty-one was quite incredible. It felt like I was in handshake with my age mate who is superior in strength.
He asked us to take our seats which we happily did. As I felt great and overtly ecstatic at the privilege of being personally invited and received by the highly respected General of the Nigerian army whose ingenuity in war tactics along with brilliant collaboration of his colleagues in the 3 MCDO ended the unfortunate Civil War, he also radiated genuine happiness for affecting fellow beings pleasantly.
Though he turned down my interview request, saying he had granted enough for the moment, he nevertheless talked about wide-range issues- from history (both African and the World) to education, economy, war tactics, unity of Nigeria, religion and many more. He discussed all the topics with uncommon display of knowledge and intelligence. His brain and memory remained as sharp as that of a forty-year old, recalling facts and figures with ease and accuracy to drive home points. This could be a result of his voracious reading culture and the fitness exercises he regularly does. He reads books on any subjects; magazines; newspapers, and so on. The 81-year old General still plays football!
One other fascinating thing about him is his deep knowledge of the twin religions of Islam and Christianity. During our discussion, he was quoting verses of the Bible and the Qur'an with great prowess to explain situations. He, at some points, brought out his copies of the two holy books and read to his guests, portions from them to buttress his perceptions on certain issues. He told us about his attendance of Arabic school during his childhood. He wonders why religion should become a source of hostility among the people.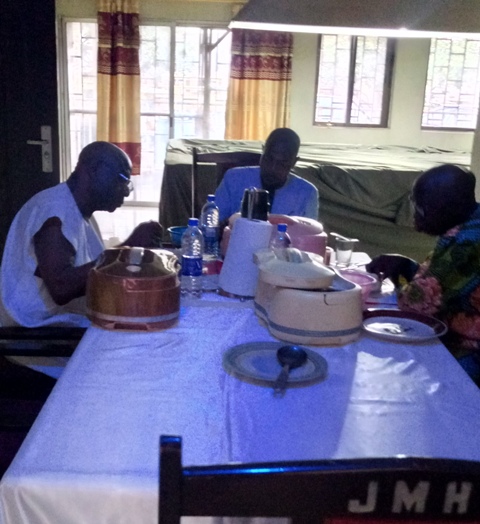 General Alabi is also a very principled and disciplined man. For instance, at the end of our chat he invited us to a dinner later in the day. According to him, it's in line with his late mother's tradition of entertaining every visitor to the house with delicacy, most especially, pounded yam. We both settled for 5:00pm and pounded yam as our food of choice. Then, the 'shocker'- the General in a military style but polite manner warned, "If you arrive 1 minute past 5pm you are late"! I turned to read Alhaji Adewuyi's facial response to the 'bombshell'. He nodded to me, indicating he was already aware of the General's principle of keeping to time.
By 4:45 pm we were already in his living room. The cook informed us that the General was sleeping. We sat, waiting for him to wake up. Exactly 4:59 pm, he breezed into the living room and sighed, saying "Ha ah! You are my kind of guests. This is good." I was amazed that even in sleep, the man was conscious of time! He immediatelycinstructed the cook to commence preparation of the dinner. He then presented me with an autographed copy of his famous book, THE TRAGEDY OF VICTORY: On-the-sport Account of the Nigeria-Biafra War in the Atlantic Theatre in fulfillment of his earlier promise.
Less than one hour after, the very efficient male cook came in to inform us that the dinner was ready. We marched downstairs to the neatly set dinning with dishes of pounded yam with egushi soup and fish. We did justice to the food to the admiration of our host.
General Alabi-Isama is a down to earth leader who is greatly influenced by his mother's values of courage, godliness and love for humanity. He is a passionate Nigerian who is unhappy that the country he, along with other patriotic solders, paid heavy sacrifices to keep together is yet not working fifty-one years after the traumatizing Civil War.