Okafor Ofiebor/ Port Harcourt
Scores of women on Wednesday stormed Rivers Government's House, Port Harcourt in protest over alleged assault of Hon. Cythia Nwala, the legislative leader of Etche Local Government Area of the State.
Nwala claimed she was physically assaulted and stripped naked over her attempt to take away the mace of the legislative Assembly.
According to her, she decided to take away the mace following suspicion that there was a  plan to impeach her.
Nwala's vehicle was also damaged allegedly by those who assaulted her.
The Councilor alleged that she was beaten up and stripped by officials of the Council loyal to the Chairman who also took the mace away from her.
The allegation was, however, denied by the Chairman.
But the women protesters, mainly from Etche ethnic nationality from Etche Local Government Area in black attires said they were in government house to register their uttermost displeasure to Governor  Nyesom Wike over the brutal attack on Nwala.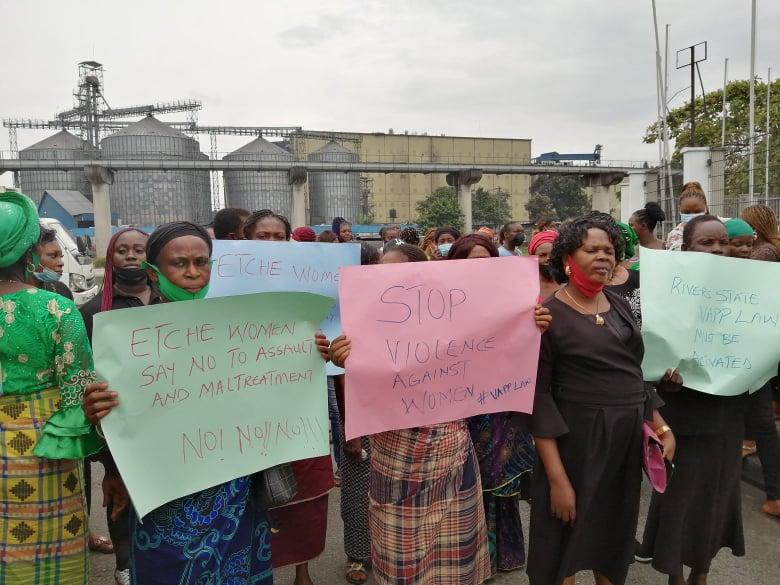 The protesters condemned harassment of Nwala, while insisting that violence against women in politics, especially in Etche Local Government must be stopped.
They recalled that the former Vice Chairman of Etche LGA, Mrs Uche Ken, also had a very toxic working relationship with the Chairman,  Obinna Anyanwu during his first tenure.
Our Correspondent reports that the protesters carried placards with varying inscriptions like:" Obinna stop intimidating Women", "No more intimidation of Women", "Stop Violence Against Women in Politics" and others.
The protesters were invited into Government House for a closed door discussion.
At the time of filing this report the outcome of the meeting between Government Officials and aggrieved women  was not known.
Load more