Erumena, the sister of Nollywood actor,Fred Amata who is getting married on Saturday at the age of 60, still glows with beauty, truly living to her name.
Her brother announced her wedding to the world on Friday, telling a long story how she had shunned suitors in the past, only for her to decide to settle down with a man.
Fred Amata in an Instagram post that has gone viral said the entire family had given up, that her sister would never be a Mrs.
And then she suddenly surprised with an invite to her wedding to Benjamin Akpoghene-Adaiah.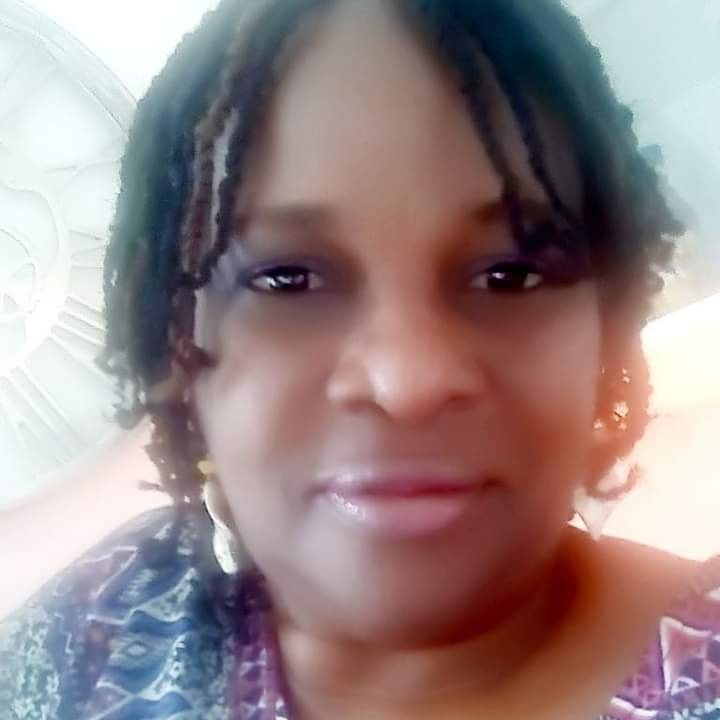 The lucky man Akpoghene Adaiah is said to be a pastor, from Asaba.
Erumena, after primary and secondary education, went to College of Education, Abraka and later University of Jos.
In Jos, she studied English and literary studies.
According to her Facebook post, she also had further education at University of Lagos.
Although from Warri in Delta, she lives in Lagos.
She is also a Creative Consultant at Menaamata Xpressions.
On Facebook, Erumena's posts have centred on making her 1,260 followers grammatically correct, sharing lessons in syntax and also mocking people who make serious errors.
On 23 August, she posted this pathetic message at the back of a T-shirt that read: "I am a chosen children", with emoji of laughter.
She also posts messages of hope, even about herself. On 8 August, she wrote about a message that she says was from God to her.
The message read: " Erumena I need you to be excited again because this year will be your year. The past year gave you a hard time, but you stayed strong through it. Keep your faith in me. All your effort and hard work will come to fruition soon."
Isn't that prophetic going by invite for Saturday's wedding ceremony.
Many guests have been asked to join the couple via Zoom.
Fred Amata who made the announcement said his sister had been ridiculed due to her inability to get married.
He described his sister as a testimony of faith.
"My big Sister Mena' is a testimony of faith, he wrote.
"Named Erumena meaning *This is My Beauty*,
"Sister Mena grew up in a strict environment of high morality. She would develop to become an example of steadfastness and commitment.
"But Morality and the emerging social environment, can be challenging for soon her peers, young maidens, one after the other all got married.
"Sister Mena finds herself approaching her 40s single unmarried staked against mountains of seeming impossibilities and ridiculed.
"You too old, you can no longer Marry, You too tall you will Marry a short man. You too old even if you find a man, You would be Older than him.
"*Give what God gave you to Man oh, before you give it to worms*
"Yes Ridiculed for her steadfastness and tenacity holding on to her convictions.
"And so it would continue. Year after year from 30s to 40s to Fifties… And
"The ridicule became torment. But she persevered.
"By the time She turned 60… We had all given up.
"But this Saturday 9th October 2021.
"The sound of Celebration, a covenant with the Almighty Kept. A manifestation of the awesomeness of the most high God.
"ERUMENA… The Almighty says to the world.
"THIS IS MY BEAUTY…

Load more