After three months of sojourn in London, United Kingdom, the National leader of the All Progressives Congress, APC, Asiwaju Bola Tinubu arrived Lagos on Friday night.
Tinubu had gone to London in July to undergo kneel surgery and has been recuperating since them.
Rumours began to filter in that the former governor of Lagos State was seriously sick.
Since then, the president, governors, lawmakers and several others had visited him in London to know the state of his health and wished him quick recovery.
Governor Babajide Sanwo-Olu was the first go visit Tinubu in London on August 3, 2021 after which he told newsmen that the All Progressives Congress, APC, National leader was hale and hearty.
On August 12, President Muhammadu Buhari made a surprise visit on Tinubu in London. The president was also in London then to attend to his ailing health, so he used the opportunity to visit Tinubu. Pictures that emanated from the visit soon hit social media, with Tinubu seen standing with the support of a stick.
Soon after, several governors and others followed in the visit. His home in London became a beehive of activities.
Former APC legal adviser, Dr. Muiz Banire was also in London to felicitate with Tinubu and wished him well.
Then a former Governor of Borno State, Kashim Shettima also visited.
Also, Governor Rotimi Akeredolu of Ondo State and his counterpart in Ekiti, Dr. Kayode Fayemi were with Tinubu in London. They were followed by members of the Lagos State House of Assembly, led by the Speaker, Mudashiru Obasa.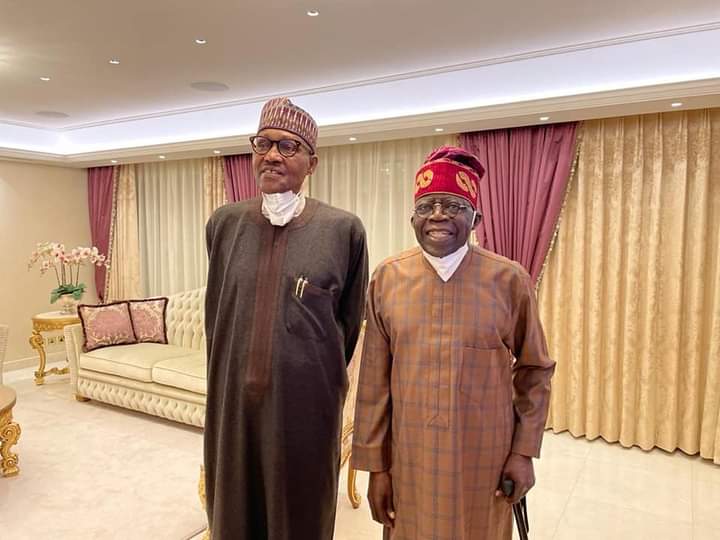 Deputy Governor of Lagos, Dr. Kadri Hamzat and the Chief of Lagos of Lagos State, Tayo Ayinde and others were with the former governor to solidarise with him.
Following the footsteps of others, former governor of Zamfara, Abdulaziz Yari and former Sokoto governor, Aliyu Wamakko hit London to wish Tinubu quick recovery.
Then senators of the All Progressives Congress (APC) also visited Tinubu in London. They are Senator Olamilekan Solomon, Senator Opeyemi Bamidele (Ekiti), Senator Adeyemi Oriolowo (Osun), Senator Tokunbo Abiru (Lagos), Senator Musa Sani (Niger) and another political stakeholder.
On September 17, Kano state governor, Abdullahi Ganduje led his entourage to London to visit Tinubu and wished him quick recovery.
Former Governor of Ogun State, Senator Ibikunle Amosun was also in London. Likewise, Governor Dapo Abiodun of Ogun State. A recent visitor to Tinubu in London was music maestro, Wasiu Ayinde, who said Tinubu was recovering fast.
On October 2, 2021, Tinubu opened up on his health. He said that he is hale and hearty, saying that he is only undergoing physiotherapy in London.
He said this while addressing the northern Caucus of Nigeria's House of Representatives led by Deputy Speaker, Ahmed Idris Wase in his house in London