Ladoke Akintola University of Technology (LAUTECH), famous for churning out top notch graduates and the host city of Ogbomoso, are building up the image as nests of Yahoo Yahoo boys.
In the last two years, EFCC operatives have arrested no fewer than 79 students for various cyber crimes, in Ogbomoso. Over 70 per cent of them were LAUTECH students.
The latest LAUTECH students arrested were the 22 nabbed Tuesday by EFCC operatives in their Ogbomoso hideouts.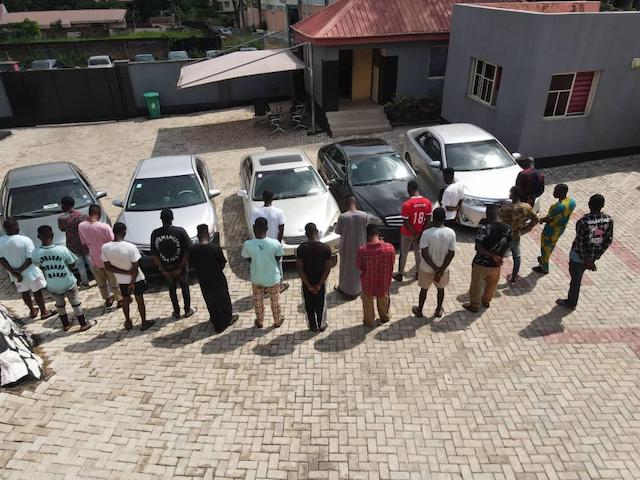 When the EFCC first raided the off campus hostels of the students in September 2019, 25 students were arrested for various forms of cybercrime including romance scam, love scam, possession of forged documents, and obtaining money by false pretence.
The students, who were aged between 18 and 29 years old, were arrested following a three-day raid carried out between September 16 and 19, 2019.
The raid followed months of surveillance and monitoring of the activities of the suspects, based on intelligence received by the agency.
The students nabbed at the time were Pelumi Adigun, 18; Umaru Frederick, 21; Damilola Emmanuel, 22; Tomiwa Oyewole, 29; Adeleke Owolabi, 24; Oladosu Abdullahi, 23; Abdulmusaq Ismail, 25; Isajimi Joshua, 23; Olaniyan Tunde, 22, and Ebosele Francis, 28.
Others were: Oladejo Ibrahim, 26; Oluwadamilare Abimbola, 25; Orimoloye Joshua, 23; Alfred Samuel, 22; Bayewu Ishola, 23; Abiola Gbenga, 25; Alfred Daniel, 20; Agboola Solomon, 21; Arolewola Damilola, 25; Amoo Tunmise, 23; Akeem Taiwo, 25; Segun Ajibola, 25; Hassan Segun, 24; Onicha Joel, 23, and Tafa Bassit, 25.
One of the students, Abdulmusaq Ismail, who was first arrested confessed to being involved in internet fraud and then took the operatives round hostels, leading to the arrest of many other suspects.
Some of the suspects who jumped over the fence to escape arrest, were nabbed as well.
The items impounded from them, which were believed to be the proceeds of crimes were a 4matic Benz, a Toyota Camry, a Toyota Corolla, two Macbook computers, two iPads, two iPhones and many other documents, later sent for forensic analysis.
On 11 August 2020, the EFCC operatives returned to Ogbomoso and were surprised that cyber crimes continued to thrive among new players.
This time, 32 "Yahoo Yahoo boys" were arrested in their various hideouts..
Three of the suspects claimed to be serving members of the National Youth Service Corps ( NYSC), 19 were undergraduates of various universities across the country, while the remaining 10 laid claim to sundry vocations.
The suspects are Oyebamiji Francis; Aremo Jeremiah; Ogbonnaya Prosper John; Anuoluwapo Matthew; Oladele Victor; Mumuni Waliyullah; Olawoyin Abiodun; Oluwatoyin Henry; Arisekola Shina; Babarinde Solomon; Samson Gideon; Joshua Ola Adebayo; Ajayi Joseph Ajibola; Garba Mojeed, Olatunbosun Tobiloba and Azeez Ridwan.
Others are Ajala Timilehin; Adebolapo Bakare; Alaba Gideon; Ogunkeye Olumide; Ogunleke Tolu; Olapade Emmanuel; Adegoke Aanu Abiodun; Job Ayantoye; Oyebode Pelumi; Babayanju Toluwani; Oladele Ayobami; Omonaiye Abubakar; Sattong Baking; Abisoye Kehinde, Iwajomo Nathan and Aniyikaye Tope.
At the point of their arrest, 12 exotic cars, several phones, laptops and some incriminating documents were recovered from them.
The third raid on Tuesday yielded 22 "Yahoo Yahoo Boys".
The suspects were Akintunde Ibrahim Olajide, Yusuf Taiye Afeez, Jimoh Idris Okikiola, Adeyemo Wariz Adegoke, Ademola Olalekan Saheed, Anif Abayomi Busayo, Oriade Sunday Oluwatobi, Ajadi Opeyemi Damilola,Peter Akanji Blessing,Olaoluwa Felix Oguniran, Agbei Shola Peter, Toheeb Adeagbo Tola, Ajayi Akinyinka Umar.
Others include Ibrahim Opeyemi Ishola, Samson Shonubi Oluwafemi, Oki Kayode Oluwadunsi, Durosamo Temitope Dickson, Akinremi Ridwan Abiodun, Ahmed Ogunyele and Olawore Ridwan Olalekan.
At the point of their arrest, five cars, several mobile phones, laptops and other incriminating documents were recovered from them.
Twenty of the 22 suspects have been indicted by the investigation.
They will be charged to court as soon as the investigation is concluded, said EFCC spokesman Wilson Uwujaren.
While most of the arrests have not always led to court trials, the EFCC had reported some convictions.
On 22 February 2021, the agency secured the conviction of Oluwatoyin Henry, one of the suspects nabbed in August of last year.
He was docked before Justice Sherifat Adeyemi of the Oyo State High Court, sitting in Ibadan, Oyo State, slammed with one count of obtaining by false pretence.
The charge reads: "That you Oluwatoyin Henry sometimes in 2019, at Ogbomosho, within the jurisdiction of this Honourable Court, with intent to defraud, obtained the sum of One Thousand Two Hundred United States of America Dollars (USD$1,200) from one Betty Mosley, when you falsely represented to him that you are a citizen of United States of America by name Amanda, who is in love with him which representations you knew to be false and thereby committed an offence."
The convict pleaded guilty to the amended charge after a plea bargain agreement with the prosecution.
Next year, the EFCC may be in for another harvest of Yahoo Yahoo boys in Ogbomoso and LAUTECH.

Load more