By Olanrewaju Akojede/Lagos
The 8th Awa Ibraheem Junior Golf Open Championships has teed off at the Ikeja Golf Club with a six-year-old girl, Funmilayo Oyero, making her debut among the golfers.
She said she is determined to make a bold statement in the competition.
The yearly cadet competition sponsored by a golf enthusiast, Awa Ibraheem, brought together the best junior golf players from across the country.
The 6-year old Oyero has been receiving coaching in golf from her father since she was 2 years old.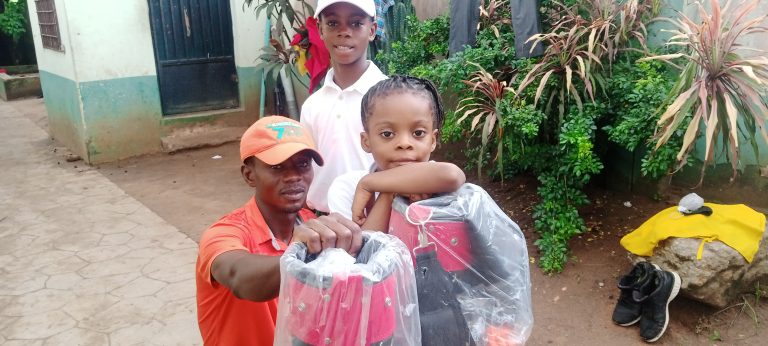 The young Oyero, a basic two pupil of Glorious Vision Montessori School, Ikeja, spoke to NAN about her mental strength, to square up against her mates and older peers.
"I love to play golf with others, my brother is also playing golf and my dad as well; my dad bought my kits and taught me how to play golf. For this tournament, I want to win," she said.
The older Destiny Oyero, aged 10, and the U-10 National Champion and two bronze medalist winner at the just-concluded National Youth Games, Ilorin, said that golfing ran in the family.
"My dad introduced us to golf at an early stage, I was also two-years old when I started following my dad to the golf course in Ikeja and it was fun then.
"Later, my dad introduced me to the competition and he told me I needed to practice on my own.
"I had a nice time at the National Youth Games in Ilorin, where I won two bronze medals, I wanted to win but the game was tough; the bronze medal is still good for me.
"Golf is very interesting because it echoes life, it is a gentleman's game and consistency is key. I want to be the next Tiger Woods from Nigeria, I love his game," he said.
A golf coach and father of the two budding golfers, Yomi Oyero, told NAN that he had an undying love and passion for golf, and having his children grow in the sport was a sacrifice.
"Combining their education with golfing, was not an easy task, sometimes, I will have to wake them as early as 3:30 a.m. to start our journey to Lagos to train, because we reside in Ogun State.
"I am however happy because the sacrifices are paying off, as Destiny is already a national champion and currently on a scholarship in one of the private schools in Lagos.
"My plans for the kids is that they should make a bold statement in golf in Nigeria and abroad, maybe one of these days, they will have the opportunity to continue playing golf abroad," he said.
Oyero noted that the Awa Ibraheem Championships was a good platform to discover budding golf talents, saying and that the competition, if sustained, would make more impact.
"Awa Ibraheem Junior Golf Championships offers a good platform at discovering a large pool of talented young golfers and it will be a good thing if it is well managed.
"We can get all the stars we need here among the young golfers, to represent the country well," he said.
NAN reports that the Awa Ibraheem golf tournament has U-8, U-10, U-13, and U-17 categories for boys and girls.
The tournament, now counted as a world ranking event, brought together no fewer than 100 young golfers from across the country.
Load more