The Arole Oduduwa and Ooni of Ife, Adeyeye Enitan Ogunwusi Ojaja II, has congratulated the prominent gaming magnate, Sir Kensington Adebukunola Adebutu, Odole Oodua, on the commemoration of his 86th birthday.
Ooni Ogunwusi in a statement by his Director of Media and Public Affairs, Moses Olafare, described Sir Adebutu as an outstanding Yoruba leader whose investments in human development, capacity building for the youth, humanitarian activities and sustenance of peace nationwide cannot be overemphasized.
Sir Adebutu, popularly called Baba Ijebu, is the founder of Premier Lotto, registered in 2001. It is a gaming company that offers lotto services and betting on major sporting events operating in Nigeria. It is the oldest known Nigeria lotto game operator.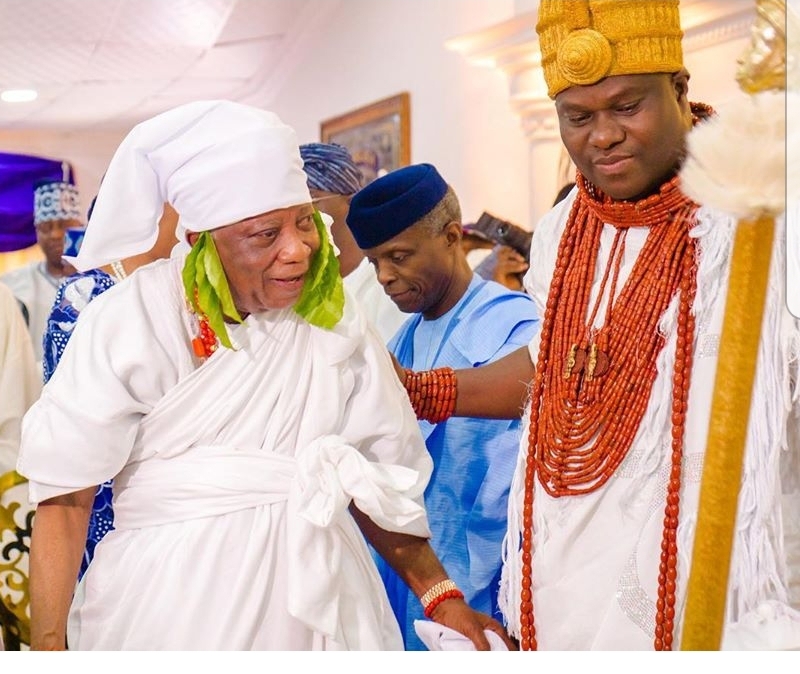 "Sir Adebutu is an asset to us in Yoruba land in particular and the world at large. We are always proud of him and his activities which are the basis upon which he was installed as the Odoole Oodua.
"On this special day, we wish him a healthy long life filled with prosperity from the throne of Oduduwa." The statement read.
Also in the statement, Ooni Ogunwusi congratulated the Provost of the Nigerian Institute of Journalism(NIJ) and General Manager/Managing Editor of Vanguard Newspapers, Mr Gbenga Adefaye on the occasion of his 60th birthday. He described Adefaye further as a worthy ambassador of Ile-Ife and patriotic Nigerian, who has a clean record of tremendous contributions to society.
"The good people of the kingdom of Ile-Ife are celebrating the Deputy President of Ife Development Board, Mr Gbenga Adefaye, on the occasion of his 60th birthday. Mr Adefaye has served the masses of this country as a seasoned journalist. He has a clear professional journey of 30 years, using his journalistic pen in the defence of truth as the Editor of Vanguard Newspapers and currently as Provost of the Nigerian Institute of Journalism. These he has combined with his native responsibility at his home town where he currently serves as Deputy President, Ife Development Board(IDB). He is certainly worthy of celebrations as a worthy ambassador". Ooni said.
Adefaye clocked 60 last Thursday, 21 October, while Adebutu clocked 86 today, Sunday, 24th October 2021.
Sir Adebutu was born on 24 October 1935 to the late Alhaji karimu Folarin Adebutu aka "Owo-Iya" and late Alhaja Seliat Olasimbo Adebutu of Iperu Remo, Ikenne LGA in Ogun State.  He attended The Wesley Primary School, Iperu Remo and Ijero Baptist School, Apapa Road, Ebute-Metta, Lagos where he completed his primary education in 1950.
He proceeded to Baptist Academy, Lagos (where he became friends of Chief Molade Okoya Thomas and Justice Holloway) for his secondary education in January 1951 which he completed at the famous Remo Secondary School (RSS) Sagamu Remo, Ogun State in 1955. After his West Africa Senior School Certificate Examination (WASSCE), he rejected a scholarship to train as a teacher, in order, according to his biographers,  for him to stay back at home and continue his education as a student.
He worked first with Cable and Wireless Limited, which later transformed into Nigerian Telecommunications Limited (NITEL) as an operations clerk in 1956. He then joined Claffin Chemicals Limited as a Salesman and rose to the position of Regional Sales Manager for Lagos and the old Midwestern State.
Adefaye was born on 21 October 1961. He is a native of Ile-Ife in Osun State. He was educated at the University of Nigeria, Nsukka from where he obtained his first degree in Mass Communication in 1984. He capped it up with an M.Sc. Mass Communication, University of Lagos, 1988.
He was a Reporter/Feature Writer, Newbreed, 1985; Reporter, NTA Benin, 1985. He was Editorial Training Manager/Chief Sub-editor, Vanguard. He rose to become Editor and Managing Director of the medium. Adefaye is the Provost, Nigerian Institute of Journalism.
Load more