Otunba Wasiu Afolabi, widely known as Askari, is now officially the leader of the Frederick Fasehun faction of the Oodua Peoples Congress.
His inauguration came up on 26 October, more than six months after he was unanimously elected as the faction's president, following Fasehun's death on 1 December 2018.
Afolabi was Fasehun's deputy.
Fasehun's wife, Iyabo performed the ceremonial handover at the event at Century Hotel, Okota, chaired by Olawale Oshun, chairman of Afenifere Renewal Group.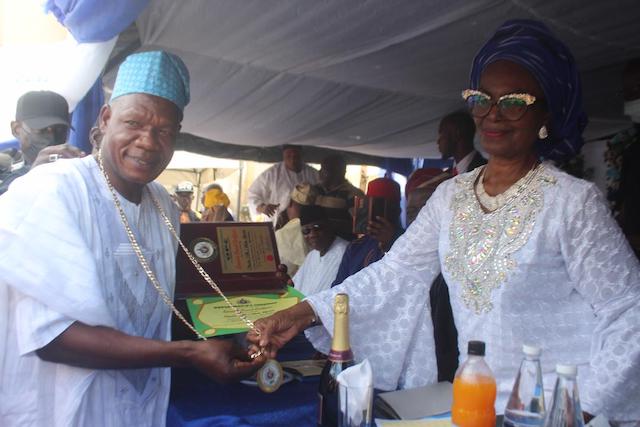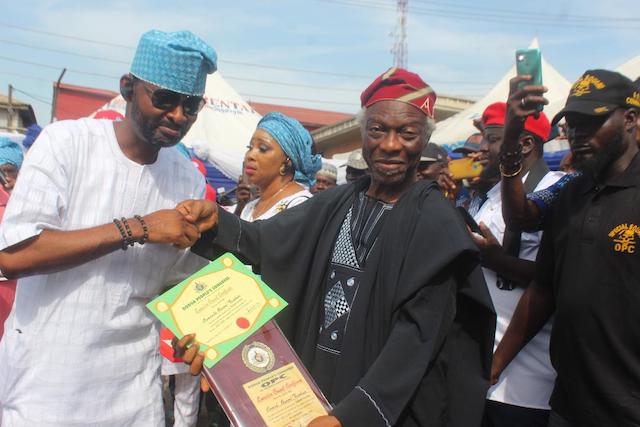 Other dignitaries in attendance were Bishop Bola Odeleke, Rtd. Brig-Gen. Isa Aderibigbe (Governing Board Chairman of the Osun Security Network, Amotekun), Evangelist Kunle Adesokan and Comrade Jubril Ogundimu.
Decorating Afolabi with the insignia of office, Deaconess Iyabo Fasehun told him and other executives: "Do not see your election as an opportunity for selfish gain but an opportunity to serve and serve well.
"My husband stood for justice, peace and unity until he transited. This path you should follow likewise.
"Always remember that Nigerians are watching to see how OPC will behave in your own time and at this period in our national history."
Afolabi recalled that OPC was founded in 1994 to protect Yoruba land, Yoruba people and Yoruba interest.
He thus vowed that his new leadership would do everything to fulfil the Founder's mission.
He extended a hand of fellowship to all OPC factions that had broken away from the mainstream founded and headed by Fasehun.
"Let us come together to face our common enemies. Those enemies are people and conditions that encourage insecurity, poverty and inequality in the lives of Nigerian people."
According to him, President Muhammadu Buhari must realise that Nigeria urgently needed restructuring because no nation, with its complexity and diversity could be welded together by fear, by force and by injustice.
"OPC supports restructuring. If the Nigerian government continues to ignore the cry for restructuring, it will only result in more agitation by more people for everybody to go their separate ways.
"To prevent this, Nigeria must be restructured along the lines of TRUE FEDERALISM, which formed the basis of its Independence in 1960.
"If President Muhammadu Buhari will not adopt the 2014 Confab and others, then he should urgently package a National Conference to work out an acceptable Federal Constitution.
"Without this, Nigeria should dissolve peacefully and let all the people go their separate ways."
The new OPC leader also warned those he accused of encouraging foreigners to invade and oppress true Nigerians, saying, the triumph of evil over good would only be temporary.
"Nigerians who support foreign herdsmen to kill, rape and kidnap local farmers and indigenes will only endanger themselves. The displacement of native Nigerians from their God-given lands will not be allowed in the South, the East, the West or even the North.
"OPC asks the Nigerian Armed Forces to refuse to become instruments of injustice and oppression against Nigerian people.
"Instead, all the Security Agencies should go after all the evil foreign invaders and their supporters.
"OPC pledges its support to the law enforcement agencies to help maintain security based on equity and social-justice."
Afolabi said that the government must immediately stop hunting and persecuting those agitating for a separate nation, such as Nnamdi Kanu and Sunday Igboho.
He said their right to demand self-determination was guaranteed by international conventions that Nigeria signed.
"OPC recommends that the government should formulate inclusive policies that will convince agitators and separatists that Nigeria is worth sustaining and worth living for.
"The government must show that Nigeria is not for foreign Fulani herdsmen and their evil sponsors; but that Nigerian land is for Nigerian people," Afolabi said.
Chairman of the occasion, Oshun urged OPC to continue to honour Fasehun's legacies and ideals together with his ideological comrade, the Late Dr. Beko Ransome-Kuti.
"Fasehun set out to protect the interest of the Yoruba at a crucial time in the nation's history.
"The new leaders and all members of OPC owe the Yoruba people to continue to render this service by upholding social justice for all and sundry."

Load more