A fallout of the Anambra governorship election is that the candidate of the All Progressives Congress, Andy Uba has become an object of ridicule, his credibility bashed.
Fortunately, Uba has no political opponent to blame for his mockery. He contrived it himself, in collusion with Governor Dapo Abiodun
On 26 June, 2021, Uba claimed to have won 230, 201 votes from APC members in the primary election, conducted by Abiodun.
With the votes credited to 13 other candidates, the APC recorded 348,630 voters in the primary election.
The voters were understandably members of the party on its register.
Five months after, the election held on 6 November.
Andy Uba was thoroughly thrashed by Professor Chukwuma Soludo, the candidate of APGA, the ruling party in the state. .
Uba with his 230,201 primary electors, ended up not second, but third in the contest, with around 42,942 votes.
You then wonder, where were Uba's supporters, who overwhelmingly gave him the ticket in June.
Did they vote APGA or PDP? If you believe this, you will believe anything.
The truth is that those voters did not exist in the first place. They were ghosts, fictionally created.
The APC does not have anything near 348,630 members in Anambra that took part in the primary.
Remember the cry of the losers: there was no primary election ever held by the APC in the state.
But this cry was muffled as the party upheld what is now clearly a fictional result submitted by Dapo Abiodun electoral committee.
Without any iota of contradiction, the committee simply wrote the figures and allotted the votes whimsically.
Politicians play this game often, lying insistently about an election that did not hold and votes that were never cast.
INEC conduct of the election has now confirmed what the other APC candidates complained about.
Indeed the entire number of votes in the highly contested election in the state will be slightly higher than the 230,000 recorded by Uba in June, even with the make-up election held in two councils today.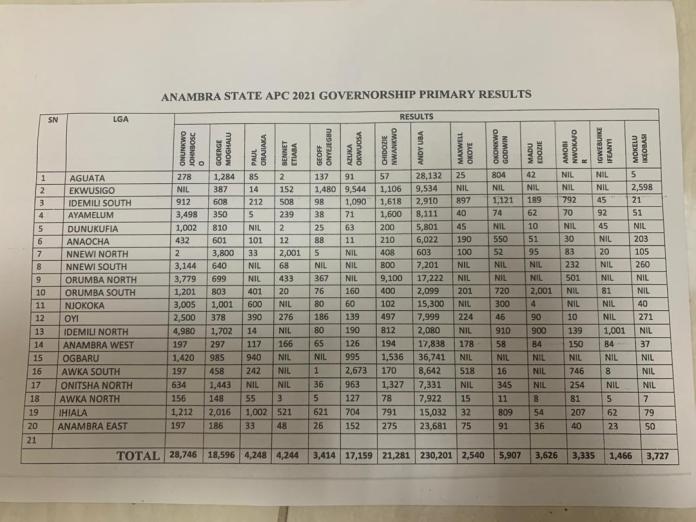 Load more