Okafor Ofiebor /Port Harcourt
Some scores of women besieged the Corporate headquarters of Niger Delta Development Commission, NDDC at the Eastern bypass are of Port Harcourt on Tuesday to demand sack of the Interim Management Committee, IMC of the Commission as well as constitution of a new board for the organisation.
The women who were armed with placards with varying inscriptions like "Malami leave NDDC Alone","We want a Board for NDDC" "Sack illegal Interim Committee/Sole Administrator, also demanded for the publication of forensic audit report carried out in the Commission and submitted to President Muhammadu Buhari as well as the sack of the Sole Administrator.
The peaceful protest also affected vehicular traffic along the Eastern bypass and the Marine Base axis of Port Harcourt.
The Minister of Niger Delta Affairs, Senator Godswill Akpabio had presented the final report of the forensic audit of the NDDC to President, Muhammadu Buhari on September 2.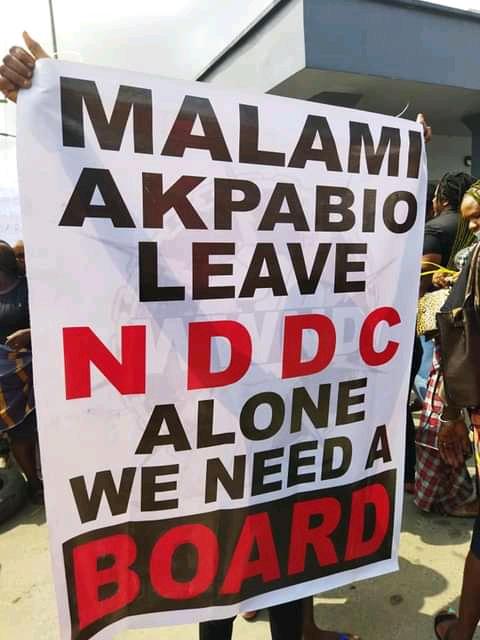 The minister while presenting the documents conveyed in 17 "Ghana Must Go bags" to the Attorney General of the Federation and Minister of Justice, Abubakar Malami, who represented Buhari pleaded for urgent actions on the recommendation of the report.
Akpabio disclosed that the auditors have concluded the examination and documentation of a total 13,777 contracts for projects and programmes awarded to Contractors and consultants in all Niger Delta States from 2001-August 2019, at a total final contract value of N 3,274.206,032,213.24.
But since the audit since September when the report was submitted, no white paper has been released on it by the Federal Government.
The Federal Government has also not constituted a new board for the agency.
At the time of filing this report, no official of NDDC has addressed the women.