Okafor Ofiebor/Port Harcourt
The police in Rivers has arrested Onyema Ugochukwu,Okiri Godbless, Ogbonna Emmanuel and Okubo-Ebi Ugochukwu who allegedly specialised in the manufacturing fake engine lubricants.
The four suspects were arrested on Tuesday at No. 47 Abel Jumbo Street Abel Jumbo street, Mile two, in Diobu area of Port Harcourt where fake petroleum products such as grease and assorted lubricants were produced and sold.
The Spokesman for the Police Public Relations Officer, PPRO, SP Nnamdi Omoni, led a team of journalists to the hideout where the suspects"manufacture" the fake lubricants.
Omoni said men of the State Criminal Investigation Department, SCID, stormed the area following a tip off and busted suspects while in operation.
"This is an illegal factory where fake lubricants and engine oil.They were busted while in operation and arrested.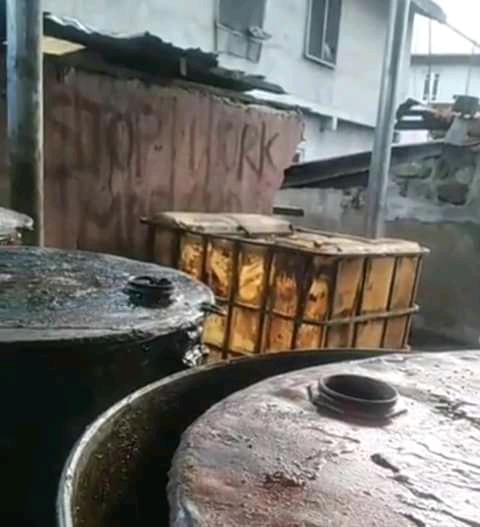 On the allegations the some policemen were giving the suspects cover, Omoni said, "We are not magicians. We are dealing with those who are caught. No Policeman is above the law. We have internal mechanism of checkmating the illegal act by our personnel".
However, one of the suspects and Manager of the company, Onyema Ugochukwu, from Imo state denied that what they were producing and selling were fake lubricants.
He said rather, they buy lubricants in a very large quantities and sell to retailers.
Onyema, also his company was duly registered and never involved in an illegal refining of fake crude oil products.
Our Correspondent reports that items recovered at the premises include several drums of unrefined petroleum products, 12.5kg gas cylinder, one gallon of sulfuric acid and half bag of bleaching earth chemical.

Load more