Okafor Ofiebor/Port Harcourt
Mr Chidi Lloyd, the Chairman of Emohua local Government Area in Rivers has led hundreds of residents of the area in a peaceful protest against illegal oil bunkering and illegal oil refining activities popularly known as 'Kponfire' which has become a major source of pollution in communities in the council and other parts of the state.
The protesters who marched around the Emohua axis of the East-West road accused security personnel posted to the area of aiding and abetting the illegal activities that have led to constant emitting of cancerous soot into environment in the local government area on daily basis.
While addressing the crowd of protesters, Lloyd recounted fruitless efforts made by his administration to end the menace through the setting up of the local government taskforce on illegal oil bunkering.
He lamented that the efforts could not yield the much needed result due to support of security personnel to the operators of the illegal oil bunkering business.
He alleged that trucks and petroleum products tanks were being loaded with illegally refined petroleum products and escorted out of the local government area by federal government-controlled security agencies, while residents of the area battle with issues of soot and water pollution, as well as destruction of farm lands, as a result of the menace.
He added that if activities of illegal oil bunkers is not stopped by the federal government, which is the only tier of government that has powers over the security agencies, the people of Emohua local government area would become endangered species prone to cancer and other serious health related challenges.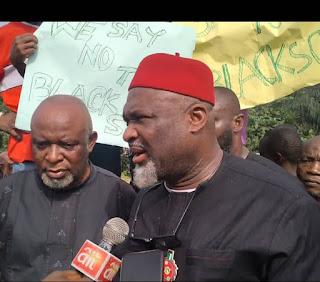 On their parts, leader of Emohua legislative Assembly, Mrs Love Nyenke, and the Secretary of the local government council, Chief Vincent Chukwu supported the position of the Council chairman.
They stressed that the situation has become so bad that the people of the area who are predominantly farmers and fishermen could no longer go about their farming and fishing business due to the pollution of their rivers and streams.
They called for the investigation of any security personnel involved in the illegal oil bunkering activities and that anyone found culpable should be be made to face the full wrath of law for sabotaging the nation's Economy.
They stressed that the quick intervention of the federal government will not only help to protect lives and properties in Emohua local government area, but would also save the nation from loss of revenue.
Recall that this year, theft of crude oil claimed over 20 lives in Rumuekpe Community in Emohua Local Council.
Also, 22 persons sustained degrees of burns as a result of the inferno.
It was gathered that the fire was caused by one of the "cooking pots" at the location of the illegal oil refining activities with interconnected pipes that exploded.

Load more