A funeral service was held on Saturday in Cape Town, South Africa, for Archbishop Emeritus Desmond Tutu, the Nobel Peace Prize-winning equality activist who was revered in Africa for his role in ending apartheid.
The ceremony, stripped of pomp, started with a hymn and a procession of clerics down the aisle burning incense and carrying candles in the church where Tutu was also buried.
Tutu died last Sunday at the age of 90, triggering grief among South Africans and tributes from world leaders for a life spent fighting injustice.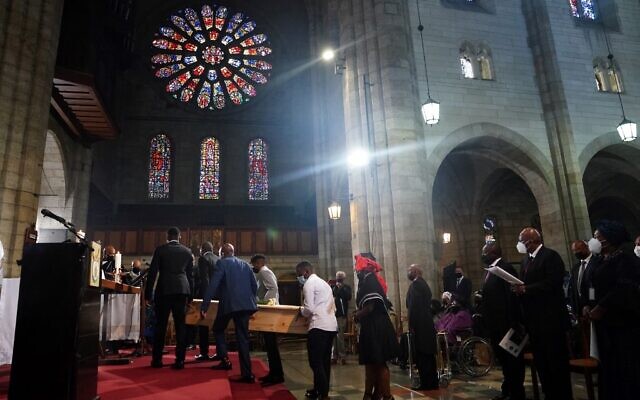 Famous for his modesty, Tutu gave instructions for a simple ceremony, with a cheap coffin, donations for charity instead of floral tributes and an eco-friendly cremation.
The requiem mass was held at Cape Town's St. George's Cathedral where, for years, Tutu used the pulpit to rail against a brutal white minority regime.
"When we were in the dark, he brought light," Archbishop of Canterbury Justin Welby, the head of the worldwide Anglican church, said in a video message.
"For me to praise him is like a mouse giving tribute to an elephant," Welby said. "South Africa has given us extraordinary examples of towering leaders of the rainbow nation with President Nelson Mandela and Archbishop Tutu…. Many Nobel winners' lights have grown dimmer over time, but Archbishop Tutu's has grown brighter."
President Cyril Ramaphosa, who delivered the eulogy, accorded Tutu a special category funeral, designated for presidents and very important people.
He also handed South Africa's multicoloured flag to Tutu's widow, Leah — a reminder of her husband's description of the post-apartheid country as the "Rainbow Nation."
South Africa has been marking a week of mourning, culminating with two days of lying in state.
Tributes
On Friday young activists hailed Tutu as a role model for fighting global injustice as they waited in line to pay their last respects to the anti-apartheid hero at St George's Cathedral in Cape Town.
"We as young activists believe the Arch stood for the same values that we want to aspire to in society," Irfaan Mangera, a pro-Palestinian South African activist, told Reuters as he waited in the long queue, draped in the Palestinian keffiyeh.
Using Tutu's nickname, Mangera added: "The Arch was one of the figures who continuously united us against oppressive systems globally, locally and we want to continue in that path as young South African activists who emulate the values of non-racialism and non-sexism."
Among the many mourners was Mandla Mandela, a grandson of South Africa's first Black president, Nelson Mandela, who had been a friend and ally of Tutu.
"People like Arch were able to lead protests and marches right here in the Cape and this is why, when we look back at his life, we are celebrating today and particularly with his support for oppressed nations across the globe," he said.
Earlier, members of the clergy and church wardens lined the street as a guard of honour, awaiting the arrival of the simple pine coffin with rope handles, as the cathedral's marching band filled the air with the sound of drums, flutes and trumpets.
A teary Thandeka Tutu, the eldest daughter, hugged her sisters after climbing out of the hearse. Six black-robed pall bearers then carried the closed coffin to an inner sanctuary of the cathedral amid a cloud of incense from an Anglican thurible.
Tutu's body began lying in state on Thursday.
Since Sunday, church bells across South Africa have been rung every day in Tutu's honour.
Churches around the country continued to hold thanksgiving services for him on Friday.
Tutu who requested the cheapest coffin and did not want any lavish funeral expense, will be cremated and his remains interred behind the cathedral pulpit, from which he often used to preach against racial injustice.

Load more