By Okafor Ofiebor
There was panic in Omuanwa Omuanwa, Ikwerre Local Government Area of Rivers State on Wednesday morning as many residents went into hiding following over invasion of their community by uniformed men in about eight Hilux vehicles following the killing of an Air force officer identified as Kashite Eugene, the previous day.
The Air Force officer was allegedly shot dead by one "Tuface", a member of a local security outfit popularly know as OSPAC.
A source from the community who confirmed the development from her hiding said members of OSPAC in the area who initially prevented the youths from burning down the house of "Tuface" over the killing of the Air Force officer have all ran away.
However, it was gathered that the late Airforce personnel went to the operational base of OSPAC to demand release of his friend detained by the outfit over alleged involvement in cultism.
But there was altercation between him and the OSAPC men that led to a fight during which the Air Force officer was shot.
The Air Force officer who, it was gathered, was also from the community consequently bled to death.
In reaction, some youths in the community took over the operation base of OSPAC, threatening to burn it down, but were prevented.
The Chairman of Omuanwa Community Development Committee(CDC) Ugh Chiang confirmed to journalists in a telephone interview that the OSPAC official responsible for the killing the Air Force officer has been apprehended and handed over to the police at Isiokpo Area Command in the local government area.
"I just finished speaking with the CDC chairman of Omuanwa community, Ugh Chiang, he confirmed to me that the OSPAC personnel popularly called Tuface' allegedly responsible for the killing of the Air force personnel has been handed over to Isiokpo Area Command.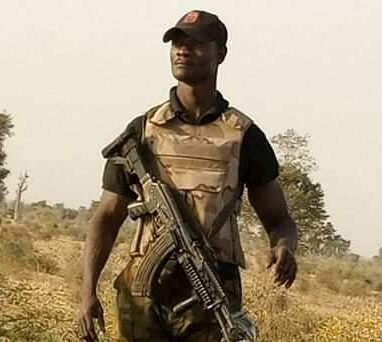 The CDC Chairman added that he learnt that the Air Force officer had early on Tuesday, went to the OSPAC office to order the release of a suspected cultist who was in the process of denouncing cultism after he was arrested by the local vigilante group.
He, however, said a disagreement led to a physical fight between him and "Tuface" outside the OSPAC office.
The Air Force officer went away, later on Tuesday mobilized his friends and went to the house of the OSPAC official to beat him.
He said as the fracas ensued, the OSPAC official got hold of his gun and shot the Air Force officer.
Chiang, condemned the killing of the Air force officer, adding that the law should take it cause.
He also advised youths in the community not to do things that are inimical to peace of the area.
At the time of filing this report, several efforts made to get official reaction from DSP Grace Woyengikuro Iringe-koko,the Police Public Relations Officer,PPRO, of the Rivers State Police Command did not yield results.
Load more