A coroner's inquest into the death of Sylvester Oromoni Jr, a student of Dowen College, Lekki, will commence on Saturday, 15 January 2022. The boy died on 30 November last year.
This will hold at the Magistrate Court Number 4, Epe District, Combined High Court and Magistrate Courts of Lagos State, Epe, at 9.00 am. The hearing shall be in open court.
This is contained in the letter, dated 4 January, signed by Mikail Olukayode Kadiri, Coroner, Epe District. It was addressed to The Principal Partner, Falana and Falana Chambers, the law firm handling the Oromoni case for the family.
According to Kadiri, Femi Falana, a Senior Advocate of Nigeria, and the Principal Partner was "reminded to file and serve depositions of all witnesses you intend to call at the inquest and forward a list of persons whom, in your opinion, need to be summoned by the Court."
On Wednesday, the Lagos State Director of Public Prosecution (DPP) exonerated five students and five officials of the school over Oromoni's death. The same day, apart from the boy's father who said he was appalled, Falana, reacted too that such report was too hasty. He reminded anyone who cared to listen that a coroner's inquest would still hold.
Below is the letter: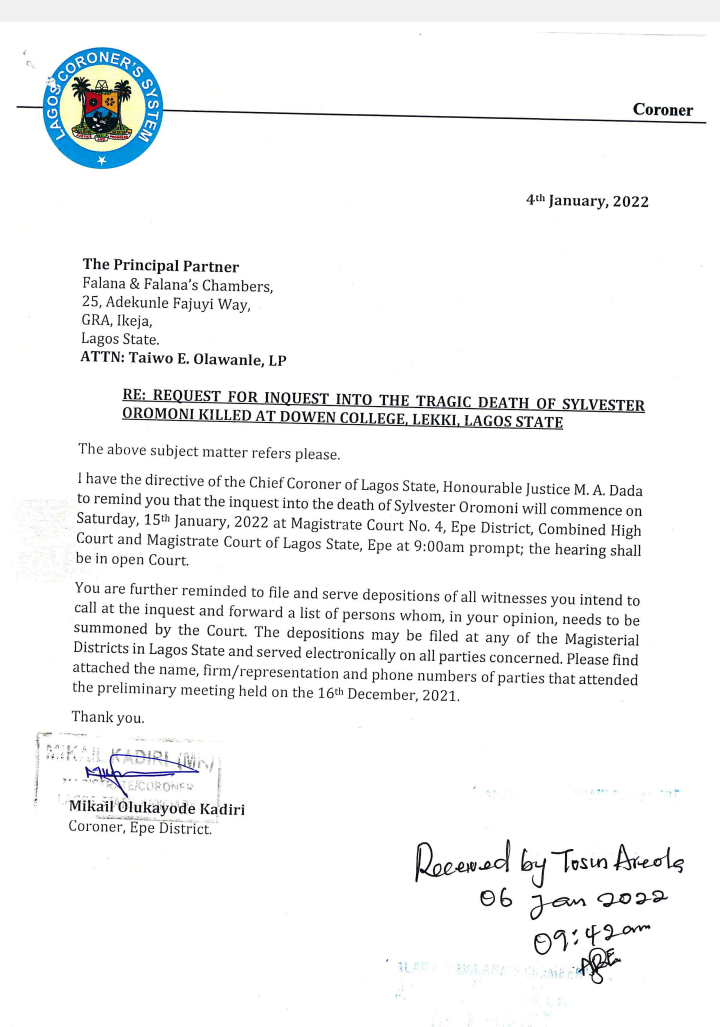 Load more