Many victims of Boko Haram/ISWAP terror from across Nigeria gathered in Maiduguri to mark the 4th anniversary of the abduction of Leah Sharibu.
They did the same in 2020 in Abuja at the 2nd anniversary of her captivity.
During a peer-to-peer trauma healing retreat facilitated by a visiting American humanitarian team, survivors, orphans and widows and their families shared experiences and encouraged one another.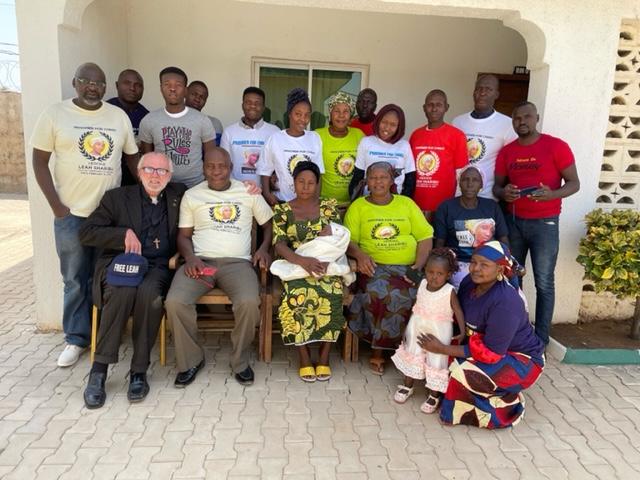 ii
Victims included:
Ezekiel: A sole survivor of a Boko Haram massacre of staff in the quarters of their construction company who has received three surgeries through the assistance of US Nigeria Law Group's network partners for gun shots to his head.
Jacob: a survivor of an attempted beheading by Boko Haram also during the elimination of Christian males in Yobe State who has obtained two surgeries through USNLG network partners
Peter: an IDP who was separated from his wife and family during a terrorist attack and given up for dead only to be reunited one year after he descended from Gwoza mountain where some had survived on weeds as others starved to death
Aunty Amina: widowed by Boko Haram the same night her sons throats were also slit only for her to be later abducted by the terrorists a few years after for several months
The relative of an Adamawa farmer: who was attacked by a Fulani herder with a knife but successfully defended himself only to be sentenced to death by hanging after six years in detention
Brother-in-law and senior sister to Leah: who had been childless until prayed for by the American cleric during last year's 3rd Leah anniversary and who delivered Leah's niece just six weeks ago.
Widow and daughter of an Adamawa CAN official: who was abducted and ultimately executed by the terrorists, who were subsequently displaced from their community due to continued attacks and threats to their safety
A pastor who's female member was abducted by the terrorists on the highway and had to sell possessions and personally went to deliver the ransom per their demands before her release
Participating survivors and victims thanked the organizers of the retreat for the session.
Gifts of grains from their farms were made to the US visitors.
Additional needs such as schoolbooks and fees for the child of an IDP family displaced for eight years now and still homeless and huge monthly expenses on medicines for a gunshot survivor were also discussed with the US team.
Housing needs and livelihood were among other items identified in the needs assessment of many survivors.
Addressing the victims, international human rights lawyer, Emmanuel Ogebe stated that it was a great honour to be in the presence of true modern day heroes of the faith who had paid a steep price for their loyalty to Christ.
He said it was in appreciation of their sacrifices they left the convenience and comfort of life in America to visit them.
He also recounted how he had linked one of the victims to the Victim Support Fund for surgery but after a fruitless trip to meet their medics, he learnt of an American medical mission that was in town who agreed to slot him into their patients roster the last day before they left.
The Volunteer Chief Executive Officer of Widows And Orphans USA Rev Dr William Devlin also narrated how he prayed for Leah's sister last year and now she had birthed a baby girl.
He thanked her for naming the baby after his beloved bride of over 40 years in US.
The retreat which was co-facilitated by US Nigeria Law Group and Widows & Orphans LLC both of USA was part of a week long series of activities in honour of Leah Sharibu deemed a "Prisoner of Conscience" by the United States Commission on International Religious Freedom (USCIRF) and believed to be the world's youngest POC.
In her closing prayer, the widow of the late murdered CAN chairman said she was not asking God to destroy the terrorists but to deliver them from their evil ways.
Load more