Lagos, Kaduna, Cross River and Edo are the most indebted states to external creditors, according to the latest data released by the Debt Management Office DMO on Friday.
In external debt, Lagos owes $1.333 billion. It is followed by Kaduna with $595.1 million, Cross River $279.7 million and Edo $276.2 million.
The total external debt of states and the FCT amounted to $4.75 Billion, which is 12 percent of the total external debt of $38.3 billion.
The Federal Government has the biggest external debt of $33.62 billion.
Lagos also leads the states in accumulated domestic debt with a load of N658 billion.
Rivers is next with N225.5 Billion, followed by Ogun with N232 billion, Akwa Ibom N214.6 Billion.
Imo has a debt burden of N205 billion.
And following them in another league are Cross River N159.8 Billion, Bayelsa N154B, Delta N154 Billion, Plateau N150.4 billion.
Osun has a debt overhang of N134 Billion and Oyo N142 billion.
The Federal Government is the baba of the debtors with N19.2 trillion, amassed through various instruments.
According to the DMO, Nigeria's total public debt grew to N39.556 Trillion or $95.779 Billion by December 2021.
The agency said the Public Debt Stock for December 31, 2021, includes New Borrowings by the FGN and the sub-nationals.
The FGN borrowed N5.489 Trillion to part finance the Deficit in the 2021 budget.
"Borrowings for this purpose and disbursements by multi-lateral and bi-lateral creditors account for a significant portion of the increase in the Debt Stock", DMO stated.
Increases were also recorded in the Debt Stock of the States and the FCT.
The New Borrowings were raised from diverse sources, primarily through the issuances of the Eurobonds, Sovereign Sukuk and FGN Bonds.
These loans were utilized to finance capital projects and support economic recovery, DMO said.
With the Total Public Debt Stock to Gross Domestic Product (GDP) as at December 31, 2021, of 22.47%, the Debt-to-GDP ratio still remains within Nigeria's self-imposed limit of 40%.
This ratio is prudent when compared to the 55% limit advised by the World Bank and the International Monetary Fund (IMF) for countries in Nigeria's peer group, as well as, the ECOWAS Convergence Ratio of 70%.
The Federal Government is mindful of the relatively high Debt-to-Revenue Ratio and has initiated various measures to increase revenues through the Strategic Revenue Growth Initiative and the introduction of Finance Acts since 2019, the DMO stated.
The full picture of Nigeria's debt: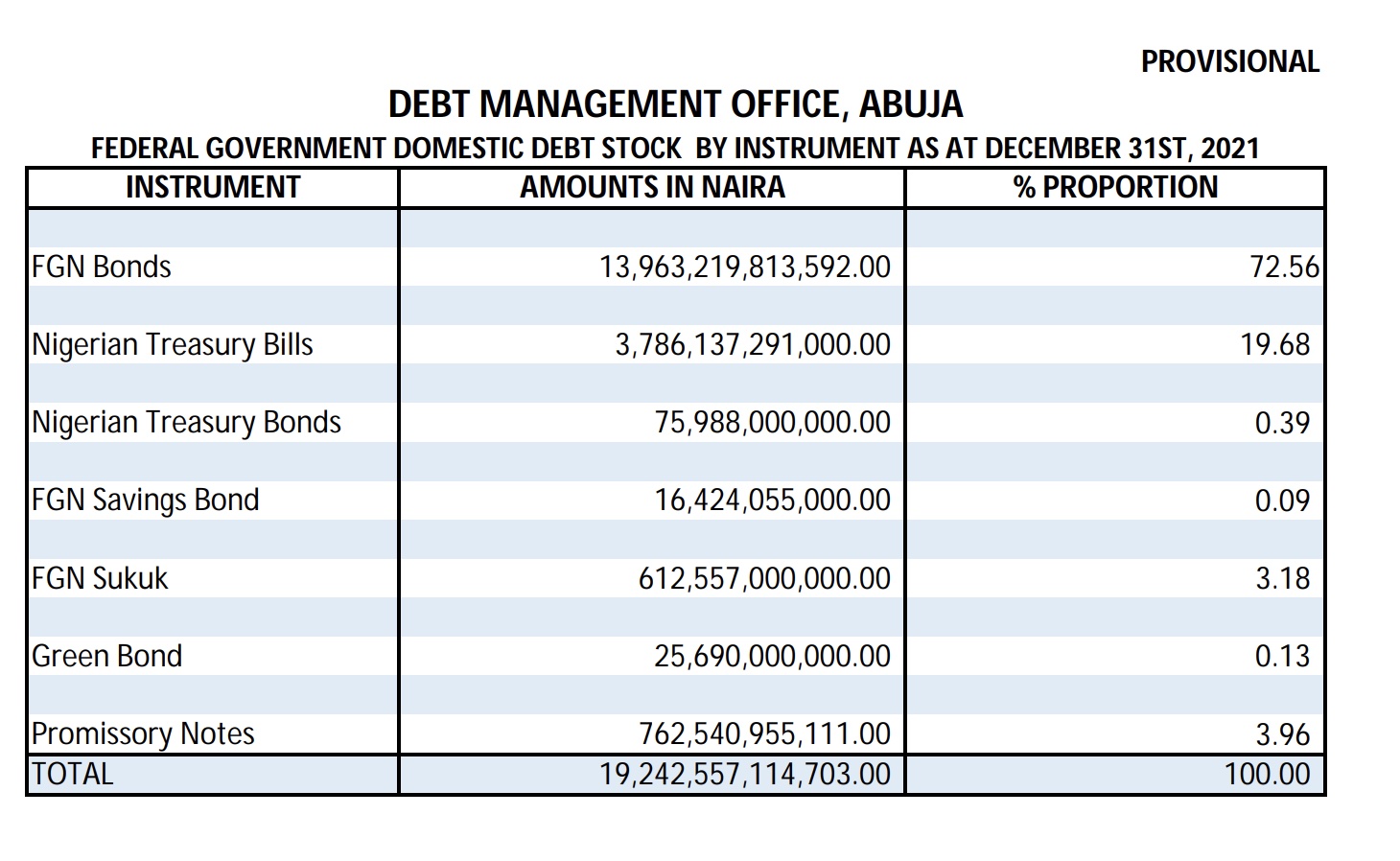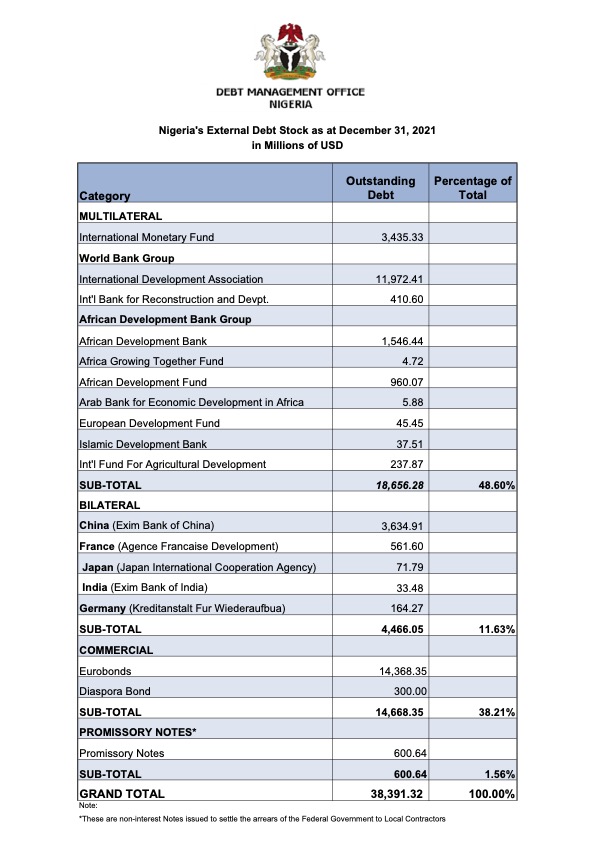 States and FCT Domestic Debt Stock as at December 31, 2021States and Federal Government's External Debt Stock as at December 31, 2021a
Load more