Nigerian gospel singers Oyenike Laoye, known professionally as Nikki Laoye, and her longtime friend of 20 years, Kunle Adeyoola, popularly known as Soul Snatcha are officially married.
The couple tied the knot traditionally on Friday, March 18, 2022, with family and friends present to celebrate their special day.
Laoye took to social media to share pictures from the ceremony with her fans and followers while appreciating those who contributed to the success of the ceremony.
In a post on her Instagram page, she also gave special thanks to her family and that of her husband.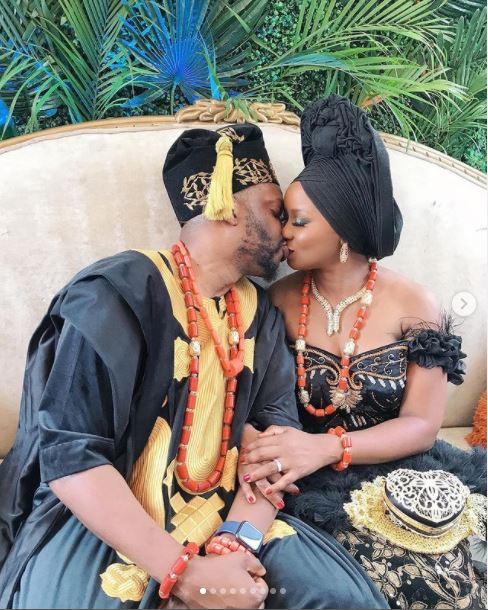 She wrote: "Yess #MeetTheSnatchas 😁❤️Mr & Mrs Adeyoola – @soulsnatcha & @NikkiLaoye – Our New Beginning has begun.. A Love story orchestrated by God and blessed by our families (The Laoyes & The Adeyoolas)
Best Friends of Life… now For Life 😁
God gave us a mind blowing second chance, he gave us beauty for ashes…
We are so excited for all that God is doing and about to do with us as we take up this new mantle as husband and wife.
We are so thankful and grateful to our families,our online family and everyone who is praying for us,supporting us,giving us gifts..God bless you all.
It's truly a New Season,A New Day of God's goodness and blessings.
Beautiful first pictures taken by my sister of life and chiefbridesmaid @misscookey (thanks so much hun..you rock…
official pictures coming soon…
My beautiful outfit was made as a gift by @houseofmostitches_by_laraolubo who looked for me online after our engagement announcement and asked to make my outfit for free, I am so grateful,God bless you sis) 😁🤗❤️"
The rapper had proposed to Nikki on her 41st birthday in December 2021 in the presence of his children.
Instead of a solo proposal, he had his children wear a 'Will You Marry Us' t-shirt for the proposal.

Load more