The co-founder of Sony, Akio Morita, knows the importance of hiring the right talent for the growth of businesses. "When I find an employee who turns out to be wrong for the job, I feel it's my fault because I decided to hire him," the executive once reiterated about the importance of talent optimisation.
Like Morita, Governor Babajide Sanwo-Olu, who appointed ex-lawmaker, Wahab Alawiye-King as Chairman of Lagos State Universal Basic Education Board (LASUBEB) on September 11, 2019, is a firm believer in talent optimisation. Having made education a core pillar of his development plan for Nigeria's first megacity, the Governor couldn't have chosen a better fit to lead the organisation. His choice of Alawiye-King as Chair of SUBEB and the other seven members has turned out to be inspiring. Since 2019 when Alawiye-King assumed duty, LASUBEB has continued to record milestones in its mission of improving primary education in Nigeria's commercial capital.
In Alawiye-King, holders of degrees in Economics, Political Science, Urban Policy & Administration from Brooklyn College, City University, New York, Sanwo-Olu found a kindred spirit who shares his passion and vision for education. He knows how to deploy technology to maximise its impacts and make pupils globally competitive as the world further embraces the knowledge economy. Having been Chairman of the House of Assembly Committee on Education before his current assignment, the SUBEB Chair was well acquainted with the sector's challenges and how to resolve them with proper legislation. His institutional memory from that era has proved invaluable in his current executive assignment. It is helping him steer the Board to more extraordinary achievements with its interventions, including Eko Excellence in Child Education and Learning (EKOEXCEL), Project Zero and Classroom in Your Home.
LASUBEB's success with EKOEXCEL has been particularly instructive and earned Alawiye-King more plaudits. Last November, at the Quarterly Meeting of the Universal Basic Education (UBEC) Management with executive chairpersons of SUBEBs in Nigeria, tagged;" Enhancing Access, Equity and standards in Basic Education Through Technology-Driven Initiatives," Alawiye King's peers recognised his significant achievements and elected him the Dean, executive chairmen, State Basic Education Boards (SUBEBs) in Nigeria.
"The LASUBEB chairman is a team player in actualising the Education and Technology pillar of the THEMES AGENDA of the Governor Babajide Sanwo-Olu led administration in Lagos State. His appointment as the Dean equally recognises his giant strides and various pacesetting innovation in the Basic Education in Lagos State," read a statement issued after the meeting.
Launched in 2019, EKOEXCEL has made laudable/noteworthy achievements since then. Over 18,000 headteachers and teachers have been moved from analogue to digital teaching, using tablets and updated curricula. Over 14,000 primary school teachers from 1,011 public primary schools have been captured under the scheme. The education reform programme has also recorded remarkable gains in enhancing the teacher-pupil interaction experience through technology (eLearning) in Lagos State primary schools.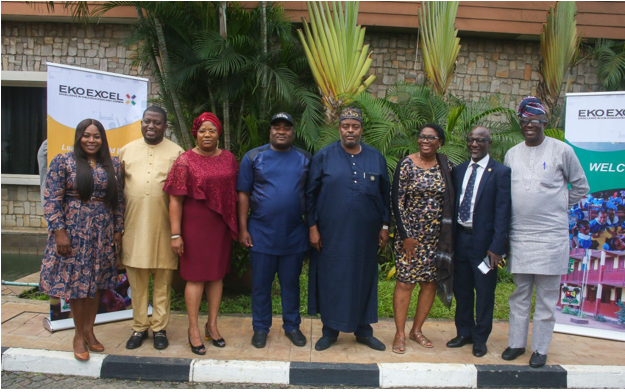 The transformational intervention has also boosted uniformity and strict adherence to the curriculum. Teachers' tablets are preloaded with lessons and content that can be effectively monitored for standardisation across Lagos' 1,011 public primary schools. Commendably, all the achievements are not just based on conjectures. They are factual, as the EKOEXCEL 2020-2021 Endline Fluency and Numeracy Evaluation showed. EKOEXCEL pupils are making remarkable progress in oral reading fluency and foundational numeracy compared to their last performance before the initiative's commencement.
The evaluation affirmed that EKOEXCEL improves learning over what existed before and continues to enhance learning with the program over time. The study, conducted in July 2021, involved researchers administering two assessments to primary 1-6 pupils. The tests were an oral reading fluency assessment (using a Primary 2 passage and a grade-level passage) and a foundational numeracy assessment (the International Common Assessment of Numeracy, or ICAN).
The assessment found that pupils have made outstanding progress across all grade levels since a baseline oral reading fluency evaluation in Lagos State public schools in 2019 (before the launch of EKOEXCEL). 2021 pupils are reading an average of 311% more correct words per minute than their 2019 pre-EKOEXCEL counterparts, with the most significant gains among Primary 1 pupils.
And as the current school term gradually draws to a close, EKOEXCEL is unrelenting in the quest to improve pupils, make them globally competitive, and increase enrollment. On March 28, EKOEXCEL primary 6 pupils took the Unified Mock Common Entrance Examination to prepare for the Lagos State Placement test, National Common Entrance Exams, Lagos Screening Test, and other high-stakes exams taken to transition into the relevant secondary school pathways. The mock exam closely followed the model for the actual exams that takes place  on March 31. It allowed the pupils to master the format and test-taking conditions they would encounter in actual exams. Data from the Unified Mock Common Entrance Examination helped determine what revisions of instructional content or remediation of critical skills are needed to ensure outstanding performance at the Primary 6 exams.
Fittingly, parents also affirm their satisfaction with the transformational intervention Alawiye-King and the other LASUBEB board members, including Hon. Adebayo Adefuye, Dr Saheed Ibikunle, Mrs Shijuade Idowu-Tiamiyu, Dayo Israel, Mrs Adedoyin Setiat Abiodun and Mr Hakeem Abiodun Lamidi are  mid-writing on behalf of Governor Sanwo-Olu.
Mrs Deborah Kehinde Joseph, a resident of Maryland who is also the guardian of two pupils, attested to EKOEXCEL's impacts on her younger siblings. "The improvement has been good and noticeable because my two younger siblings are not very academically sound. But since I brought them to this school, they have been improving. When I went for Open Day, the teacher told me there was an improvement. He reads his book, stops fighting and when he comes home, he continues reading his books. I just  want to thank EKOEXCEL for their good work and support on behalf of my junior ones, I can see they are pleased," she said.
A businesswoman at Mende, Maryland, Mrs Oluwashina Ayomi Ada, also highlighted the positive impacts of EKOEXCEL on her daughter. "My child is in Primary 4. Since EKOEXCEL started, she can read and write. She can now pronounce some words that she couldn't before. She can form words and sentences," she said.
Its modest achievements notwithstanding, LASUBEB is not resting on its oars. Confidence is high that Alawiye-King will continue to drive the organisation to excellence, produce well-rounded, globally competitive pupils, and build an army of qualified workforce who will grow Lagos' economy in line with Governor Sanwo-Olu's dreams.
Load more