Uchechukwu Solomon Ezirim, wanted by the FBI in United States for alleged conspiracy, wire fraud and money laundering has been arrested in Owerri, Nigeria.
He had been on the run for almost three years, since indicted in a court filing in the U.S. in August 2019.
He was arrested today by the operatives of the Economic and Financial Crimes Commission, EFCC Enugu Command.
He is said to be a member of a syndicate that targets America women and other foreign nationals.
EFCC spokesman, Wilson Uwujaren did not provide the particulars of Ezirim's offences, in a press statement Thursday night.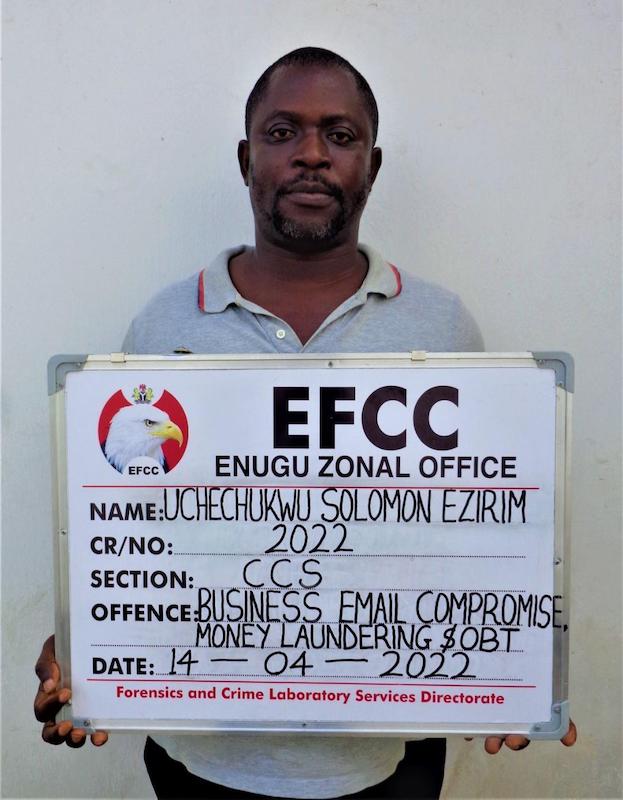 Uchechukwu Solomon Ezirim, aka "Uche Nwanne," aka "Uche Ezirim," was listed as No.28 out of 77 Nigerians facing a 252-count U.S. federal grand jury indictment for role in cyber fraud and money laundering.
They were indicted in 2019 for being part of a massive conspiracy to steal millions of dollars through a variety of fraud schemes and launder the funds through a Los Angeles-based money laundering network as uncovered by the FBI.
The indictment was unsealed after law enforcement authorities, led by the FBI, sensationally arrested 14 defendants in August 2019 across the United States, with 11 of those arrests taking place in the Los Angeles region.
Two defendants were already in federal custody on other charges, and one was arrested earlier this week. The remaining defendants are believed to be abroad, with most of them located in Nigeria.
Read the Indictment here:

Load more