Over 100 people perished Friday night at a site for illegal crude oil refining at Abaezi forest, in Ohaji-Egbema Local Government Area of Imo State.
The hell-like fire, from online accounts, consumed everything on its path, including cars, forest, and people.
Apart from the dead, over 150 people sustained injuries.
The inferno also destroyed aquatic life in the region.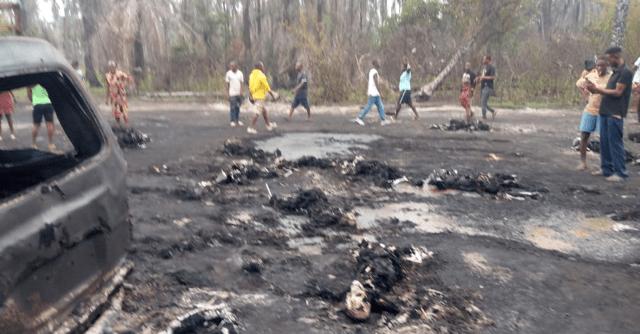 According to reports, the operator of the rogue refinery, identified as Mr Okenze Onyewoke, is alive and now on the run.
Imo Commissioner for Petroleum Resources, Goodluck Opiah who visited the scene said Onyewoke had been declared wanted by the state government.
This implies the government was probably aware about the illegal refining business and its owner.
Opiah lamented the death of many young men, most of whom are yet to be identified, as they were burnt beyond recognition.
Opiah told the media: "Early this morning we received a message of a fire from the oil companies here," he said.
"This is a tragedy and a betrayal of the economy."
"Governor Hope Uzodimma has ordered the arrest of the owner of this illegal oil rig."
"The Imo State government is deeply concerned about the families of those killed in the blaze.
"I can't say how many people have died but how many people have died in it," he said. "Participating in such activities has benefited many young people."
"It is better to follow the right path in business than to engage in illegal activities."
A BBC Igbo reporter who visited the site on Saturday morning said he counted the bodies of 50 unrecognisable people
Egbema-West, located in Imo State near Port Harcourt Rivas is a joint venture between NNPC and Shel.
This is not the first time fires have broken out in the area.
In February 2020, a fire broke out in the area called Etekwuru.
In 2021, the fire caused by the oil pipeline damaged many farms including people 'farms, subsidized plants and aquatic animals and other species in Obiakpu and Ohaji / Egbema Local Government Area.
Watch the ghastly video of the fire:

Load more