Gov. Godwin Obaseki of Edo said the brain drain that Nigeria has suffered in the health sector is frightening.
Obaseki stated this when he hosted members of the Association of Nigerian physicians in the Americas (ANPA) to a lunch at New Festival Hall, Edo Government House.
The physicians were in the state for a medical mission.
According to Obaseki, the brain drain among healthcare professionals is affecting the delivery of healthcare services in Nigeria.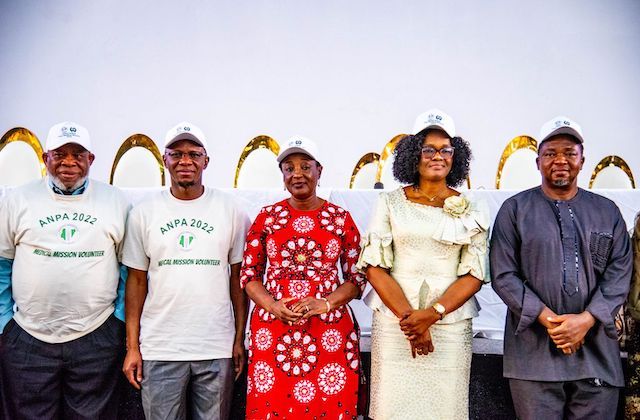 "You are doing something quite revolutionary.This is the first physical mission post-COVID-19.
"Post-COVID-19, the world has changed particularly in the healthcare system.
"The pressure COVID-19 has put on our healthcare system is unimaginable, the amount of brain drain in our healthcare system is frightening.
"This mission is one response to this brain drain crisis.
"Healthcare is all about the people and we are blessed as a state as we have many health professionals and we are happy for the partnership," he said.
Obaseki urged the medical practitioners not to listen to political detractors during their one week of free medical services in Edo.
President of ANPA, Dr Christopher Okunseri, said it would go on an advocacy mission to the National Assembly for an increase in the Healthcare budget for Nigeria.
He also said it would be focusing on reversing brain drain to brain gain.
The medical mission was flagged off by Edo First Lady, Betsy Obaseki.
It is targeted to reach 4,000 residents.
The medical outreach includes surgeries and surgical interventions for kidney, heart, eyes and teeth, and other ailments.
Obaseki, addressing a press conference to flag off the programme, said the free medical care exercise is a way to give back to Edo citizens for their support to the state government, ensuring the re-election of Governor Godwin Obaseki during the September 19, 2020 governorship poll.
Commissioner for Health, Prof. Obehi Akoria said out of the 4,000 people screened for the medical mission, 600 require surgical intervention while 300 are ready for surgeries.
She noted that 65 highly qualified specialists are already in the state to team up with 200 volunteers including clinical and none clinical volunteers.
"13 different theatres will host the surgical needs of patients in this medical mission as specialists from various fields in medicine are on ground to attend to these cases."
President of the Association of Nigeria Physicians in the Americas (ANPA) Dr. Christopher Okunseri said:
"Our collaboration is to build capacity and also skill transfer.
"For the first time in our over 27 years of existence, we will be embarking on telemedicine which was brought about as COVID-19 ravaged the world."

Load more