Nigeria's Minister of State for Education, Chukwuemeka Nwajiuba, has obtained copies of the Nomination and Expression of Interest forms to vie for the Presidential ticket of the All Progressives Congress.
Nwajiuba obtained the forms which go for N100,000,000 on Wednesday.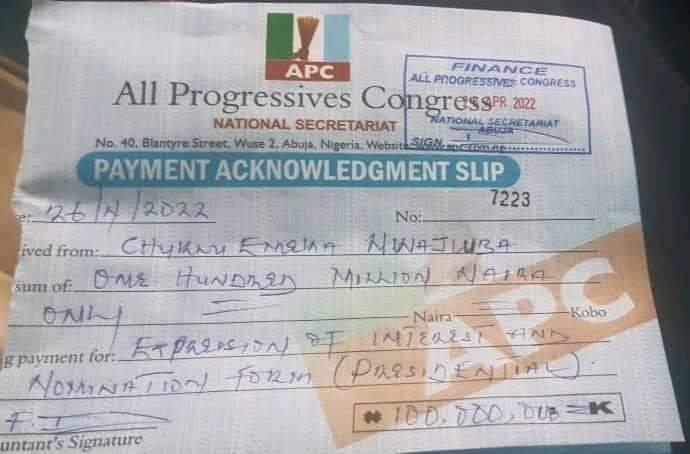 The minister got the forms after a group called Project Nigeria claimed they raised the funds.
The Minister on Monday said he was informed by the group that about 1,000 individuals contributed the said amount.
He said: "In my own case, I have the unique opportunity of being promoted by a wide range of Nigerians, young people and others from all parts of Nigeria, who are contributing their funds as well as their time to drive this project. They have taken the challenge of thinking of where to get the money and relieve the burden from me.
"One of them told me that they have actually exceeded the figure by some fractions at the moment. They have over 1,000 contributors from different places. I was only informed that they were ready. I have been trying to get them to meet with me, but they only want to meet me when they have the forms."
However, Nwajiuba is not the only minister in the President Muhammadu Buhari administration vying for the 2023 presidency.
Transport Minister, Rotimi Amaechi, is also on the list.
According to article 84(12) of the recently signed Electoral Act 2022, Buhari's ministers vying for Electoral offices are required to resign from their current positions before the APC primary elections holding from May 30 to June 1, 2022.
Meanwhile, Amaechi and Nwajiuba are yet to resign.

Load more