Does a Dr. Christopher Uche-Ayodeji truly exist or is he just a fictive creation?
Questions were being asked Saturday about the man who claimed to be a medical doctor and a 'Doctor Death', while serving in the northern part of Nigeria.
Uche-Ayodeji had stirred dust when he made a claim that he allowed northern muslims under his care to die while serving during the National Youth Service Scheme.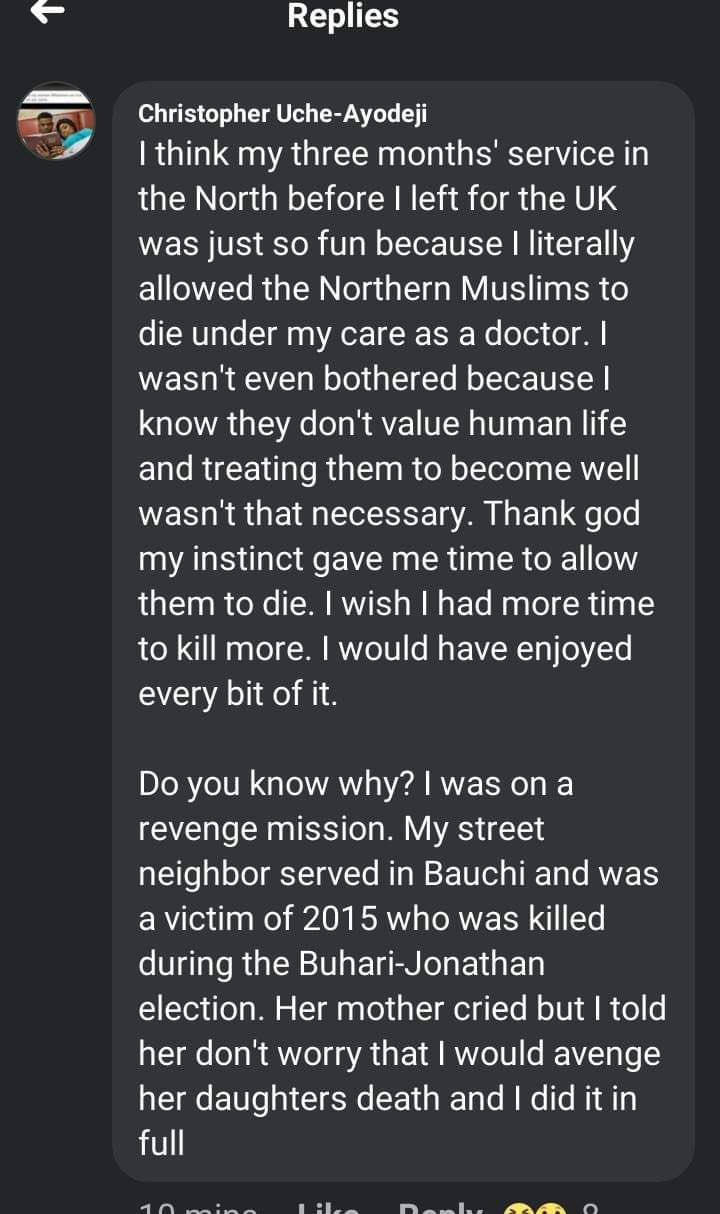 The post came amid wide condemnation of the brutal killing by muslim zealots of Deborah Samuel, a Christian and student of Shehu Shagari College of Education. in Sokoto.
Curiously Uche-Ayodeji, whose Facebook profile indicates he is from Asaba, Delta state, said he served for three months in an unnamed northern state. The NYSC lasts at least 10 months.
He said he was avenging the killing of a neighbour in Bauchi, during the 2015 election.
Uche-Ayodeji claims he is now a physician at the University Hospitals Birmingham NHS Foundation Trust.
The Facebook post drew dagger-like reactions, with commenters saying he should be arrested and charged with murder.
Citizen investigators also went to work.
"A confessed Murderer;Security agencies should launch an urgent investigation and bring him to justice", wrote Senator Shehu Sani.
Ahmed Bello-Isah notified the University Hospitals Birmingham, saying:
"University Hospital Birmingham NHS foundation trust should note that a certain medical doctor Christopher Uche Ayodeji on their payroll confessed to have deliberately on many occasion (sic) killed or allow patient ( with Muslim faith) to die despite swearing an medical practice oaths to save lives".
Sheikh Abbakar S.Tudu said
Innalillahi wa'inna ilaihirrajuun 💔 unbelievable & heartbreaking a Christopher Uche-Ayodeji, a medical doctor, says in this post that he literarily made sure Muslims under his care die when he served in the north. His reason? Buhari versus Jonathan election of 2015.
Just as the condemnations rain on Uche-Ayodeji, his supposed photograph suddenly appeared online.
But commenters raised doubts that the photo was the true image of Uche-Ayodeji.
Simultaneously, Uche-Ayodeji's story also began to fall apart.
"Please note that the pictures circulating online of one Christopher Uche-Ayodeji is a fraud as such names doesn't exist on Facebook or neither has such served in NYSC nor a doctor in UK", wrote Funso Animashaun, who appears to e msulim.
He then advised fellow muslim faithful not to get worked up Uche-Ayodeji's distraction.
"We need not as Muslims start looking for loopholes from our Christian neighbors but focus in the problems we have. Islam doesn't preach jungle justice in any form, neither does execution without anyone facing a court of law or dehumanising a corpse part of the beautiful religion", he wrote.
Abuja based Ibeabuchi Odenigbo Odenigbo, one of those who quickly turned into citizen investigators reported on his finding.
"I have contacted University Hospital Birmingham to verify if the said Christopher Uche Ayodeji work for them and they categorically denied he is their staff or has any connection with him.
"That guy is an imposter. He may not even be a doctor as he claim.
We are looking for him and if truly he's a doctor, his medical license must be suspended and he must be prosecuted because he is a killer doctor.
"Evil must never be tolerated, it must be rooted out, no matter who is involved. Be guided".
Amid the hoopla triggered by Uche-Ayodeji, P.M.NEWS found that he is no longer on Facebook. As a professional, he is not also on LinkedIn.
The paper could also not find any account in his name on Twitter or Instagram.
* The photograph initially used for this story was the image of Ayodeji Rotinwa, whose photo was stolen by spreaders of misinformation on so-called Christopher Uche-Ayodeji.
The caption clearly stated that the said Rotinwa is not Christopher Uche-Ayodeji.
We apologise for the misunderstanding over our intention.
Load more