Mr. Tokunbo Wahab is the Special Adviser to Governor Babajide Sanwo-Olu on Education. In this interview to mark his 50th birthday, he x-rayed the numerous achievement and successes the current government has recorded in the area of education in Lagos. Excerpt. 
What has been the journey so far?
For two years and nine months, we had set out to change the narrative as encapsulated in the agenda of the Governor, where you have education in the middle and with education, we must work the monstrous work that has to be done. From primary to secondary which is where the honorable commissioner holds forth and then to tertiary. The Governor didn't hold anything back, he started from the foundation. From day one, he said to us "let's go to the primary schools", "why are we like this? what's happening here?" And the Governor approved the EKOEXCEL project and for secondary schools, long term reforms were introduced and I can speak to the fact that the WAEC result of this year rose from 29% to 79% courtesy of the reform carried out by the Ministry of Education through TESCOM.
LASU became a global brand by virtue of our collaboration with Conel, one of the ivy leagues in the world. We didn't stop at that because we know LASU had invitations in respect to carrying capacity for admission seekers and our theory is that for you to have proper education, you must have access to education and you must have proper education; they have to go together.
To that end, I want to thank the Governor, thank my colleagues in exco and thank my honorable Speaker of the Lagos State House of Assembly, Honorable Mudashiru Obasa, who with the House, deemed it fit that this executive bill is timely, is expeditious and saw to it that the law was passed timely and then, we accented to it February 8 this year. On February 11th, we were in Abuja to get to license from NUC. So, technically speaking, we have three universities in Lagos State; one conventional university and two specialized universities. Now, these are legacies that would mark out Mr. Governor's tenure in many years to come. If you know the history of LASU, LASU will be 40 years next year, serving a population that's about 22 million, the conventional centre of the country and the fifth largest economy in Africa. It goes to common sense and good vision to say it's time for Us to have a new tech here, a new process. More so, when we heard two of these institutions were not doing well, NCE has become outdated, then we had to create something that is new, creative and acceptable. That also took the burden off LASU into these two new systems and then for the former polytechnic that is now a university for science and technology, is only very timely for those that know the history of the dichotomy and discrimination between the university and polytechnic graduates.
Beyond that, we are doing real projects, we are revving up a technology space, an IT space. So for that also is very timely. While these are going on, we also had interventions; as at the close of the last year, we had 243 library interventions, libraries that were updated and upgraded with IT learning facilities to go with them in our schools. That means we take up public schools, give them a new library, put conventional books, and then set up a proper IT infrastructure within that same library. So that gives the hybrid of using a system for soft copy or through the normal system of reading hardcovers and we have done 243 and I know we are doing 60 now to add to the number. Our target is, by the end of the year, we want to see if we could hit 500 and then, by next year we would wrap up capacity. We didn't just stop at that, I believe that if there are policies of the government that are very good and laudable, for a new government you look at them, review them, deepen the contents and see how you can make it better for the citizens.
When we came on board, Mr Governor asked us to review two of those in my office. One of them was called "ready-set-work". It used to be called ready-set-work and the other used to be called "Code Lagos". For the ready-set-work, we rebranded it, deepened the content and changed the approach to it and we also now allow those that are not final year students to benefit from it. We have a lot of students at the tertiary. We can't let them just go out like that, so we renamed it "Job Initiative Lagos" while we renamed the 'code Lagos', "Eko Digital", Digital Initiative. We just wrapped IP, opened up the space more to allow for more access. Now we have a hybrid of that same system for out-of-school.
So, for the In-school, we do them in school and for the out-of-school, we take them to the libraries in the state and then, to our Youth Centers to give them some of these impacts. I know we have done over 60,000 for the Job Initiative Lagos across our tertiary institutions, including those that are federal and those that are private in Caleb and others and for our Eko Digital, we've done over 200,000 plus.
Are we there yet? I will tell you no! For those that are on top of information, Kenya has had to tweak their school curriculum to include coding for students in primary and secondary, and put coding in their curriculum but we are ahead of that. We are taking them beyond coding. Coding is just one leg of it. There's cloud computing and some other stuffs. So, we believe that is how we can wrap up capacity and quality to open up these children to the future; that's the language of the future, the fourth revolution (IT) and that's what we are trying to target. Don't also forget that Mr. Governor is developing an IT infrastructure around the state. The internet infrastructure is almost 90% completed and this work should be commissioned by next month or latest July'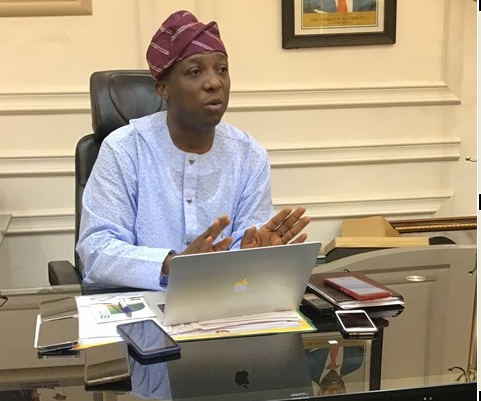 The way it is being done is that for all schools, there will be a duct and then for tertiary and hospitals. I know for all our tertiaries, there is already a duct in place. It's going to be a plug and play. If that is the vision for the 21st century Lagos is about, we must also try to wrap up the capacity of those young elements to start seeing it from that perspective. So that's what we have done so far and we are also not resting on that. We have increased capacity in form of the infrastructure of our tertiary beyond what we met. I don't blame regimes, I don't blame governments that were. I just believe that once there's a deficit in infrastructure, human or capital, find a way to remedy it. What we have done is to take it from LASU, abandoned library and senate building projects. Mr. Governor made sure they were completed and on time. For the library project, they are wrapping up to be commissioned next convocation next year. We are not just stopping at that, so let us give them a world-class infrastructure that would take care of their education in the country which is the biggest and give them a technology hub. The two contractors are on site. Don't forget we now have two new universities with two campuses. The one in Epe, we inherited a 360 lecture auditorium that was abandoned. Now the contractor is back on site. The government has said "go back to the site, it's been approved" and for the furniture also, so that it can be ready for new students that will come into the university for the new session. That is in September, or October 2022.
Now for Ijaniki and Ikorodu, we are doing the same thing also. We are ensuring that they have a lecture theatre that will facilitate a proper lecture environment for the new students. For Ikorodu, we are giving them a world-class administrative building, which would be commissioned in August 1 at the latest. For Ijaniki, we are doing the same thing to see how we can have their own admin building and they are wrapping up to completion. For LASU, we have done the 8,273-bed space hostel, we hope to commission it this year also. It is a PPP model that is very unique. All we do is look at the terms, and review them, we cannot even drop a farthing or a kobo, instead of tying down funds, and we are using those funds for other infrastructures across the state. Private developers and investors have bought into it. We are replicating same for the College of Medicine, Ikeja and then, Ikorodu. Hopefully, by next year, we will open up two big world-class auditoriums for Ijaniki and Epe; those schools will be residential also. So, in two years and nine months, those are the things we have been able to put together.
How and why did you get the management to travel abroad for training, considering the fact that ASUU has been on strike for over a month?
Point of correction, no Lagos State school is on strike. They've not been on strike since we came on. There's a magic and a process to it. I would thank the Lagos State Governor for seeing to that process.
Now why did we take them abroad? You have to expose these people the new thinking in the way universities are run; to add value. You can't continue to be a big fish in a small pond. Put them on a global pedestrian and let them see it from that perspective where they say OK, to get to this point, these are the ways to go about it. It was beyond just management, it was also about funding and team collaboration. It was a very intense three days training. I was there with them from beginning to the end from 9 AM to 5 PM. It is when you give them that exposure that you can call them to task and put their legs to fire to say "to whom much is given, so much is now expected. The way we have done it is structured in a way that there's going to be a second batch for all the level of management for all the tertiary again. Take for instance for LASU, we went with the VC, the DVC and the registrar. We couldn't leave the school without them. So the other batch, it is the assistant DVC and Deputy Registrar that we will be going. Then maybe the librarian. For LASUTECH we did the same thing.
That's the only way we can build capacity and if built well, there will be a transition more of like institutional knowledge and know-how. So for us, let us open up the space for them and give them the exposure they need and then we can start ticking the boxes to say, yes you've don't this, you can do better, this is the new milestone we are giving you, this is the new yardstick we will use to judge you. So, that's what we did with that and I thank God that Governor approved it, I thank the Governor for believing so much in this office and my person and I thank those tertiary heads for keeping the flag flying. All of them have done very well, we transited from polytechnic to university seamlessly and college of education to university, seamlessly also. We've had ASUU running up without shutting down seamlessly because the Governor believes that there needs should be taken care of and he has done that so well, No issues in their allowances and bonuses like they have at federal and other states. So, we should commend the Governor, people should commend him and that is the reason why there's so much traffic towards Lagos State University admission. ASUP is going on strike for two weeks, Lagos Poly is running, there's no shutdown, so it is something we are doing right in Lagos. Others should emulate us and the Governor.
We expect that when this tenure ends, there will positive shift, what are we expecting from all these innovations?
Take the schools to the next level, better ranking. Why can't LASU be the first in the country? Why must it be UI? I can question that. Schools that are shut down for seven to eight months, how did you rank them?
In the face of the ongoing ASUU strike, lectures and educational activities has been going on in Lagos campuses. What is Lagos State doing differently?
Mr Governor has been doing something differently and that is no joke. We can't tell the whole world they are jokers. I think it's the governor's vision. The same applies to the health infrastructure. What are the basic needs of these people? For lecturers they want proper working condition, they spoke about health allowances for instance and more funding for the institutions. The governor took their funding by over 40% increments and others too. He also gave them bailouts. Don't forget that beyond these things they are doing, a bulk of the subvention comes from the government. Beyond the subvention, every month subvention if added, is rolled onto almost N1.5 billion for tertiary institutions in Lagos, and this government has been very dedicated to it. It's been no stories, first slide, let it go. When civil servants gets paid third week after increasing their salary and everything, I think that's where we got it right.
Your school fees, is it not too small, looking at what is obtainable elsewhere?
People need to understand that tertiary institution is not supposed to be this cheap but we are always very emotional about it. We did a survey of all the state institutions in Southwest. I have the numbers of the amount they charge as fees. Ours is ridiculously the lowest. You can't charge that for a roadside quack nursery school. What we've done is to ask LASU to increase the fees reasonably by engaging the students in the process. They did last year, charging like 57,000 naira now and then for their stream 2, they are charging N150, 000 and that's oversubscription tied to that, the fee is not the issue. For the two new universities, we are going to have very reasonable fees there too.
There are fears that now that Lagos State has other two new universities, government may not pay attention to LASU as lacking basic infrastructures. How does the government intend to manage three universities at the same time?
Now let me create a scenario, If you have four children, are you going to abandon three and focus on one? You as a responsible father would raise them as children from a responsible home. we won't abandon one for the other. No.
Let me paint a picture, our starting capacity for the University of Science and Tech. is about 66 Ph.D holders. For University of Education, about 95 or thereabout. They are already in the system, what we have to do is to classify and re-designate them to make them fit for purpose because a chief lecturer designation doesn't fit in a university system. That is also to start in the next few days or weeks. They are already engaging them and I have the template with their level and qualifications. We include the union in the committee so that they are part and parcel of the decision making process. While that is ongoing, we have applications of about 25 to about 30 professors trying to come and do their sabbatical with us. For Science and Tech, yesterday I had 12, this morning I have three extra. For the campus at Ijaniki and Epe, the same thing. It is a university, a universe of knowledge. It will attract the best in our country and across the world to do it. But are we going to change our goal to only LASU? LASU is still our primus, like the first amongst equals but we will not leave these new babies to have any issues. We have to tend properly to them and nurture them so they are not overfed or underfed. We also have infrastructure and wrapping up additional infrastructure. Human capital is there. We are going to work on what we have and improve on it. Their welfare package, we won't take it away from them. Don't forget that they earn more than some university professors at LASU. You can do your findings. The chief lecturers earn more than university professors. So we are just going to reclassify them and make them fit for purpose and let them run the universities but we will not abandon LASU.
What are these processes to be followed for the reclassification and re-designation?
Now that I have the names of these personnel, the technical committee and provisional governing council would sit down to look at them, engage them one after the other to know where they fit in. That's where the union would be involved. It's like a one on one engagement. If you are a chief lecturer here, you've done this number of papers. These are the requirements you need to be a professor in the university and then they will be duly fixed. It's going to be a give and take. Our take is don't throw anybody out, carry them along and give them the opportunity they need to enable them meet the required yardstick they need to meet your needs.
This transition period, how long is it going to take?
We are yet to determine that but we want them to be part and parcel of the process. But it won't be a year or two, if you ask me. My personal opinion though. The technical committee and governing council will determine that. There are a lot of parameters to it. Our own concern is that these people must not lose their jobs as much as they can.
Will this process of reclassification and  re-designation not affect the salary structure of these staff?
No. They will retain their salaries. They will be examined as appropriate but I know nobody will tamper with their salary. If it goes up, fine but it won't be reduced. What we have agreed in principle is to keep their salaries while they are reclassified.
You talked about the hostels facility in LASU that they will be commissioned soon. What number are we looking at? And the new universities?
For the new universities, PWC is still looking at the numbers because they have to look at the numbers of registered students vis a vis the infrastructure available for the development but for LASU, what we had on ground was 8,272 bed space hostels. LASU had told us in writing that it won't be enough because already, the number of final year students and freshers outweighs that number. We are still going to have the marketspace prices to determine the prices we have penned down for the development. We may increase them by two more blocks, maybe. We are still thinking about it but we have to commission 8,272 this year.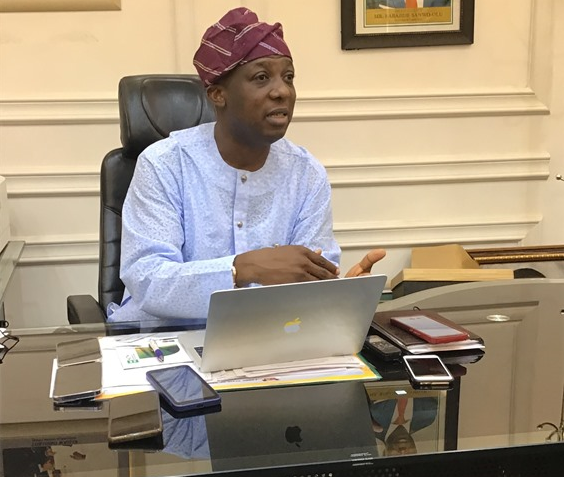 So, you don't have the figure for the new universities?
We don't. For Ikorodu, LASU and College of Medicine, we know they are in dire need of hostels. We have done the approval. I know the last time I spoke to the VC, they were just working on the numbers, just to narrow them down. It's going to come out well because if you keep people there, you have to make it attractive to developers, so that they will be able to put their money on that longtime business.
One of the major feat of your predecessor is the CodeLagos and Ready-Set-Work. What are you doing to widen the scope?
That was the first thing I spoke about. I said that CodeLagos is now Eko Digital. We have expanded the scope that we now have Out-of-school program for people who are out of school by giving them a skill set. We use all our libraries in the state and our youth centers. That's for Eko Digital, which used to be called CodeLagos. It is beyond coding.
For the Ready-Set-Work, it is now job Intuitive Lagos. We opened up the program so that those on the penultimate year can also benefit from the program by ensuring more than enough people benefit from it.
What is the next level phase of this administration?
That would be determined by the governor after May 29, next year by the grace of God. After he comes for a second term, he will determine the next phase of action for us. He sets the tone. He writes the vision, we run with it, himself and his deputy.
It seems this is the last phase of this administration and by this time next year, this administration will be winding up …
Winding up to where?
You clocked 50 years few days ago. What was it like?
With a thankful heart. I lost my mum when she was 49 and I said to myself that if God grants me, I want to be 95. I can't be 95 without being 50. It's been a very unusual journey. Unusual because we were orphaned in my 20s, I lost my mum in my year one and lost my dad in my final year but never gave up on life and hope. I have been a child of unusual grace, God has granted me very good health. I am not on any medication and He has granted me a very good family support; my wife and my two kids. Whenever I look back, it is only God. He has done so much that I was awake at 2AM this morning, taking stock. It's not me and all I could say to Him was "thank you for the grace you granted me, for standing by me and my siblings as orphans". It's not been smooth but even in the midst of the turbulence, He has never ever left me and that has entrenched my faith in Him beyond human comprehension.
So as I turn 50, I said to myself 'I want to do things my own way henceforth. I will do it my way, I will keep thanking Him till I am 95 if He tarries. I will get to 95 and see my four generations. So at 50, I also thank God because it's my first time in public service. I thank the Governor and my family for sacrificing the time. I am someone that is close to my family a lot but these days, I hardly see my kids the way I used to see them. I thank everybody that has been a part of my journey; for good or for bad. I have learnt some lessons. I have also learnt through life. For those that stood by me, God bless you and for those that left, abandoned me, thank you and God bless you. You had your reasons. But in everything, I give thanks to God for the wisdom He has granted me to manage myself, manage my family and manage this public space.
Load more