Real Madrid are champions of Europe again as they defeated Liverpool 1-0 in France to claim their 14th Champions League trophy.
Vinicius Junior scored the only goal of the match on 59 minutes from the only shot on goal for Real Madrid.
Federico Valverde fed Vinicius Junior with the ball, who tapped the ball into an empty net.
Thibaut Courtois was certainly the man of the match as he saved nine shots on goal by Liverpool.
Liverpool had 23 attempts on goal and nine shots on target with all counting for nothing.
Liverpool had mounted pressure on Madrid from the blast of the whistle.
On 21 minutes, Sadio Mane wove through the defence with ease and got into a good position in front of goal. He pulled the trigger in an effort to beat the keeper, but failed as the ball hit the left post and ricocheted away.
Mohamed Salah rose above the defenders on34th minutes and placed a towering header towards the middle of the goal, but Thibaut Courtois was prepared to thwart his effort.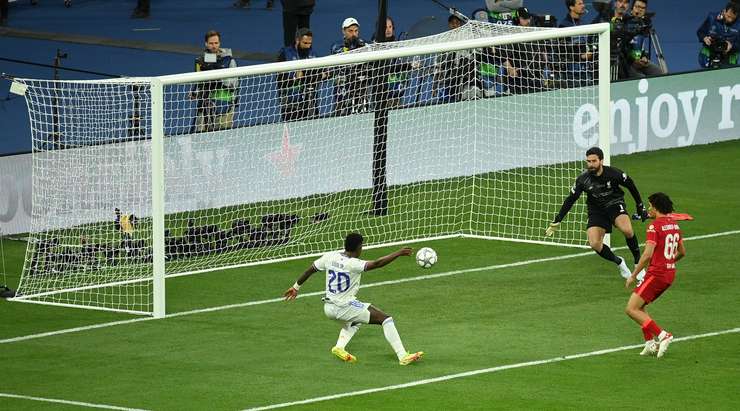 Karim Benzema put the ball inside the net on 43 minutes, but the referee ruled it offside after VAR's check.
Salah placed a shot from the edge of the box towards the left side of the goal on 64th minute, but Courtois made a terrific save to deny him.
Salah again met a lofted pass inside the box with a well placed shot towards the bottom right corner, but Courtois pulled off a fantastic save to deny him on 69th minute.
On 80th minute, Diogo Jota received a precise pass in the box and took the shot early. The ball headed towards the bottom right corner, but Courtois showed off his skills and made a brilliant save to deny him.
Salah latched on to a precise lofted cross inside the box on 83 minutes, controlled the ball and unleashed a fine strike towards the left post. His dangerous effort was blocked by Courtois, who made a glorious save.

Load more