The Labour Party's Presidential candidate, Dr. Peter Obi is certainly now the beautiful bride of the church ahead of the 2023 presidential election.
He has been playing the religious card very well to his own favour and his being a Christian is working towards his aspiration.
Apart from Rev. Father Ejike Mbaka who took a swipe at him for being stingy and did not see him being president in 2023, some other church leaders are queuing behind him.
He has now become a darling to the Nigerian churches, as they see him as the 'best' candidate for the job.
Obi has been wooing the churches with his series of visits to identify with them as he believes that they will catapult him to Aso Rock next year.
At the last count, the Labour Party's presidential candidate has visited up to 10 Christian gatherings. He has capitalised on the Muslim-Muslim ticket adopted by the APC to sway the Christian community to his side.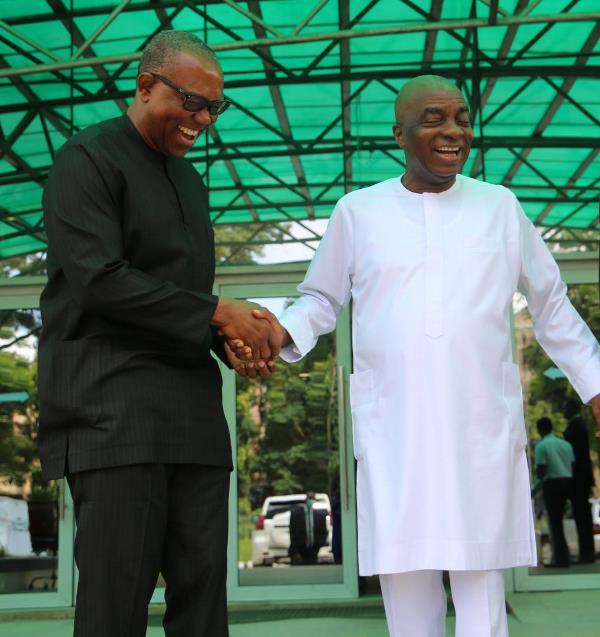 One of his die-hard supporters is Bishop David Abioye. He has given his flocks the mandate to support Obi and through his preaching imprisoned their conscience to support Obi.
Abioye had told the Living Faith Church faithful not to vote for party and that anyone who voted for party is on his way to hell.
He said "And now a clear instruction, when it is time to vote, vote only in the favour of the church, not for your party, any believer that sells out his faith in the name of party is heading for hell.
"Don't open your eyes and vote for people who will kill you, if you kill your conscience, you will answer before the Lord.
"We may not have the best of candidate, we have them in grades, you know a better candidate than an evil candidate."
Few days after Abioye struck fear in the mind of his congregation through his hellish preaching, Obi visited him and he was all smiles when he received the presidential candidate in his church.
Earlier before visiting Abioye, Obi had visited the presiding Bishop of the church, David Oyedepo. The way and manner Oyedepo received him showed that Abioye spoke his mind on whose side they belonged.
Founder, Dunamis International Gospel Center, Pastor Paul Enenche is another admirer of Obi and he showed it through his preaching that the Labour Party's candidate is their favourite.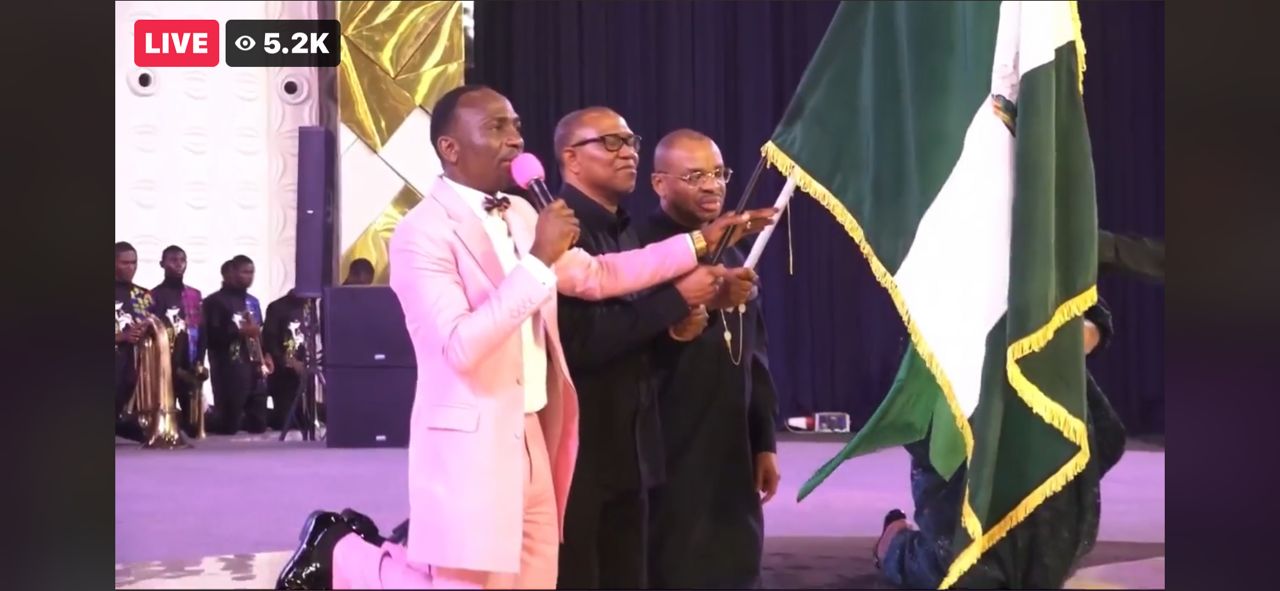 Speaking during the healing and deliverance service at the church's headquarters in June, the preacher said southerners are being marginalized in the country.
He said, "When president Olusegun Obasanjo came into power in 1999 the two political parties decided to present candidates from the South-West. There were South-West Christians so it was narrowed down.
"At this time now, let me ask a question, what is wrong if it was narrowed down to Southeast? I am asking out loud. People Who have felt so marginalized and oppressed for a long time.
"Why can't they be sensible and say let south-east produce presidency so that the parties give tickets to candidates from the region?
"Who says that such cannot calm down the agitation in that area and also give that region some sense of belonging?
"Who says that an Easterner cannot be a president of Nigeria? What did they do? What is their offence? Who said it? Where was the law made from? never for once.
"Those who have had presidency many times are still clamouring to come. That is to say, there is a group of people that are not humans. Such useless things are happening in various states of the country and Jehovah is arresting the situation.
"I say it with authority, there is no part of this country that is stronger or better than the other. And I can tell you in both capacity and wisdom if the same people have been ruling and everything is degenerating why can't you try other people and see whether things will not change? whether things will not be better. Jehovah will change it by force. He will change the narrative by force".
A month later after his preaching, Obi was at Dunamis on July 28, 2022 as a huge crowd received him. He has won the heart of Dunamis members and their pastor. He spent eight hours with them. Obi is playing the religious card very well.
He has visited meetings of CAN where he was given the platform to speak on his agenda and many more. His thinking is that if he can get the votes of the Christian community, he has a chance of becoming president even without a structure.
How far can Obi go with this religious card?
Obi is exploiting every means to his advantage, even if it means to pretend to be what he is not. Obi is a Catholic and he is not known to pray the way of the Pentecostals. But he is learning their way very fast.
What Obi has not done is to visit imams and major Muslim leaders in the North. His religious card is being played in the South. He should know too well that the north is key when it comes to winning an election. If it were possible for Obi to win the entire votes of the South (which is not possible), he cannot still become president.
He has not penetrated the north, the Muslim strongholds who are ready to support their own.
How the votes may go
Of a surety, Obi is likely to get the votes of the Christians in the Southeast, South-South and some part of Southwest. Getting some votes in the Southwest does not mean he is going to win the region. He cannot defeat the APC Presidential candidate, Asiwaju Bola Tinubu in his own region even with all the demonization of his personality. Even at that, the Southeast and South South have always been PDP's stronghold. It will be difficult for Obi to claim victory in all those states. With the APC gaining some advantages in Imo, Cross River and Ebonyi, the votes in those places will be serious shared. Moreover, there is still seven months to go before the presidency. Several things will still change.
Obi's main Albatross 
The north is going to be Obi's main albatross in next year's election. The struggle for North is going to be a straight fight between the PDP's presidential candidate, Atiku Abubakar and Tinubu, who has a strong running mate that can sway the votes of the Northeast to his side, while the Northwest and Central will be contested by Atiku and Tinubu. As Obi is going solo on his Christian religious card, the northern Muslims are waiting for him. As Atiku said, it will take a miracle for Obi to win next year's presidency.
As Obi admitted, he is waiting for another miracle to become president as all his exploits so far in politics had been miracles. Can he assail the presidency by a miracle in 2023?
Load more