Travis McMichael and his father, Greg McMichael, who chased and killed Ahmaud Arbery in a Georgia neighbourhood each received a second life prison sentence Monday.
They were sentenced for committing federal hate crimes, months after getting their first for murder — at a hearing that brought a close to more than two years of criminal proceedings.
U.S. District Court Judge Lisa Godbey Wood handed down the sentences against Travis McMichael, 36, and his father, Greg McMichael, 66, reiterating the gravity of the February 2020 killing that shattered their Brunswick community.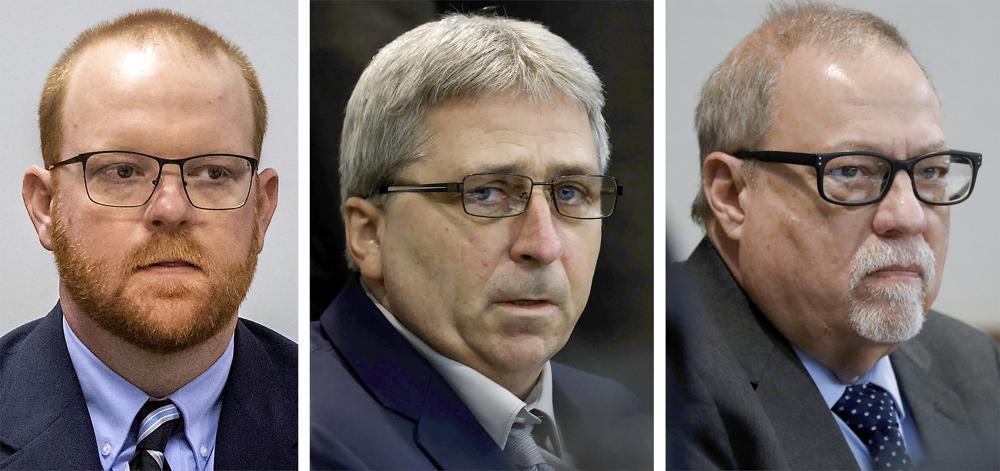 William "Roddie" Bryan, 52, who recorded cellphone video of the slaying, was sentenced to 35 years in prison.
"A young man is dead. Ahmaud Arbery will be forever 25. And what happened, a jury found, happened because he's Black," Wood said.
The McMichaels were previously sentenced to life without parole in state court for Arbery's murder and had asked the judge to divert them to a federal prison to serve their sentences, saying they were worried about their safety in the state prison system.
Bryan had sought to serve his federal sentence first. Wood declined all three requests.
The sentences imposed Monday brought an end to the second trial against the men responsible for Arbery's slaying.
The case, along with the murder of George Floyd in Minneapolis and fatal shooting of Breonna Taylor in Kentucky fuelled a wave of protests across the country against the killings of unarmed Black people.
In February, a federal jury convicted the McMichaels and Bryan of violating Arbery's civil rights, concluding they targeted him because of his race.
All three were also found guilty of attempted kidnapping, and the McMichaels were convicted of using guns in the commission of a violent crime.
The McMichaels armed themselves with guns and used a pickup truck to chase Arbery after he ran past their home on Feb. 23, 2020. Bryan, a neighbour, joined the pursuit in his own truck and recorded cellphone video of Travis McMichael shooting Arbery with a shotgun.
The McMichaels told police they suspected Arbery was a burglar, but investigators determined he was unarmed and had committed no crimes.
"I'm very thankful," Arbery's mother, Wanda Cooper-Jones, told reporters outside the courthouse after all three sentences had been imposed. "It's been a long fight. I'm so thankful God gave us the strength to continue to fight."
The hearings marked the first time the men involved in the deadly chase expressed any remorse to Arbery's family. Only Travis McMichael, who fired the fatal shots, chose to remain silent when given a chance to speak in court.
Greg McMichael told Arbery's family their loss was "beyond description."
"I'm sure my words mean very little to you, but I want to assure you I never wanted any of this to happen," he said. "There was no malice in my heart or my son's heart that day."
Bryan said he was sorry.
"I never intended any harm to him, and I never would have played any role in what happened if I knew then what I know now," Bryan said.
Load more