The Lagos State Government on Monday said it has empowered 11,251 indigent Lagosians with various skills acquisition between 2019 and now.
The beneficiaries were trained on various vocations, across the available centres, in the five divisions of the State, with kits for start-up upon graduation from the free training.
They were trained on Events Decoration, Tie & Dye, Catering and confectioneries, Gele Tying and Make-Up Application, Ankara Craft and Leather Works, Hair Dressing and Wig making, Fabrics Stoning and Embellishments, Throw Pillow making and Interior Decorations, Production of Soap and Pomade and household Products, as well as Tie and Dye Adire making.
Speaking at the closing ceremony of the event for participants in Command, Ipaja and its environments, Agbado-Okeodo, Local Council Development Area, Commissioner for Women Affairs and Poverty Alleviation (WAPA), Bolaji Cecilia Dada, said the government had embarked on vocational trainings for women, men and youths as a means to curb unemployment and empower citizens towards self-reliance with bid to achieve a viable economy.
Dada, who was represented by a director in the ministry, Bose Onidoyin, said one of such socio-economic intervention programmes, was the four weeks short-term skills acquisition programme.
The commissioner added that the programme is a socio-economic intervention which is directed at financial sustainability and progress.
She said there is a dearth of white collar jobs that are seriously going into extinction, which she said informed the reason government established 19 functional skills acquisition centres, with 20 vocations being taught at these Centres that are situated across the State.
Dada disclosed that communities which had been reached in the 4-week trainings include: Agege, Orile-Agege, Iba, Oto-Awori, Mushin, Odi-Olowo, Iru, Ajido – Badagry, Ibeju – Lekki, Ikosi – Ejiirin, Epe, Ebute -Metta, Ikeja, Irewe in Ojo Local Government, as well as Topo – Badagry, settlements of the State.
"This also includes trainings and empowerment for Islamic and Christian based faith groups, Wives of Military officers, Wives of Civil Servants official, (COWLSO), People Living With Disabilities, Retiring Public Servants, People Living With Human Immunodeficiency Virus, People Living With Sickle Cell Anemia, SUBEB Parents-of-out-School Students, NASFAT, as well as Internally Displaced People," she added.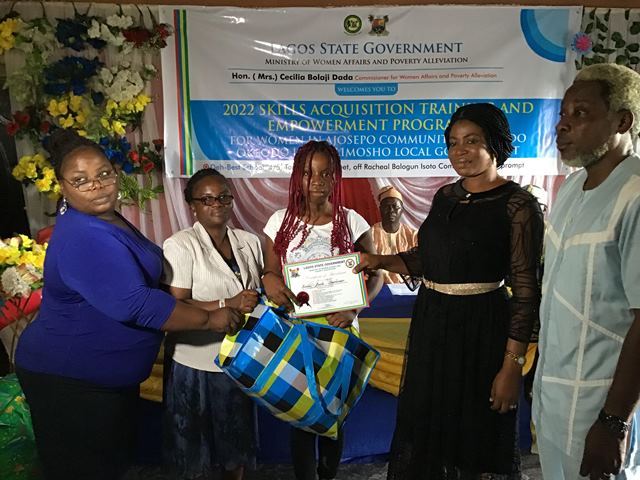 She stated that the empowerment was strategic to socio-economic development as a strategy to tackle poverty, stressing that the government, having recognised the prevailing economic circumstances, had acknowledged the significance of women empowerment.
The commissioner added that the present administration had taken women empowerment as one of its focal policies, in order to mitigate the effects of poverty prevalence amongst women.
According to her, th state had zero tolerance for idleness and mediocrity, but encouraged productivity, and the ideals of financial sustainability, with a focus on self dependence.
She called, particularly, on "unemployed persons, the under-employed and those who are still patiently waiting for white collar jobs, to utilise these opportunities by learning at least a vocation to become self-dependent," saying "Lagos State Government has zero tolerance to idleness in any form."
Representative of all the CDAs around Ajosepo environment, Pastor Michael Ogunleye, called on the beneficiaries to judiciously utilise the trainings and skills.
"This is a rare opportunity and challenge that must be taken very seriously, which we are promising shall be so, hence we consider it a dividend of democracy and we are greatly appreciative of the gesture and at the same time, our Oliver Twist will not stop to ask," he said.
One of the beneficiaries, Odunayo Celestina said she learnt new vocation, while thanking the governor, commissioner and others for the empowerment.
Load more