Okafor Ofiebor/Port Harcourt
Mr Siminalayi Fubara (Sim), the governorship candidate of Peoples Democratic Party (PDP) for Rivers State, is expected to appear before a team of investigators of the Code of Conduct Bureau (CCB) at its Abuja head office today.
But it is not clear if he will honour the invitation or indeed, in Abuja for the appointment with the CCB.
But if he honoured the invitation, Fubara is expected to answer questions bordering on breach of Code of Conduct for Public Officers.
Fubara was invited with an invitation letter, dated October 26, 2022, signed signed by the Director of Intelligence, Investigation and Monitoring of CBB, Gwimi Sabastine.
According to the letter, Fubara is expected to take along with him for the meeting with the CCB investigators certified true copies of all acknowledgement slips, letters of appointment, promotion, records of service payslips, his bank account statements among others.
The Rivers PDP candidate was also asked to come along with Certified True Copies of documents including "acknowledgment slips of all your Assets Declaration to Code of Conduct Bureau from when you joined the public service to date.
Thses are in addition to "Copies of your letter of appointment, promotion letters, records of service and payslips from April to August 2022. All documents of your buildings and landed properties both developed and undeveloped in Nigeria and abroad.
"Details of personal companies and businesses. Details of their shares and Bank Account Statements of all your personal bank accounts from January 2022 till date."
This invitation of Fubara is sequel to a petition filed by one Ifeanyichukwu Obasi-Nweze , Director of Abuja based Volunteer Legal Practitioners for Morals and Values, it was gathered.
Obasi-Nweze had,in the May 11, 2022, petition, asked the CCB to investigate Fubara who has been the Permanent Secretary, Rivers State Government House, since Governor Nyesom Wike assumed office for alleged "Non/False Declaration Of Assets, Money Laundering And Corruption."
See CCB Letter inviting Fubara below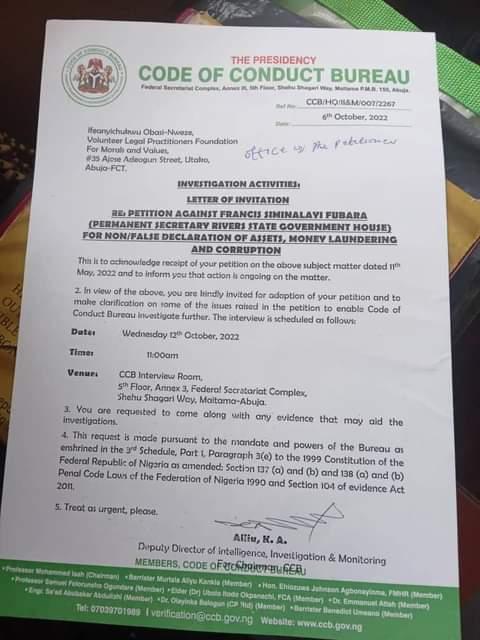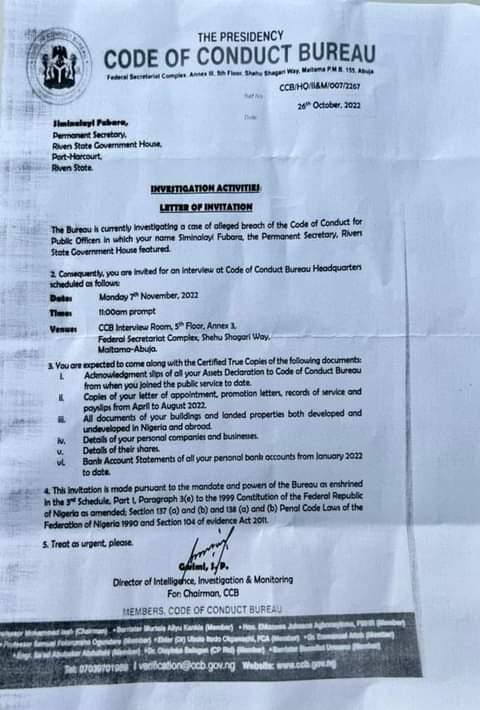 Ends
Load more