Mrs Kehinde Lucy Adeosun, an Obafemi Awolowo University (OAU) trained educationist is the brain behind the famous St. Lawrence Greater Height Schools in Ajasa Command, Lagos. The School, which has greatly impacted its immediate community of Ajasa and its environs with many of her products spreading across all fields of human endeavour as thoroughbred professionals, clocked thirty years on 28 September 2022. In this interview with P.M.NEWS Journalist ISA ISAWADE which took place recently in her office in Lagos, the widely acclaimed disciplinarian Adeosun who is also the Chief Executive Officer of the School told her story of trials and tribulations she encountered and the victories she has recorded since the citadel of knowledge came into existence thirty years ago in the then sleepy town of Ajasa. Our Photo Journalist AYODELE EFUNLA took the pictures. Enjoy the interview.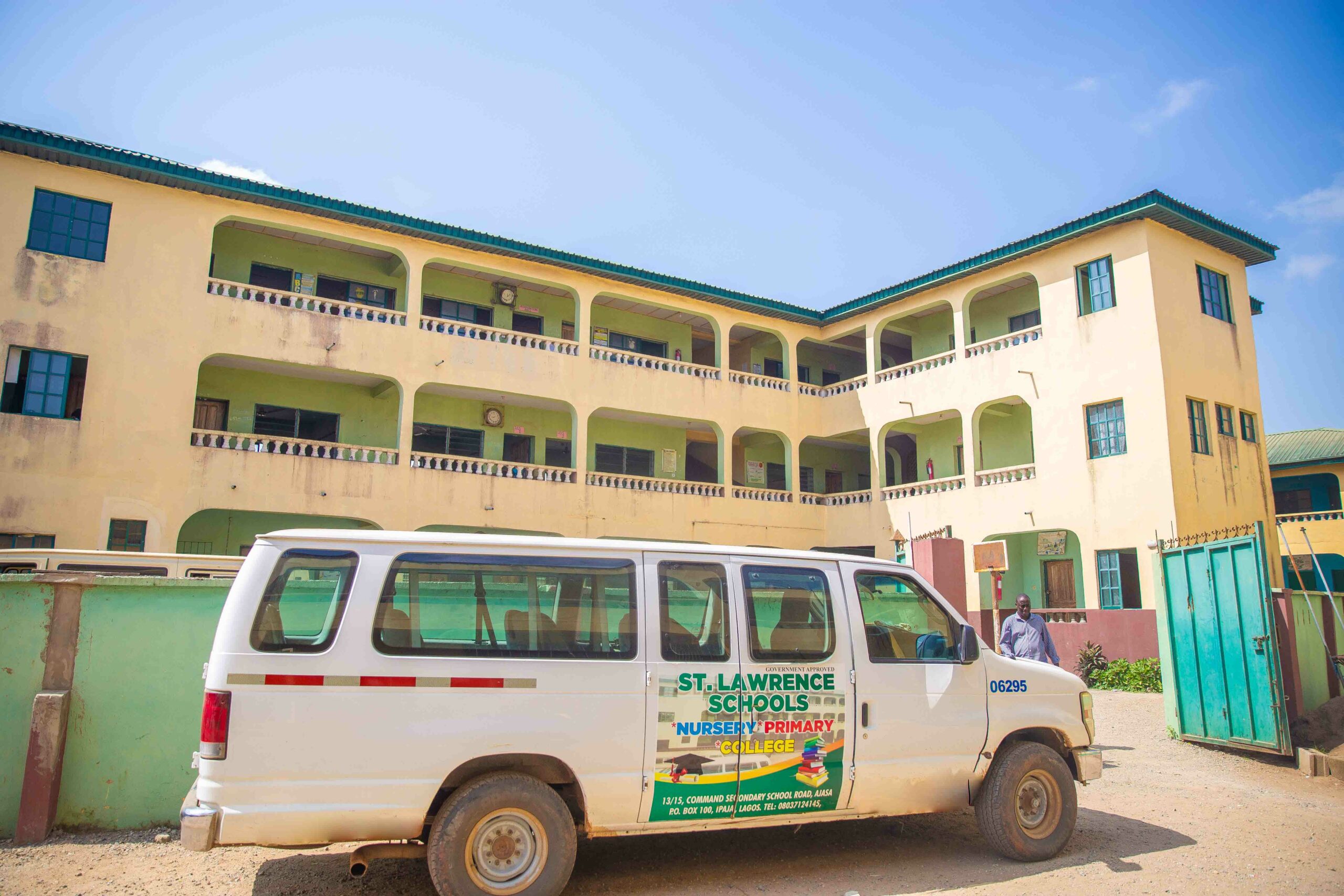 Q: St. Lawrence School is today a household name in Alimosho Local Government Area of Lagos State. How did the journey start?
A: St. Lawrence was established on September 28, 1992. In the beginning, when I got to this area, I looked around and observed that children of the community needed education because there was no other school in the area. The only existing school nearest to this area then was the public school at Ikola. There was no private school except St. Elizabeth School whose terminal class then was Primary 3. As a teacher, I sat down and planned what to do to ensure all children in the area had access to education. That gave birth to St. Lawrence School. I named it after my father who cherished children's education but who unfortunately did not live long enough to eat the fruit of his labour. I did that to appreciate his love and labour for education. We started in a small apartment at no 14, Command Secondary School and later we moved to this our permanent site.
Q: Who is Mrs Kehinde Adeosun?
A: I am Kehinde Lucy Adeosun, the Proprietor Mrs of the St. Lawrence Schools. I am a proud native of Ado-Ekiti. I am a teacher to the core. I attained my primary education at St. George's Primary School, Ado-Ekiti. I attended a modern school and later crossed to secondary school- St. Louis, Ikere-Ekiti. From there to the College of Education, Ikere-Ekiti where I obtained NCE in French and Religious Studies, and later to the Obafemi Awolowo University (OAU), Ile-Ife where I read French Education.
Q: Reading French Education in both your NCE and university degree, you could have been a language lecturer or an interpreter or even a journalist. Why did you choose school business?
A: I have passion for teaching and I love children, I have passion for child education. I love imparting knowledge.
Q: St. Lawrence clocked thirty years in September this year. How has the journey been?
A: (Laughter) Thank God o. To have a school is very interesting. The road was very rough at the beginning. When I started, as I said, no school in this community. That very day, I started with no pupil. Till the afternoon, no pupil! Towards closing, a child came to take form. That was the number one form. The following day, I got two children. By the third day, they were three. By the end of the week, they were five. I thank God, all those children are doing wonderfully well in life. Gradually they kept on increasing. No teacher in this area. I had to encourage WASC holders to assist in teaching, and since I myself am an experienced teacher, I was educating them, putting them through on what they were to do to develop the children and to manage the children. Spelling in this school was superb, and in every other area including sports, the school was superb, and that encouraged the community people to bring their children more and more. By 1995 more schools sprang up because they were seeing the goodness in the education of this community. More parents became interested in bringing in their children. I was taking N200 as school fees and some could pay the N200 in ten instalments, fifteen instalments, and so on. You would rarely see a parent pay once. But, all I had in mind was the educational development of the children. When I see them today I am happy. I have produced so many talents. As a result of our spelling feat, we have produced a day governor. We have gotten so many awards through spelling. We have also produced a lot of professionals.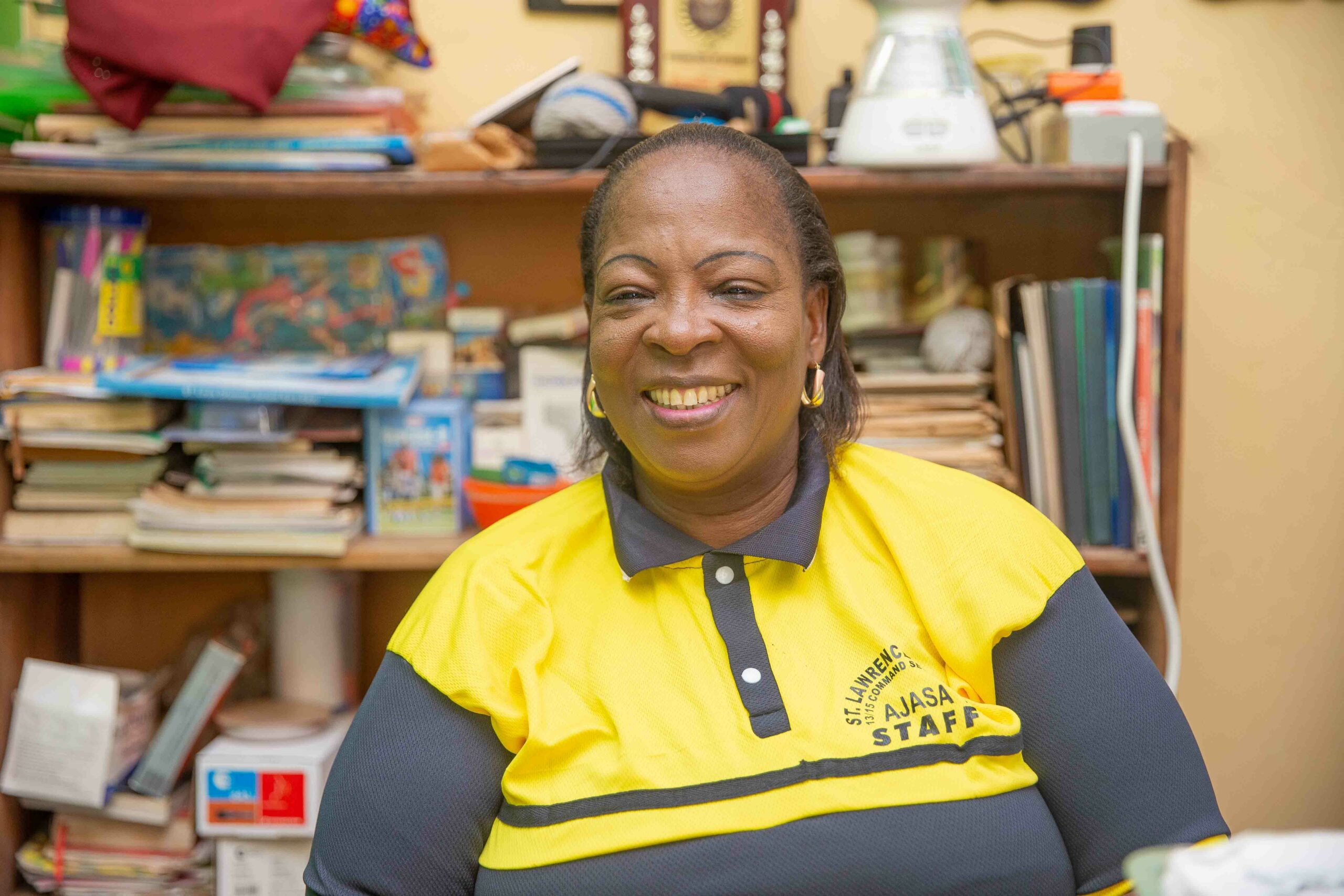 Q: We learned you started in a rented apartment…
A: (Cut in) yes, in a 4-bedroom flat at no 14, Baba Folarin's house. When the place was filled up, we extended to another building at the back, upstairs but we were having issues because the landlord's mother misunderstood the situation. She said I was taking over the building because I cleaned it up and painted it. I put a new face on the building. So, all mama was thinking was that I was taking over the building, so she brought her loads all the way from Ibadan and put them inside the classrooms. A lot of discouragement. One of the landlords who happened to be a relation to me relayed the story to a friend that sold this place to me, Mrs Owolabi of blessed memory. We started work and on March 29, 1996, we moved the primary school to this place.
Q: You want to tell us some of the challenges you have faced in the business?
A: The first was that of my landlord's mother that parked in the classrooms. We later solved it by giving her a room out of the four bedrooms to put her things. But we were planning for approval before that happened. That was the reason I painted the place, cleaned up everywhere and made it look good. When Lagos State officials came on Monday and saw mama's loads they cancelled the approval. I could not get approval until like ten years after.
The second was the land issue- when I bought this place, it was impromptu because of the crisis we were facing at the rented apartment. I did not have the money at once. She sold to me at N250,000. I begged her that I did not have the amount, I could only raise N50,000 to which she agreed. She said I should balance it up before the end of the year. After the initial N50,000 payment, the second time I paid N50,000 and when it was time to balance up, I couldn't raise more than N50,000. Then she added another N50,000 to make the cost of the land N300,000, and I continued paying. When the balance remained N50,000 I could not raise it. I struggled yet I could not, then she added another N50,000. She kept on adding up to N400,000. So, it took me three years to finish paying. When I balanced up she demanded N50,000 as a lawyer's fee which I could not raise because I had to pay salaries and other expenses. Seventeen years I could not raise that N50,000. In the seventeenth year, I went to the land seller and said 'mama I want to collect my papers, this is the N50,000 I am owing', she refused and said she was reselling the land to me at N1m! It was a big challenge. I wept and wept. But, I thank God, the Almighty God intervened and she was touched. She collected N350,000 with N20,000 transport fare and she handed the papers to me. Because I called onto God, I wept and wept and looked up to Him and He answered. I had lost hope, because where would I get that kind of money from if she had insisted they should resell it? But, I think the Holy Spirit went to visit her. She collected that money and handed my papers to me, and 6 months after she died.
The third major challenge I encountered was the secondary section of my school. The crisis again was similar to the one I narrated for the primary section. I started secondary school in 2003, and by the end of 2004 when the rent expired, the landlord said we had to leave the place that he wanted to sell the place. I appealed and even sent the wife to him, no way. Then, we had to rush down here to put up the building. I went to the bank for a loan. We put it up and resumed there. Gradually we started improving. Financially we were recovering. We are moving on. To God be the glory.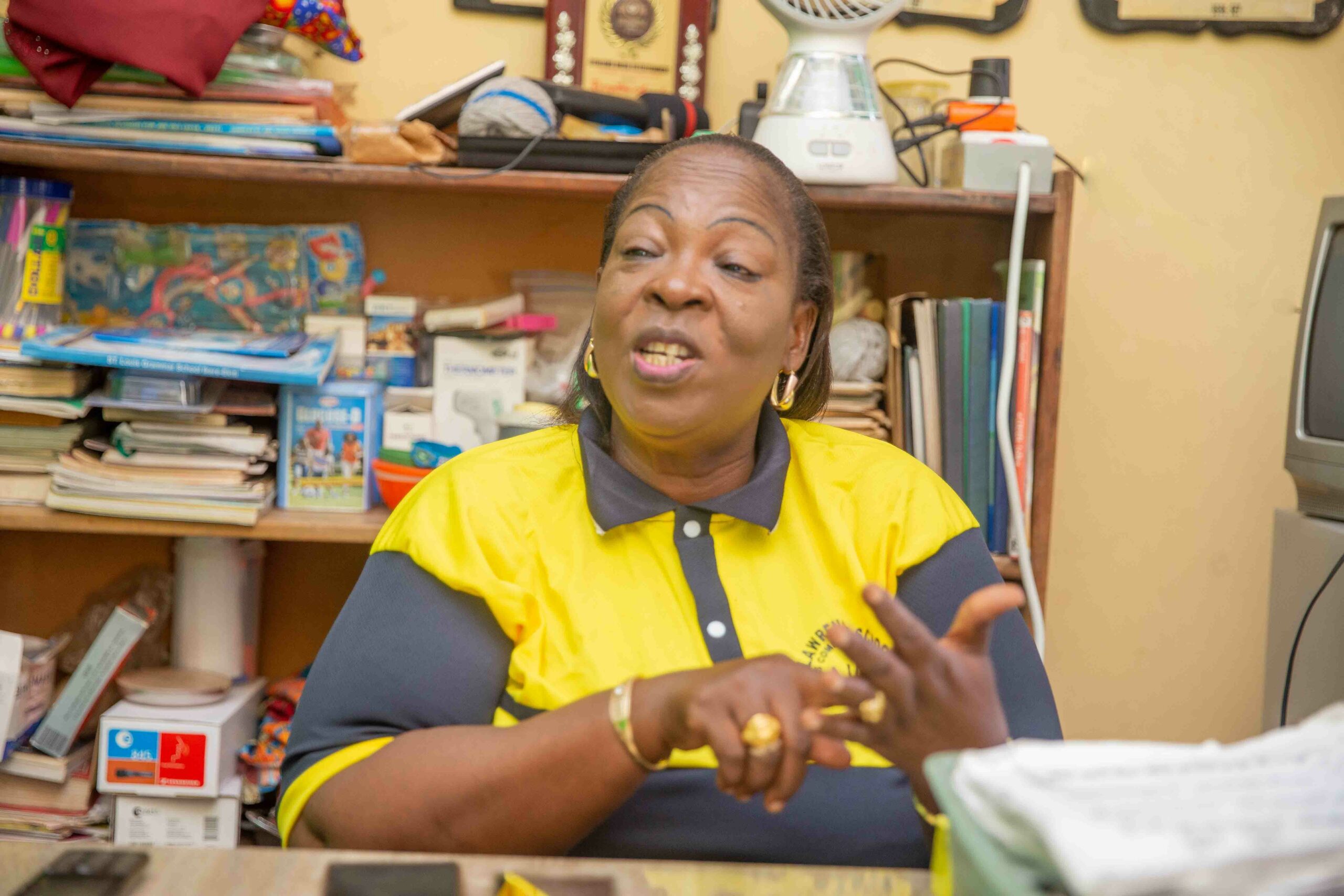 Q: What about other challenges like manpower?
A: My teachers are wonderful. Maybe because I attended a Catholic school managed by missionaries I don't like cheating and I don't like suffering people. I don't miss paying salaries because I promise teachers what I can afford to pay and I never failed. Since the day I started my school, I pay salaries regularly. So, once you don't owe salary and the welfare of your teachers is of your concern, they will be stable. You will have little or no problem with them. Up till now, I don't have any problem with all my staff, teaching or non-teaching. When they want to resign, they notify me and resign for genuine reasons. Some have been here for over fifteen years, and every 5 years I do teachers' appreciation. If you are up to ten years here I give you a chest freezer. I started from fridge. Five years, 3 years and 2 years. I appreciate them. I think things like that make them stable.
Q: What about parents?
A: Ha! That one (laughter). No school can escape the challenge of parents because of individual differences. Parents are not the same. We have to be tolerant, to endure with them. If not, you will become another thing. There were so many parents that frustrated me. Some have been blessing to me. I thank God there is progress.
Q: Talking about achievements, you have mentioned the success of the 'One-Day Governor' which was won by Miss Oluwatoyin Adeosun in 2010. It was actually a great feat. How did you feel when her name was announced?
A: I was overwhelmed. This is one of the gifts given to us at the LTV (showing a plague). I was overwhelmed. Actually, she achieved it at the Meiran Community Secondary School. Nobody ever believed that somebody from Alimosho could win. But, she achieved it because of her spelling foundation at the private school here.
Q: How is she now?
A: She is fine. She is working now. She is a graduate of Mathematics.
Q: What other achievements can you mention in the last 30 years of St. Lawrence?
A: In Alimosho, St. Lawrence is one of the best schools. In academics, in sports we are well known, in spelling we are up there, we have represented Alimosho. In 1998 the whole of Lagos State, St. Lawrence Nursery girls won the 50-Metre race. In many other programmes, St. Lawrence is one of the schools representing Alimosho in Lagos State.
Q: Looking back, which would you consider as a moment of your lowest spirit in the running of Lawrence?
A: It was the day the land owner said she was reselling the land to me, that she was ready to march out the students and close my gate. I was still on the floor shedding tears and rolling on the floor. That was 17 years after purchasing the land. That was in August 2004. The second was the day we were doing the first decking of the secondary school, we needed more sand, no money, no sand. After 12 noon, I was sitting down weeping. Nobody to call. And later around 4 pm, somebody helped me to buy sand on loan.
Q: As we know life is about up and down. Which would you consider your happiest moment in St. Lawrence?
A: That was the day I moved to this place. That was 4 years after I established the school. It was a day I was supposed to be crying, but God said no I would smile because I was having problems with my landlord and landlady. The first one, the mother was having her loads in a classroom, the second landlord said we should leave before the 30th because she wanted to collect 2 years' rent and I was having only one year's rent which was N42,000. She wanted to collect N84,000. There was no way I could get that kind of money then. She said she would march me out in two weeks' time. It was the N42,000 I brought here to put up two coaches of blocks, we bought roofing sheets, put wood, and then roof it. I was only able to roof my office, all other sections were like a hall and I put over 500 children in it. Some were even in the sun. By the third day, we had roofed more. Gradually we started putting blocks. So, by the time the mama got there on that 31st of March, she thought she was coming to disgrace me, she met nothing there. She was surprised.
Q: So, how do you feel now celebrating 30 years of St. Lawrence?
A: Haaa! My day of joy! We would have done the celebration on Sept. 30, but we considered the parents who just paid for school fees, books, uniforms, and other needs of their children. That is why we are postponing the ceremony till December or January. So that we can have the celebration together and enjoy ourselves because thirty years is a big journey of progress for St. Lawrence. People thought this school would not survive, but the school is surviving. It's growing every day, imparting knowledge and sending out children into the world as professionals.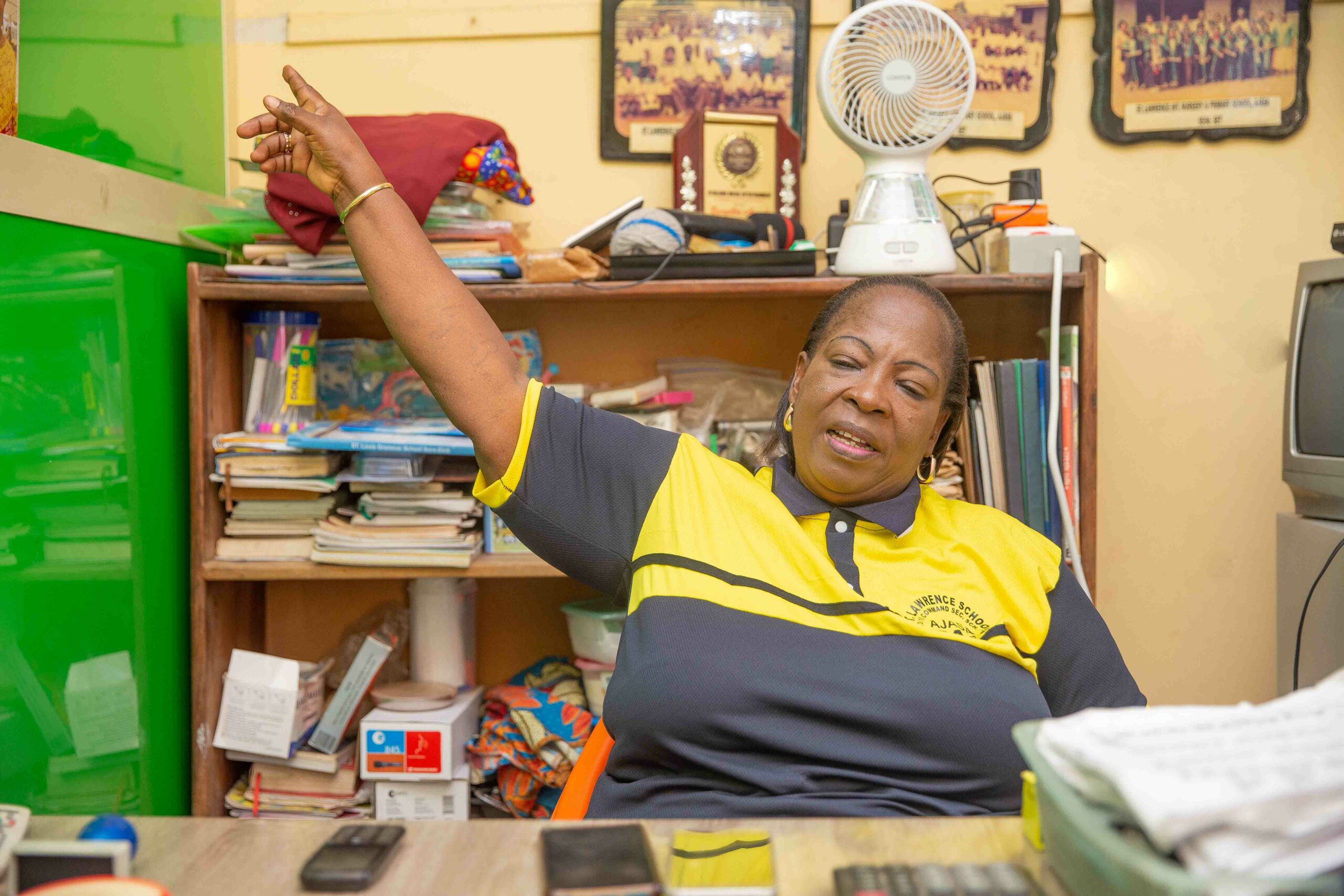 Q: You seem to derive great joy in that?
A: Yes o! (gesticulating happily)
Q: How would you advise parents?
A: I would advise them to take the education of their children a priority, pay their school fees, and abide by the rules and regulations and care for their children, nurture them the right way. However, they should not spoil them. They should always monitor them at home to prevent them from being wayward. They should put their children right. Education starts at home. They should not leave everything for school to handle. We do our best in the school during the eight hours, the remaining hours are for the parents. They live and sleep with them, they spend the weekend with them. They need to monitor them very well.
Q: You are the pathfinder of the education business here in Ajasa, Lagos. Later many others sprang up. There must have been competition here and there. What experience have you got?
A: Hee! (Laughter) If you want me to talk on that one, I deliberately kept that side. From 1996, you know some of them, maybe they had it in mind or they thought it could not work here. But I started it, they suddenly started thinking of having school. They would come to me. Some of them were selling stationery, selling this, selling that. Then, they brought their businesses to me and later you see them establishing schools, competing with me. They wanted to finish St. Lawrence. Gradually they were withdrawing my pupils. In fact, there was a funny drama. Our first inter-house sport, the best queen, Yellow House, a school went to their home to tell the parents to bring the child to their school free of charge which they did. I did not see the child again. The school gave them free education.
Do you want to talk about the time I would send children home for school fees? A school that I don't want to mention, the head teacher would waylay my pupils that I sent home for school fees and ask them: 'how much are you owing them in St. Lawrence?' He would follow them home to ask the parents. When the parents say so so amount, he would say forget about it, come to our school, for this term free. And no parent will hear that and will not jump at it. That's how the population started decreasing. Not only one school o, two at a time I was managing myself. I was managing everything well until they came suddenly and withdrew the children. They would use one thing or the other to attract parents. They may say free education, free uniform, and education is not supposed to be like that. I was not brought up that way by the missionaries. But in the end, the parents realized that there was nothing in those schools. Being a teacher, they prefer St. Lawrence. Some of them just said that 'St. Lawrence is good, let my child complete his schooling there.'
Q: With the benefit of insights, what advice would you give to someone walking up to you to say ma, I want to establish a school? What are the pitfalls you would advise the person to avoid?
A: I will tell the person my story, and then I will ask the person whether he wants to impart knowledge or he wants to make money. If he wants to make money, he is already a failure. But if he wants to impart knowledge fine because, in your first ten or fifteen years of establishing a school, you cannot spend the money anyhow. No profit, forget about profit. You cannot even eat what you like in the first five or ten years. You can't deep your hand into the purse of the school and spend money anyhow because of the school maintenance, salaries, everything. Then, he should be passionate and be ready to get other means to fund the school. Later, everything will be balanced.
Q: What is your message to society generally?
A: Society should try to train its children. Society should educate children. With what is going on in Nigeria now, I always shed tears for parents because the future of Nigeria is bleak when you are talking about education. Children nowadays are not ready to learn. They are not ready to listen to teachers. They are no more reading. In those days students were ready for learning and teachers were ready. Now teachers are ready but students are not ready. Only a few are ready to learn because of social media. All that concerns them now is how to make money. When the teacher will be teaching in the classroom and you will see students singing, dancing or hiding under the locker playing.
Q: Ma, how would you regard the relationship between the government and the private school owners? What message do you have for the government?
A: Government should support private schools. They should support us. The interest on bank loans is much, let government assist us with loans with light interest as it obtains in other climes to relieve us. The school owners are dying of a lack of pension; they are dying of loans. So if the government can assist, things will be better.
Load more