The second term bid of Governor Babajide Sanwo-Olu of Lagos received a boost on Thursday as thousands of Community Development Associations (CDAs) in the state endorsed him for second term.
The event was the Community Day celebration held at the Police College, Ikeja where thousands of CDAs were in attendance. The theme of the celebration was "Strengthening Community Engagement for Inclusive Governance."
Chairman, Community Development Advisory Council (CDAC), Azeez Amusat presented an endorsement flag to Sanwo-Olu and called on all residents to troop out massively on March 11 to vote for him in for a second term.
He said the CDAs decided to endorse Sanwo-Olu because of sterling performance since he took over the helms of affairs in the state.
According to him, the government should be commended for recognising and rewarding the efforts of CDAs across the State, applauding the governor for projects executed across the State in fulfillment of his campaign promises for his first term.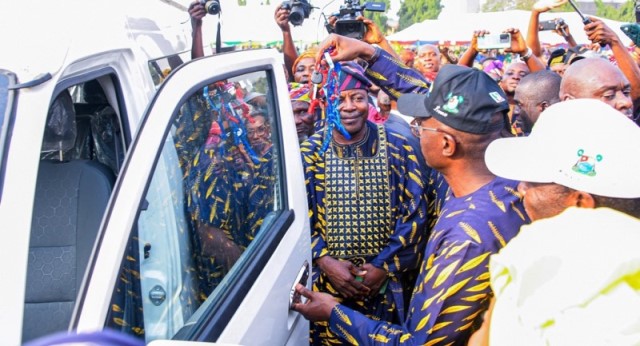 Speaking at the event, the governor said his endorsement was a proof of the commitment of his government to good governance, saying that all wards and all nooks and crannies of the State had been touched by critical projects.
The governor stated that the prizes, including operational vehicles, among others, were given out to outstanding CDAs to acknowledge their roles in supporting government intervention as an important arm of communities.
According to him, his administration would continue to do more not to put their confidence to shame, adding that he would not fail to do the right things at all times.
The Special Adviser to the Governor on Local Government and Community Affairs, Bolaji Kayode Robert, said the event was designed to support and appreciate CDAs for contributions to socio-economic prosperity of the State.
Robert said the role of community development remained important to the Sanwo-Olu-led administration as captured in the THEMES Agenda, which the government has sustained.
He added that the commitment was a part of the demonstration of the dividends of democracy explored for the development of the State.
The special adviser commended Sanwo-Olu for the support and rewarding of the CDAs. He said the prizes and awards were designed to recognise outstanding communities which executed key projects.
Robert urged residents of the State to support the re-election of Sanwo-Olu for his second term.
He also urged them to vote for the Presidential Candidate of the All Progressives Congress (APC), Asiwaju Bola Tinubu and all other APC candidates in the 2023 general election.
Load more