By Adejoke Adeleye
Massive riot broke out in major places in Abeokuta, Ogun State on Tuesday as irate youths took to the streets to protest the scarcity of the new Naira notes.
At Sapon Roundabout, youths vandalised property of First Bank Nigeria PLC and also attacked other banks in the area.
Watch video below:
There was pandemonium everywhere as angry youths burnt tyres on the highways, armed with dangerous weapons.
Commercial activities in the areas were paralysed as traders and companies hurried closed and escaped for their lives.
In one of the videos cited on social media, a stray bullet hit a youth in the hand, as he was left in the pool of blood. Other youths were seen trying to help him.
The roads were deserted as the irate mob held sway.
Watch another video below:
Places affected included Panseke, Sapon, Adatan and Asero. The youths staged protests in front of GT Bank, Asero, and Ibara Under Bridge Abeokuta.
The axis is currently witnessing security presence and security patrols with heavy men of the Nigerian Army, Nigeria Police, Nigeria Security and Civil Defence Corps (NSCDC), stationed at virtually around asero in the state capital.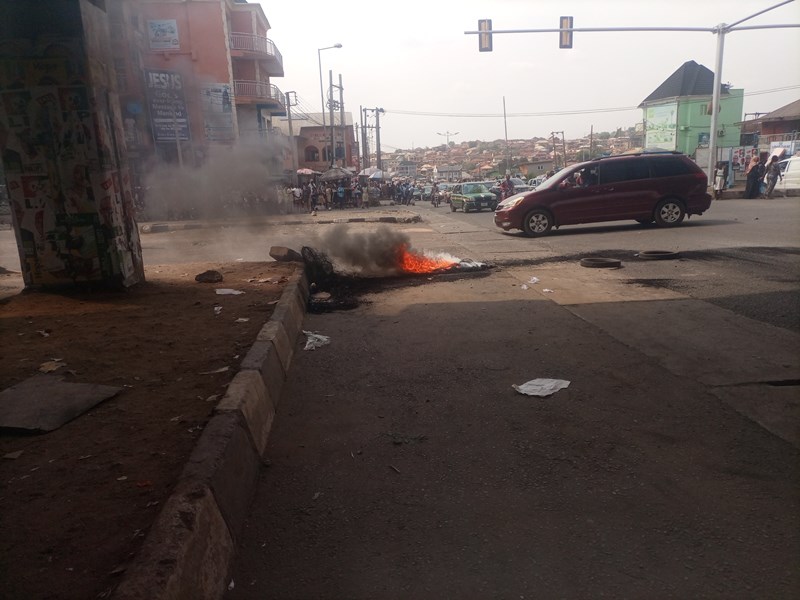 Meanwhile, the protesting youths were seen carrying placards and voiced their lamentation at the hardship faced as a result of the naira and fuel scarcity.
Load more