All over the world, cases of domestic and sexual violence are on the increase. Nigeria is not left out in the scheme of things. Lagos, being the most populous state in the country and boasting a staggering population of over 22 million is a breeding ground for domestic and sexual-based violence. This is because as a mega-city, the attendant consequences of slums, overstretched infrastructure, crime, unemployment, among others breed violence.
But the Lagos State Government, determined to wage relentless war against Sexual and Gender-Based Violence (SGBV) sets up the Domestic and Sexual Violence Agency (DSVA). The agency is well equipped to combat SGBV through educating the public, advocacy, recruiting volunteers, enforcement, among others. The agency believes that preventive measures are the most efficient ways of addressing Sexual and Gender Based Violence issues.
DSVA is a collection of professional service providers and officials that respond as a group and in a timely fashion to the various needs of domestic and sexual violence survivors by providing legal, medical, emergency assistance, Counselling and psychological and psycho-social support. It is to encourage and create an unprecedented level of collaboration among professionals working to end SGBV.
In the last two years, DSVA, headed by a young Amazon woman as its Executive Secretary, Mrs, Titilola Vivour-Adeniyi, has been combing the entire Lagos to checkmate sexual and domestic violence and bring perpetrators to book.
SGBV
From September 2021 to July 2023, the agency received a total of 10,484 cases of SGBV via the Virtual Referral and Response Service (VRRS) and Physical report. Out of these cases, domestic violence accounts for 4,360 cases.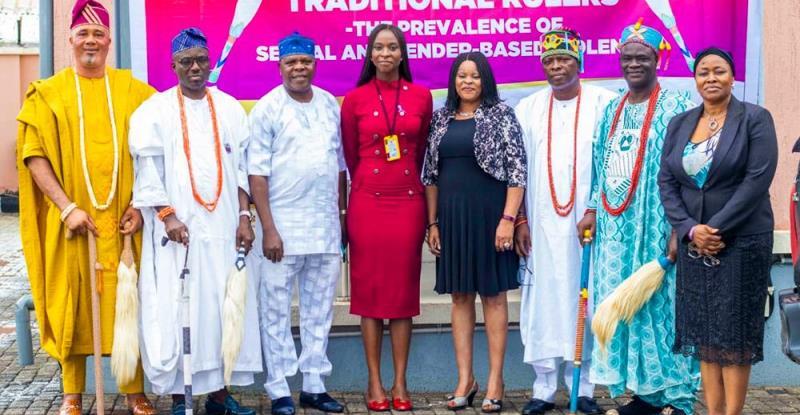 By comparison, DSVA received more reported cases of SGBV between August 1, 2022 and July 2023, were higher than between September 2021 and July 2022. While 5,624 cases were reported in the last one year, 4860 were reported in the previous year.
In the last one year, the DSVA, handled 5,624 cases of which 2,331 were domestic violence cases, 90 rape cases, 72 sexual assault cases and two sexual assault by penetration cases. Others are: one attempt to commit rape, 123 threat to life, 609 separation, failure to take responsibility of children, neglect, child abduction, child labour and custody cases; 384 non-GBV, (tenancy disputes, assault simplicity etc), 143 child abuse/physical assault, 235 defilement cases, three defilement/molestation by minor to minor and 33 sexual harassment/molestation cases.
According to Vivour-Adeniyi, a total of 1,598 children have experienced emotional abuse (i.e these children have been exposed to Domestic Violence within the home). 40% of these children have been taken through counselling programmes to ensure they were able to psychologically deal with the events they had witnessed without it having a permanent and negative impact on them.
In fighting domestic and sexual violence, Vivour-Adeniyi said the Office of the Public Defender as well as the Lagos Public Interest Law Partnership (LPILP) have provided free legal representation to survivors of Domestic Violence; Judicial Separation, Divorce, Maintenance, Custody of children and Settlement.
While women are the main object of sexual and domestic violence, findings by DSVA reveals that 340 male reported incidences of domestic violence perpetrated against them by their wives between September 2022 and July 2023.This s more than twice the number reported between September 2021 and July 2022, which stood at 140 cases.
"This is an indication that the culture of silence amongst the male gender concerning issues of Sexual and Gender Based Violence is also gradually being broken," Vivour-Adeniyi gives reason. Research by the agency shows that majority of domestic violence occurred in the evening, while Sexual Violence occurred mostly in the afternoon.
At least 86.3% of all the reports received were perpetrated against women. This further strengthens the previous findings that the female gender were more at risk of experiencing sexual and gender-based violence.
Service provider through Technology
One of the silver linings of the Covid-19 pandemic was the need to ensure provision of uninterrupted services to survivors of SGBV. With the support of the Joint EU-UN Funded Spotlight initiative and technical support from UNFPA, the agency said it developed the Gender Based Violence Virtual and Referral Service, the first of its kind in Nigeria.
"By calling the toll free line; (0 8 000-333-333) victims and Survivors are able to access emergency, psycho-social support, legal assistance and referral services before physical contact, any day of the week, 24/7.  This service in the past 2 years, has provided support, and succour to over 3,689 survivors in and outside Lagos, whilst 165 survivors were rescued from precarious situations.
"Through this innovation, SGBV response has been integrated into the emergency response mechanism of the State as the service is also located and operated inside the Command Control Centre of LASEMA," Vivour-Adeniyi said.
Education
In the past 2 years, DSVA mainstreamed prevention and response into the Education sector through behavioural mindset programmes, trainings for stakeholders in the sector which have been made possible with the support of the Lagos State Ministry of Education. Some of which include the Kings and Queens Club.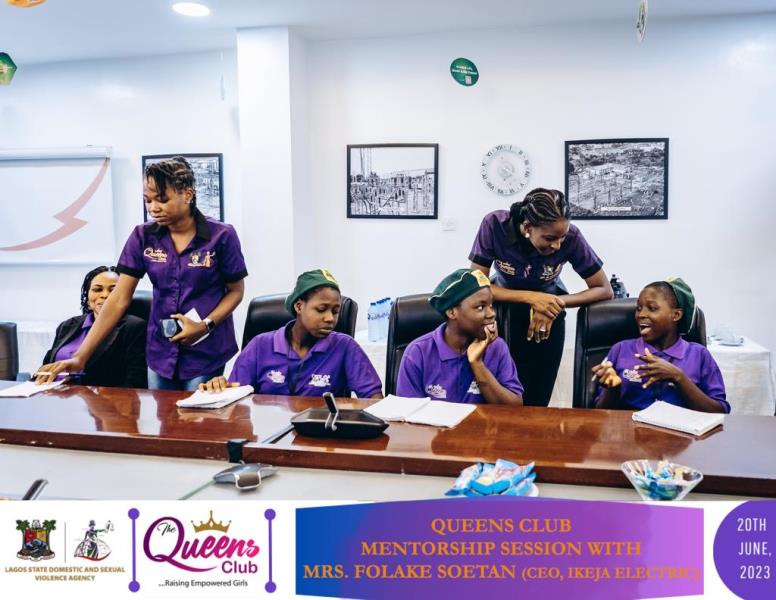 The Kings Club is an initiative borne out of the compelling need to engage boys from an early age on issues such as sexual and reproductive rights, health, SGBV, promoting positive masculinity, Gender equality and equity, SDG 5, relationship with the other sex, anger management and transitioning from boyhood to manhood. The curriculum which was developed through this initiative has recorded numerous successes including change in behaviour in the boys. From 40 Kings Club members inducted in 2023, the initiative has been successful in changing and re-orienting mindsets.
According to Vivour-Adeniyi, the girls have not been left out as the Queens Club initiative had been instrumental in engaging female secondary school students on germane issues such as sexual and reproductive rights and health, SGBV, femininity, gender equality and equity, SDG 5, relationship with the other sex, grit, tenacity and resilience.
She added that from 330 girls initially inducted by the First Lady of Lagos State, Dr. Ibijoke Sanwo-Olu, there are now over 2,230 Queens. This is laudable testament of the impact and sustainability of this initiative.
The Agency also developed and launched "My Passport of Rights" a booklet developed in the form of a passport which summarises, in a succinct manner, the rights of children, the different forms of abuse as well as steps to take to report such abuse.
Vivour-Adeniyi revealed that an overview showed that over 18,000 children had received their Passport of Rights while over 30,000 students have been appropriately engaged on child abuse, their rights.
"It is believed that children spend a good number of their days in school. Consequently, teachers and educators play a huge role in the moulding of these Children. This has informed the various trainings and capacity building of critical Education stakeholders, including Guidance Counsellors, School Administrators, Heads of schools and Principals on their role in preventing and responding to Child protection concerns," she said.
The Executive Secretary disclosed that over 2,600 stakeholders, drawn from the six education districts, comprising both public and private schools have been trained on their role in ensuring full implementation of the Executive Order on Safeguarding and Child Protection Programme.
Access to Justice
The DSVA, in the last two years, approached access to justice for survivors from a Survivor-centric position, where the survivor is at the centre of the Justice process. This has informed the introduction of various initiatives which include early engagement with survivors, explaining to them their rights and what to expect upon engaging the various responder agencies, survivor advocates accompanying them to the various institutions to facilitate reporting, working closely with the Police as well as the Ministry of Justice, particularly the Directorate of Public Prosecutions and the Lagos State Judiciary to ensure speedy adjudication of cases.
"Without being oblivious to the critical role the Police plays in ensuring Survivors are able to access justice, the Agency has strengthened its symbiotic relationship with the police and introduced novel innovations, including providing financial support to aid and facilitate investigation and charging of cases to court. This has greatly reduced the financial burden previously placed on survivors on their journey to accessing justice, thereby encouraging them to stay the course until justice is served," Vivour-Adeniyi said.
Furthermore, the Agency has strengthened its collaboration and partnership with the criminal justice stakeholders through coordination, meetings, trainings and case management conferences.
According to Vivour-Adeniyi, "by virtue of the need to bring justice to the doorstep of victims and survivors, the agency in partnership with the Local Government, has identified and trained focal persons across the 20 Local Government Areas. These officers have been trained to make immediate referrals and escalations as at when due. Similarly, the agency has secured office space in 2 Local government areas including Kosofe and Lagos Mainland."
Social Services and Protection
From the moment when a case is reported, up until when justice is secured, there is a need to ensure victims and survivors are able to access critical support services and protection.
Vivour-Adeniyi said various initiatives such as emergency evacuation of survivors from emergency situations, securing over 20 restraining orders against abusive spouses have been introduced.
"Research has shown that survivors who are desirous of leaving abusive relationships are at a higher risk of experiencing further abuse. This period is therefore extremely critical and can be life threatening. The need for shelter provision can therefore not be over emphasized. In keeping with the DSVA's statutory mandate of establishing shelters across all Divisions of the State, the Agency has established and opened Eko Haven, a shelter/ transit home for survivors. With this intervention, it is hoped that survivors in abusive relationships would find the courage to break the culture of silence, speak up and speak out.
"Asides from providing accommodation, health, psychosocial support as well as livelihood support has also been integrated and made available for survivors through Eko Haven," she added.
Research has shown that at least 60 % of survivors of domestic violence, remain in abusive relationships because of financial dependence on their abusers. It is therefore of utmost importance that once a survivor musters the courage to break the culture of silence, they are able to access financial support.
"To this end, with the support and commitment of Governor Babajide Sanwo-Olu, the Lagos State Domestic and Sexual Violence Trust Fund was seeded and activated to provide grants to high risk survivors.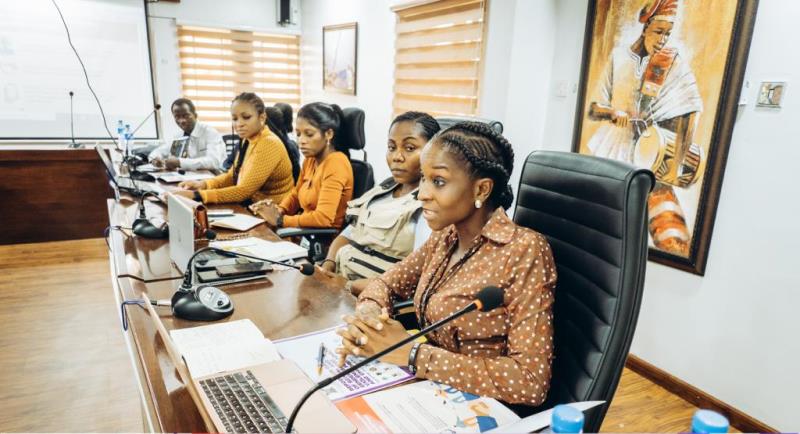 "The grants are utilized for education, securing accommodation, setting up businesses or scaling up existing business and counselling. In the past 2 years, 354 high risk survivors have been able to access financial support to assist them on their road to healing. Some of these survivors have now become employers of labour and are also giving back to their society in their own way," Vivour-Adeniyi stated.
Advocacy and Behavioural Mindset Programmes
DSVA, in the last two years introduced novel and innovative programmes aimed at re-orienting behavioural perspectives some of which include Idile Alayo (happy home). Traditional Marriage comperes referred to as "Alaga Iduro /Ijoko" have been conscripted into the State's Zero Tolerance campaign, for the  purpose of infusing advocacy around domestic violence, so far, a total of 400 Alagas have been engaged via this program with more in view.
The Agency in partnership with key stakeholders, including the Ministry of Local Government has introduced the compulsory pre-marital counselling for intending couples who seek to solemnise their union formally.
Vivour-Adeniyi said to ensure no gender is left behind in the war against the SGBV menace, the Hidden Crime, Violence against Men, was curated to spotlight domestic violence against men.
"At the launch which had over 400 men in attendance, participants were educated and encouraged to report when experiencing any form of abuse. The aim was to ensure that the Agency leaves no gender behind in its advocacy, develop preventive and response mechanisms, compelling men to break the culture of silence," she said.
"To reach men at the grassroots, another innovation was the conceptualisation of the "Man Wey Sabi" programme which was conceived to break gender stereotypes and address gender and sex roles, which fuel and entrench gender inequality which continues to remain a driver for Sexual and Gender Based Violence.
"Through this initiative, men are encouraged to perform roles which society has prescribed as gender roles, including cooking and tendering to children. Men are thought that performing domestic chores does not make them less a man thus changing gender stereotypes. This is done through cooking competitions that take place in major markets in the State," Vivour-Adeniyi said.
Load more