A 29-year old woman, Mrs. Grace Jacob, has been arrested for battering her 10-year-old son, Emmanuel, and forcing him to sleep in the staircase of their home at night.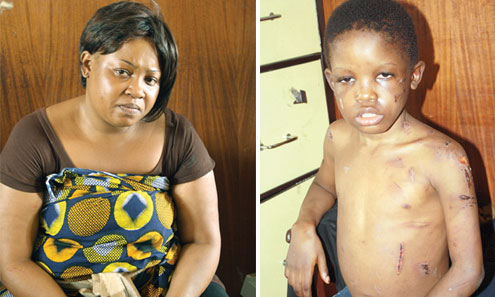 If not that a non-government organisation, Esther Child Foundation, came to the rescue of little Emmanuel, he might have been dead by now as he now nurses severe injuries inflicted on him.
Mrs. Jacob, 29, who lives at 4, Muhammed Street, Santos, Egbeda area of Lagos State, Southwest Nigeria, gave birth to Victor when she was 19 years old.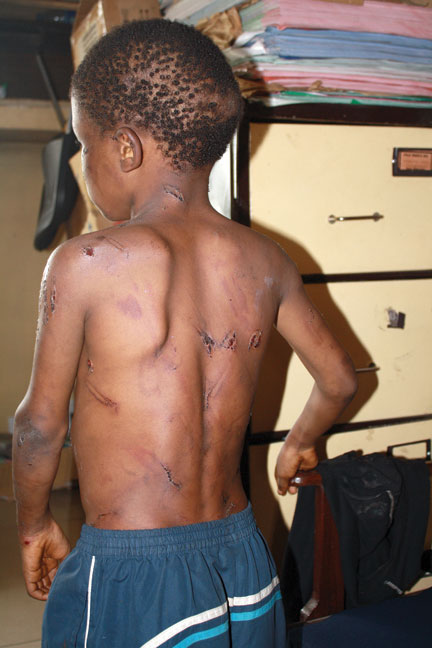 She had the boy for her lover, Mr. Paul Emmanuel who had since left her. She is now married to a new husband and has a child for him.
It was gathered that Victor was severely beaten by his mother at the slightest provocation, which led to deep injuries and cuts all over the boy's body. The boy's face is swollen with deep cuts on his cheeks.
According to Mrs. Esther Ogwu, the founder of Esther Child Foundation, she received a call from a resident in Egbeda to come quickly to rescue a boy who was being abused and tortured in the most dehumanising way by his mother.
"When we came, we met Victor in the staircase and that is where he sleeps. When I saw the wounds on his body, I couldn't stand it and we had to arrest the woman and bring the boy to the Ministry of Women Affairs and Poverty Alleviation to take up the issue," she explained.
She said that the woman beat her son severely because his new husband had told her he did not want to see the boy and that she should do something about the situation if she wanted him to stay with her.
Ogwu alleged that the woman's intention was to kill the boy so that she would keep her new husband, adding that the boy needed urgent treatment and attention so that he would not die from the wounds inflicted on him.
"We rescued him because we don't know the next action that may lead to the boy's death. The boy does not even attend school," she added.
At the Lagos State Ministry of Women Affairs and Poverty Alleviation, WAPA, where the woman and her son were taken to, staff of the ministry were in shock when they saw the deep wounds on Victor's body and could not believe that his mother could treat him like that.They described her as a wicked woman.
A top official of the ministry, who craved anonymity because she is not authorised to speak with pressmen, said the first thing the government would do was to write a letter to the management of the Lagos State University Teaching Hospital, LASUTH, to urgently admit the boy and treat him so that he would not die.
When asked if Victor was truly her son, Mrs. Jacob said yes, saying that she regretted her action, admitting that she was guilty of beating her son in such a deadly manner.
She was in tears but her tears did not move officials of the WAPA ministry who were angry at the way the boy was maltreated by her.
According to Jacob, she gave birth to Victor when she was not yet married and that Victor's father used to beat and throw her out of the house on several occasions, which was why she left him.
Mrs. Jacob, who hails from Akwa Ibom State, said when Victor was brought to her from the village and that when she remembered the way her former lover treated her, she unleashed her anger on her son.
"Anytime he did something wrong, I vent the anger of what his father did to me by beating him. I was angry about the manner I was beaten by my former husband," she said, adding that her new husband had left for South Africa because he did not want to see the boy again.
When asked, little Victor, who managed to speak in Pidgin English said his mother used to beat him with cable when he did something wrong.
However, the state government is considering prosecuting the mother under the child rights law, while Victor would be taken to one of the state's rehabilitation homes for adequate care.
—Kazeem Ugbodaga
Load more