Worried about the flamboyant lifestyles of some persons holding high offices in the Rivers government, the State Governor, Chibuike Amaechi, has again threatened to deal with public office holders in the state who misappropriate public funds.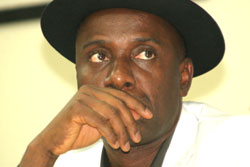 Governor Amaechi handed down the warning while declaring open the 4th monthly Inter-Governmental Forum at Government House, Port Harcourt.
The governor explained that some members of the public were beginning to cast doubt on the sincerity of the administration because they saw him as somebody who would not support corruption, yet some government functionaries lived flamboyant lifestyles.
He stressed the need for them to realise that public funds must not be channeled into private pockets, emphasizing that for the system to be efficient and effective they must work as a team.
The State Chief Executive urged all public office holders to take the business of government more seriously as the system cannot function without them, for according to him, their role is critical to the success or failure of the administration.
In a lecture, an International Motivational Speaker, Dr Myles Munroe, has blamed the problem of most government and leaders across the world, especially politicians, on lack of basic leadership skills.
Dr Munroe said, most public officers are voted into office without any formal training on leadership, adding that leaders must see themselves as people at the bottom of the ladder in society.
Dr Munroe who spoke on the theme "Understanding the Nature of Leadership: Retooling our Philosophy of Leadership" said, the hallmark of true leadership is the capacity to translate vision into reality," added that leadership consists of 80% attitude and 20% skills.
While emphasizing that leaders must believe in themselves, he added that successful leaders are those who are result-oriented with caring attitude, and are spiritually sensitive.
Dr Munroe commended Governor Chibuike Amaechi for organising the Leadership Conference for the state's heads of government institutions, ministries, departments and agencies, saying that the governor has a good vision for the state.

—Okafor Ofiebor/Port Harcourt
Load more