The Lagos State chapter of the Action Congress has expressed deep shock at the sudden and unexpected death of our dearest and esteemed leader, Chief Bode Abdullahi.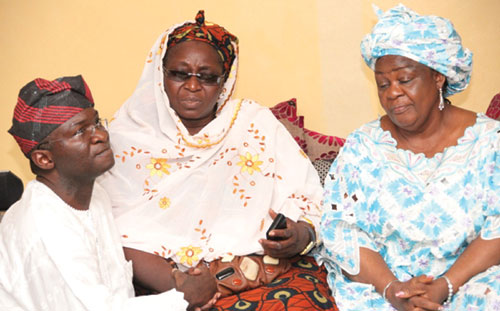 The party sees the death as a rude shock the party can ill afford at this critical period and wishes him eternal rest.
In a release in Lagos, signed by the Lagos State Publicity Secretary of the AC, Joe Igbokwe, Lagos AC says that Abdullahi is an irreplaceable political lodestar that will be sorely missed by the teeming members and supporters of the AC and all progressives in Nigeria.
The party therefore prays God to grant the tireless spirit of Bode Abdullahi a sweet repose while urging the immediate family, friends, political associates and followers of the erudite politician to bear the loss with fortitude.
"Bode Abdullahi was a quality, vibrant progressive with a rich political pedigree that has ensured he remained firmly in control of the grassroots. He was a pragmatic leader of men whose potentials were great assets to our great party in Lagos in particular and Nigeria in general. He was a great dynamic leader that carried himself with respect and unassuming dignity and this ensured that he remained faithful to the ideals of progressivism for his entire political career.
"Coming at a time of great political realignment that targets the uniting of the country's progressive, we see the death of Bode Abdullahi as irreparable and a big loss to the entire country. Bode Abdullahi was a real jewel of inestimable political value, he was a gem in politics, leadership, organization and strategizing and his loss has left a big vacuum in the AC, which would be difficult to fill. "Lagos AC is in mourning for our esteemed and highly valued, Bode Abdullahi and we feel greatly diminished by his sudden and shocking death. We feel for his immediate family and his loved ones who were not prepared for this sudden departure. We feel particularly sad that our political associate of esteemed quality is gone. We promise that we will remain faithful, firm and committed to the political ideals. We pray God to grant him eternal rest while we pray that his family, friends, associates will be consoled by this sudden, irreparable loss."
Load more