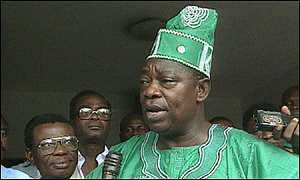 Lagos State Governor, Mr. Babatunde Fashola (SAN), his predecessor, Asiwaju Bola Ahmed Tinubu and other prominent politicians as well as members of the civil society at the weekend paid glowing tributes to the acclaimed winner of the June 12, 1993 Presidential Election, Bashorun M.K.O. Abiola just as the Governor said the late politician has become immortal.
Governor Fashola told the capacity crowd of party leaders, civil society groups, prominent members of Coalition of Democrats for Electoral Reforms CODER) as well as student leaders at the Oramiyan Hall of the Lagos Airport Hotel, Ikeja, venue of the event that "by fulfilling his mortal covenant with the Creator, MKO has traded life for immortality".
"In Yoruba Mythology, "Aiku", immortality, is a uniquely sought after bequest. It is described as "Baale Oro", the most precious of bequests. MKO has acquired the aiku, bale oro and has become immortal, because he remains in all our hearts year on year and this is why we gather every June 12 in his honour and remembrance", the Governor said.
Governor Fashola said the most defining legacy of the late business mogul has nothing to do with how rich he was but has everything to do with his morality and courage to sacrifice everything for June 12, adding, "In doing so, he acquired a rare moral authority even in death that has bequeathed a vast store of goodwill to his family, dependents and all those associated with him while he lived".
Noting that many now often remember Chief Abiola for events that happened during the last five years of his life, the Governor declared, "His philanthropy and the many lives he changed with his generousity; his entrepreneurship as alter ego of Concord Airlines, Concord Newspaper, ITT and others, have almost become mere footnotes. Nobody talks of them on June 12".
According to him, "June 12, as a day of reckoning, emerged from a national flaw that manifested itself by way of electoral disappointment. We got so close on June 12, 1993 and literally threw it away and the echoes of that disappointment still reverberate today in the name of Electoral Reforms".
"From that disappointment, all was not lost. Although the announcements of the results of the elections were not concluded, hope did not evaporate. MKO's campaign mantra, "Hope '93" was kept alive…. The streets of Lagos were the battle grounds. Blood was shed, lives were lost, martyrs were slain and from there emerged the victory of the people's mandate over totalitarian authority in the 1999 elections that produced Senator Bola Ahmed Tinubu", Governor Fashola said.
Pointing that he might never have come to government if Asiwaju Ahmed Tinubu had not become Governor in 1999, Governor Fashola declared, "Today, the message of hope and its aromatic fragrance is flowing across Nigeria from Lagos as an example that nothing is impossible", adding, "That is MKO's legacy".
In his tribute, former Governor Bola Tinubu said the only way to immortalize MKO Abiola is for the Federal Government to declare him the third democratically elected President of Nigeria, adopt the Open Secret Ballot System for subsequent elections in the country and declare June 12 as Democracy Day in Nigeria.
Calling for a new voters' register, Asiwaju Tinubu who described the current electronic voters' register in the possession of the Independent National Electoral Commission (INEC) as inauthentic, said it was "cloned" from the original one produced by a company in South Africa, challenging the Federal Government to prove him wrong.
"We must insist on a new voters' register. The current voters' register was cloned from the original one. That is why we must insist on a new voters' register. Do not relent on your efforts", the former Governor urged Nigerians.
He called for the formation of a Voters' Vanguard by youth associations and market women in all communities in the country for the purpose of protecting votes and ensuring that every vote counts adding, "They do not have enough police to match you. It is a liberation struggle; we did it in Lagos and we can replicate it in the whole country. They may try to stop us but we shall conquer", Asiwaju Tinubu said.
On the bid by former Military President, Ibrahim Babangida to contest the 2011 Presidential Election, Asiwaju Tinubu said the former Military leader has had a tenure of eight years, even if unelected, and is, therefore, no longer qualified. "Let us have young men, let us have fresh faces. Enough of the old men; let the young men come out and contest the Presidential Election in 2011", he said.
Also speaking at the event, the Speaker of the State House of Assembly, Right Hon. Adeyemi Ikuforiji, expressed disappointment that after about 11 years of civil rule in Nigeria, the government at the centre has not in any way realized that it ought to have immortalized Chief MKO Abiola "who paid the supreme price for democracy and sustainable democratic culture to germinate, endure and flourish".
"To make matters worse, everything has been done by the temporary wielders of powers at the centre not only to falsify history by distancing themselves from MKO Abiola but also by explaining away June 12, 1993 elections as if it is a non-issue", the Speaker said.
He pointed out that June 12 was symbolic, among other things, as an election in which Nigerians said no to tribalism, ethnicity, primordial cleavages and religious sentiments adding that Nigerians across various divides spoke with one voice "where they said in unison that this is the man we have entrusted to manage our common destiny".
Thanking all the individuals and groups that have been in the struggle for democracy in the country over the yearsthe Speaker declared, "We must not be discouraged, we must keep hope alive, we must not forget June 12, we must always stand for the truth, we must always do the right, we still have many hurdles to cross, so we must not rest on our oars".
Earlier, in his lecture titled "2011 Elections; June 12 Perspectives", the Guest Lecturer, Comrade Ayo Opadokun, said the categorical imperatives for free and fair elections in Nigeria include that Nigerians must never accept any arrangements other than a digitalized freshly produced voters' register and that no sitting chief executive should appoint an electoral commissioner as recommended by the Justice Uwais Commission
He challenged the civil society groups to mobilize and intensify the campaign to educate Nigerians to realize that it is their national assigned duty to register and to vote in future elections as well as protect their votes adding that Nigerians must insist on Secret Modified Open Ballot System in future elections.
Other imperatives, according to Opadokun, is that security agents must be sufficiently educated to enforce the law rather than be instruments in the hands of the establishments handling the elections adding, "Let us resolve to re-commit ourselves to the task of ensuring that the superstructure of government establish through the process of credible election to ensure that credible leaders who get to government are constantly conducting business in the best interest of the people and in line with international best practices
Also present at the occasion were the Deputy Governor, Princess Sarah Adebisi Sosan, some members of the State Executive Council and Legislature, Local Government Chairmen, Action Congress Chairman in the State, Otunba Henry Ajomale, Chief Aka-Bashorun, families of late Chief Gani Fawehinmi and that of late Chief Abraham Adesanya, Human Rights leaders and Civil Society groups, Market associations and students unions as well as top political party leaders and government functionaries.
Load more