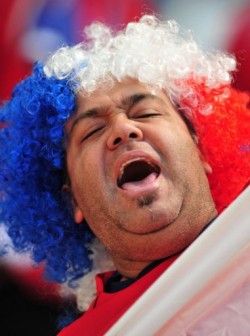 NELSPRUIT, South Africa (AFP) – 1330 GMT: Wild celebrations in the Chile capital Santiago, as the city's residents celebrate their first World Cup finals victory for 48 years.
"People are beeping their car horns, after hearing the result," says our correspondent in Santiago.
90 + 3 mins: FULL TIME! Honduras 0 – Chile 1.
That has been one of the most one-sided 1-0 wins I have ever seen. Chile were entirely dominant against a poor Honduran side.
90 mins: There will be three minutes of injury time.
87 mins: Chile look for the second goal as they bring on ex-Liverpool winger Mark Gonzalez for central midfielder Jorge Valdivia.
85 mins: Five minutes to play and Honduras have not forced the keeper into action this half.
81 mins: Chile make their first change as they try to batten down the hatches, and Arturo Vidal is replaced by Pablo Contreras.
80 mins: This has been a virtuoso display by Chile's Alexis Sanchez, whose wing play has been one of the revelations of this tournament.
78 mins: Honduras look to energise their toothless attack and throw on striker Walter Martinez for midfielder Ramon Nunez.
75 mins: The referee is having a great second-half!
He was spot on when he waved away Chia penalty in the 46 mins, and he was accurately placed to disallow a Chilean goal. Alexis Sanchez had clearly handled the ball in the builean appeals for ld up to a move that was finished by Matías Fernández.
69 mins: Honduras lack a real cutting edge, and it's been all Chile. It's amazing that the score is still only 1-0.
66 mins: "Local radio in Chile are praising Matías Fernández, who has created lots of chances," Roser tells me.
65 mins: Waldo Ponce was in complete disbelief that he missed that opportunity. That has been the miss and save of the tournament!
64 mins: Amazing save! Honduras are carved apart by a neat interchange of passes but the keeper acrobatically stops a close range header from Waldo Ponce.
59 mins: Honduras make their first substitution and Georgie Welcome comes on for the veteran striker Carlos Pavon, who was struggling after collapsing to the ground.
57 mins: Shameless dive by Alexis Sanchez, who ran into a Honduran defender and tries to win a penalty with a belated fall to the ground.
The referee waves away Chilen appeals and then when he is out of sight, Honduran defender Osman Chavez stamps on the back of Sanchez.
53 mins: My colleague Roser Toll tells me that the Honduran community in Chile has not lost hope and the central Paseo Ahumada has turned into a party street.
"Some 3,000 people are at la Constitución, opposite the Palacio de La Moneda, where a big 40 metre square screen's been put up, says Toll.
49 mins: Sensational! A mazy run by Alexis Sanchez deserved a better finish from Juan Beausejour. That was an amazing run by Sanchez who breezed past three defenders. That move deserved a goal!
47 mins: Honduras make a promising start to the half and only a last-ditch tackle by Edgard Alvarez prevents Gary Medel from running in on goal.
46 mins: The referee blows for the start of the second half. Will Chile extend their lead or can Honduras spring a surprise and get back into this tie?
1234 GMT: Honduras' players are the first out onto the pitch for the second half.
1225 GMT: Chile have taken a well-deserved lead and look like they could be one of the surprise packages of this World Cup, as their high-tempo style of play will cause a lot of problems for fellow Group H teams Spain and Switzerland who are playing at 1400 GMT.
45 + 1 mins: HALF-TIME – Honduras 0 Chile 1
The referee blows his whistle and the Chile players argue with themselves as they leave the pitch. Strange, as Chile are dominating this match.
45 + 1 mins: Honduras win a free-kick 35 yards out and Ramon Nunez hits a curling shot which the keeper palms over the bar for a corner.
45 mins: There will be a minute of added time.
42 mins: The last few minutes have been very ragged as the game heads into the break.
39 mins: Alexis Sanchez is at the hub of all of Chile's attacks. He looks a real handful for the Honduran defence.
36 mins: Carnival mood in the stadium as the locals celebrate the goal with a conga, and a Chile supporter holds up a banner reading "Red Hot Chile Peppers!"
34 mins: GOAL! 1-0 to Chile
Simple but brilliant football from Chile as Mauricio Isla gallops down the right wing before crossing for the onrushing Jean Beausejour to push the ball past the Honduran keeper
33 mins: YELLOW CARD! Wilson Palacios is the fourth booking of the match, and the second for Honduras, who are really under the cosh!
32 mins: YELLOW CARD! Maynor Figueroa is booked for upending Alexis Sanchez as the Udinese winger was streaking towards the goal.
29 mins: Honduras are relying on their pacy forwards to hit Chile on the counter-attack, and Carlos Pavon nearly breaks free.
26 mins: Chile's Arturo Vidal goes close with a long-range header. How long can Honduras keep them at bay?
22 mins: Chile are dominating the match and earn two quick corners. Honduras seem content to let them keep possession, but that could prove costly!
19 mins: YELLOW CARD! Honduras Sergio Mendoza collapses after he is sandwiched by two defenders. The referee races across the pitch and shows Chile's Matias Fernandez a yellow card. Don't know why he chose Fernandez. Referee seems a bit card happy!
18 mins: First chance of the match for Honduras, but Carlos Pavon's weak shot goes well wide and doesn't trouble the keeper.
15 mins: Honduras make their first foray into the Chilean half, but after a marauding run down the left Roger Espinoza scuffs his cross. What a waste!
13 mins: It's one-way traffic at the moment as Honduras have failed to settle into the match!
10 mins: A big worry for Honduras as their keeper Noel Valladares looks really nervous. His tame goal kick barely reaches the half-way line!
9 mins: Best chance of the match so far as Chile midfielder Arturo Vidal's shot has too much power for the Honduran keeper, who fumbles the ball.
4 mins: YELLOW CARD! Carlos Carmona earns the first booking after scything down Edgar Alverez. There were no complaints from the Chile players as it was a late challenge by Carmona!
3 mins: From the resulting free-kick Chile's Matias Fernandez blasts a fizzing shot that goes a whisker over the post. That was close!
2 min: Chile look the more composed side and earn the first free-kick as Jorge Valdivia is hacked down by Wilson Palacios.
1131 GMT: AND WE'RE OFF! The referee blows his whistle to get us under way.
1127 GMT: The teams line up for the national anthems, and its a good time to mention that Honduras are wearing an all-white strip, while Chile are in their traditional outfit of red shirt and blue shorts.
1125 GMT: A ripple of excitement from the crowd as the referee swipes the ball off a plinth as he leads the teams onto the pitch.
1123 GMT: Big blow for Chile as striker Humberto Suazo has failed a late fitness test.
1121 GMT: The starting line-ups are in:
Honduras: Noel Valladares, Osman Chavez, Maynor Figueroa, Ramon Nunez, Emilio Izaguirre, Wilson Palacios, Amado Guevara (capt), Sergio Mendoza, Roger Espinoza, Edgard Alvarez, Carlos Pavon.
Coach: Reynaldo Rueda (Colombia)
Chile: Claudio Bravo (capt), Mauricio Isla, Gary Medel, Waldo Ponce, Arturo Vidal, Carlos Carmona, Rodrigo Millar, Matias Fernandez, Jorge Valdivia, Juan Beausejour, Alexis Sanchez.
Coach: Marcelo Bielsa (Argentina)
Referee: Eddy Maillet (Seychelles)
1116 GMT: Nelspruit is situated in north-east South Africa, and the city is the capital of Mpumalanga province.
1113 GMT: Wigan defender Maynor Figueroa marshalls the Honduran defence while Los Catrachos will rely on Tottenham midfielder Wilson Palacios and Real Espana striker David Suazo for goals.
1112 GMT: The Chilean outfit lack many household names but will rely on the tricky dribbling skills of Udinese winger Alexis Sanchez to create chances for striker Humberto Suazo — who is a doubt for the match with a thigh strain.
The striker nicknamed 'El Chupete' (The Dummy) was the top scorer in the South American qualifying group, and his 10 goals helped Chile finish second behind Brazil.
If Suazo fails to pass a late fitness test, then Argentine coach Marcelo Bielsa might have to alter his favoured 3-3-1-3 system.
The fiery coach is desperate for World Cup success after failing to take Argentina beyond the first round at the 2002 World Cup.
WELCOME TO THE MBOMBELA STADIUM in Nelspruit for our live commentary of the first Group G match that features Latin American rivals Honduras and Chile.
This is the first World Cup match at the 42,000-seat arena that the locals have nicknamed the 'Giraffe Stadium' due to its distinctive orange roof supports.
The contest promises to be a cagey affair as both sides will also face Switzerland and then World Cup favourites Spain, who are playing later at 1400 GMT.
This will be Chile's ninth appearance at the World Cup and the team nicknamed 'La Roja' are making their return to the showpiece event after a 12-year absence.
Chile — whose best showing was a long-forgotten third place when they hosted the tournament in 1962 — have high hopes of reaching the knock-out stages, but first they must end a 48-year winless run in the World Cup.
Honduras are making their second appearance at the World Cup, having qualified for the 1982 tournament in Spain.
Kick-off is fast approaching at 1130 GMT, so stay with us for all the action!
Load more