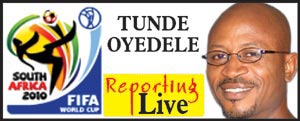 Rabiu Afolabi is deeply concerned about the 'hole' in the Super Eagles and this is affecting everything about him.
This jovial player has suddenly changed and now prefers to either stay in the corner of his room to think all alone or walk quietly with his teammates to the team's training session.
Although, Afolabi's mood has not affected his performance during training, but he's not socialising like the 'Robo Cop' which the soccer-loving Nigerians know him to be.
The defender is so engrossed in what's on his mind that he has suspended social activities for now. "So, what's bothering you Afolabi?" That was the question posed to him by P.M.Sports after their training ahead of today's must-win cracker against Greece.
Initially, he was reluctant to grant P.M.Sports an interview. "Sorry, nothing much to say for now, okay." That was all he said as Afolabi boarded the Eagles' bus to their hotel camp.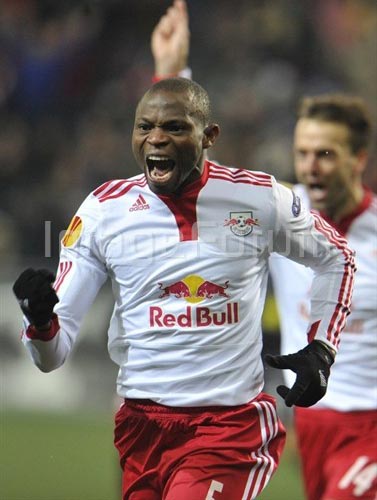 However, when this writer confronted him again shortly before their dinner, the SV Salzburg of Austria defender appears too psyched up for a role in Lars Lagerback's Super Eagles squad.
Afolabi bared it all: his disappointment since the Nigerian team arrived in South Africa, fears, hopes and readiness to prove his inclusion in Nigeria's World Cup squad.
"Well, I'm okay; there is no problem. All that I'm thinking now is what all Nigerians are talking about, 'how do we move on in this World Cup'. So, that's what I have on top of my heart and the time is drawing nearer you know".
The player clarified why he does not think speaking to journalists is necessary at the moment. "It's this match against Greece that's upper most and my thinking is how to help the team. All the players are doing marvellously well but for me, I want to get off the bench to help the squad now. I think I have a big role to play and can't wait for the first team shirt to play for Nigeria."
The former Flying Eagles star said the Eagles have learnt their lessons from the opening match they lost to Argentina. "The loss to Argentina still hurts and we are in Bloemfontein to make up for the defeat".
On his impression about the 2010 World Cup, Afolabi praised the host, South Africa, for providing state of the arts facilities and described the followership as very electrifying.
If Lagerback hands him a starting shirt against Greece this afternoon, this will not only make him happy, Nigerians would probably see him pairing with Everton's Joseph Yobo once again. Afolabi and Yobo paired in the centre defence for the Flying Eagles when Nigeria hosted the FIFA U-20 World Youth Championship, WYC 11 years ago.
Afolabi paired with Dele Adeleye in one of Nigeria's pre-World Cup friendly match against Colombia and both performed great in the game. But coach Lagerback has yet to come out with their paring option. The pair of Yobo and Danny Shittu are enjoying better playing time at the moment and they may return against Greece.
Load more