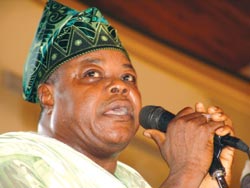 President of the Performing Musicians Association of Nigeria (PMAN), Admiral Dele Abiodun, has tasked the Oyo State government on reasons why it should support the state's entertainment sector.
Speaking at the stakeholders' forum organised by the Entertainment Writers' Association of Nigeria (EWAN), Oyo State chapter, Abiodun urged the government to rise to the occasion by solving some of the problems facing the entertainment industry.
According to him, "bad economy and insecurity of lives and property are some of the problems facing the industry. So, government and other stakeholders need to look into the problems and see how they can make life more comfortable for everybody in the society."
Also speaking during the forum with  the theme Re-awakening of the Moribund Entertainment/Social Sector in Oyo State: A Call to Artistes in Oyo State, the Chief Executive Officer of Remdel Optimum Communications, Mrs. 'Biodun Ibitola, charged the Oyo State government to support the entertainment industry and protect it from local and foreign pirates.
She, however, admonished musicians to desist from singing abusive songs as well as make sure that the quality of their productions is meaningful and accepted by all. This, according to her, will return the lost glory of the industry.

—Bayo Adetu
Load more